News
Muscle Car News: Modding Mopars
By
|
By Dave Ashton
When we are in the situation of tasty new muscle cars not being released due to our virus ridden planet, it makes sense for people to start modding their cars. Home deliveries and sealed off garage areas have still been going full tilt, with plenty of engine swaps and upgrades being the order of the day.
Here we have a few examples of how you can get full tilt power from a Mopar, if you're willing to roll your sleeves up and get stuck in.
Hellephant Swapped Challenger SRT Demon Dyno Test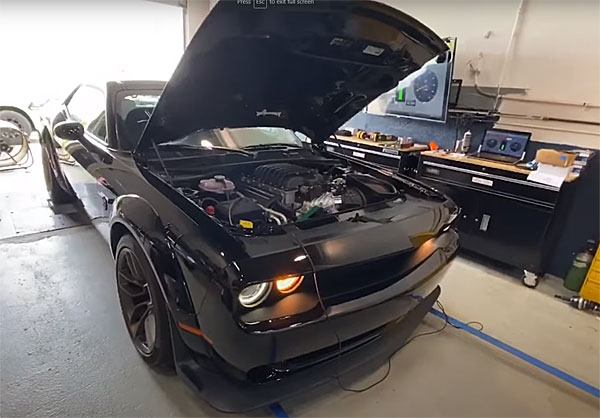 First up is apparently the first recorded Hellephant engine swap into a Mopar. In this case the vehicle in question is a Challenger SRT Demon, which is the new home to the 426 Hellephant Engine V8. For the uninitiated, the 'Hellephant' was a limited run of crate engine kits, first revealed at SEMA 2018, producing 1,000 horsepower and 950 lb-ft of torque.
Unfortunately, the engine isn't exactly road legal, but that hasn't stopped the guys over at Demonology dropping it into a Dodge Demon. This is a bold move in itself, considering the Demon can throw out 808hp and 770 lb-ft torque on 91 octane gasoline without trying. But if you have the means, why not pop the most powerful Mopar engine into the highest ranked Dodge mobile.
Which begs the question how much power can the Hellephant produce? If you don't want to run through the short video below then the answer is 944.82WHP and 877.46 lb-ft torque, running on a mix of E-40 fuel. Maybe with some detailed tweaking and fettling to certain engine components these figures can be increased slightly, but at least it gives a baseline reading for what the Hellephant can achieve in reality.
Don't Mod Your 392/5.7L Hemi
This little video should be the spark for a whole slew of debate. The takeaway message here is, 'You shouldn't buy a car to build the motor.' In other words, if you want to go as fast as a Hellcat, simply buy a Hellcat.
Ouch, since time immemorial people have been upgrading engines to eke out that extra bit of power. But we do get the point being given here. If its a 392 or an R/T you own, you may end up spending more money on the upgrades than just buying into a Hellcat. This makes sense if its just the power levels you are interested in.
Without getting into the intricacies of the pros and cons, simply watch the video and make up your own mind.
Dodge Challenger 'Nitrous Nuke'
As a nice counter view to the argument above, what if owned had a Challenger 392, still wanted more power, but you're not exactly enamored with forced induction? One possible solution is going down the nitrous route.
Along with a very cool body wrap, this Challenger has been treated to an Edelbrock-supplied Victor EFI intake manifold and a 100-shot of nitrous. Exterior features have also been added in the form of a new front splitter, carbon spoiler, universal air springs and an Air Lift Performance 3p digital management.
There doesn't seem to be any power ratings for this hybrid setup, but if nothing else the body wrap, bagged stance and spoilers make for a very cool looking Mopar machine.
1971 Plymouth GTX With Dodge Viper V10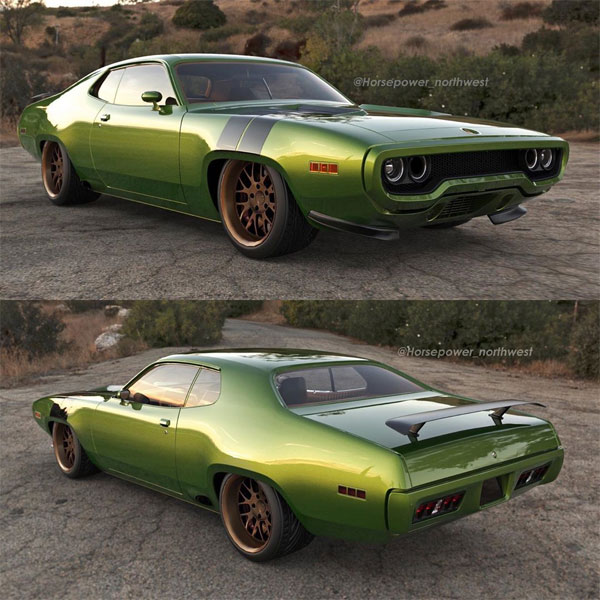 Variety is the spice of life, so they say. Which means if new muscle cars with new engines or upgrades isn't your thing, then why not go for a vintage vehicle with something equally as ridiculous under the hood. In this case it's a 1971 Plymouth GTX with a rather tasty Dodge Viper V10 engine.
The whole project has been put together by Horsepower Northwest, Washington to be a driving machine. This meant upgrading everything along with the engine to Baer brakes, chassis upgrades, an 8.75 rear end, custom front and rear suspension and a wonderfully deep paint job.
There's clearly a million and one ways to upgrade any vehicle, with the deciding factor usually being how deep are your pockets. If money is never an issue, engines could be swapped out on a daily basis, with upgrades to your hearts content. However, most of us have to be more canny with our money, which means far more research and will our chosen bits provide the end results we expect.
Without thorough research, an endless journey of upgrades can not just hit the wallets, but also time and mental power. This is why a car for sale which has had endless modifications will rarely bring back the money ploughed into the thing. Hopefully, the examples above will give you a few ideas for modding or buying your own vehicle.
Donate To Fast Muscle Car
We spend a lot of time bringing you muscle car content. If you would like to donate something to help us keep going, that would be fantastic.