Muscle Cars
Mopar Small-Block engines. How to build Max Performance: Mopar Book Review.
By
|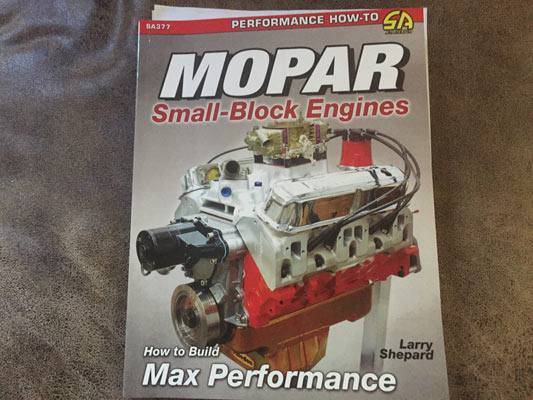 By Mark Weisseg
The latest book review comes my way from CarTech. They have a large assortment of books and I urge you to visit there web site. www.carTech.com
This latest book is by Larry Shepard with some help from family and friends.
The title of the book is; Mopar Small-Block engines. How to build Max Performance.
Now that we have the long title out of the way, let's dig in and get to the meat and bones of the book.
The soft bound book is 143 pages of how to and more. First the author does something all authors should do. He starts off with a quick history lesson so that the rookie beginner or the long veteran of Mopar starts off on the right foot.
Each chapter is short and to the point. What I liked about the book was I could take notes as I read. I built many engines over the years but this book gave me a great refresher course.
The author painstakingly makes sure you the reader never turn the page without fully understanding what you read. Chapters such as Blocks, cranks and cams along with pistons and rings take you step by step into your small block engine. Nothing is left off the plate.
Cylinder heads, manifolds, Carberutors, Ignition systems and throttle body are important reads. The book is a dictionary as well as an encyclopedia for those of us that like books in our garages rather than computers. If you desire to really better yourself with small block Mopar engines this is the book to buy.
You will reference it over and over again to be sure you understand without a doubt you are doing the job right. I loved the book and its definitions and clear concise pictures.
I only have one beef with the book. It's minor but I must get it off my chest. It was printed in China. That's my gripe. All this wonderful Mopar work on a real American engine by hard working guys right here. And it's printed in China. It would have just been that bit more special printed on home soil, but costs are costs these days, so all is forgiven.
Conclusion
But, that aside its a great book to order and put in your reference material section of your garage. Order by calling 1-800-551-4754 or www.cartechbooks.com.
You need to pay a very reasonable shipping and handling charge of $6.95 if you are in our 48 states. Buy the book and use it as your bible for small block Mopar engines. It's worth every dime.
More Muscle Cars For Sale – http://fastmusclecar.com/muscle-car-for-sale/
Donate To Fast Muscle Car
We spend a lot of time bringing you muscle car content. If you would like to donate something to help us keep going, that would be fantastic.
Mopar Small-Block engines. How to build Max Performance: Mopar Book Review.

,