Muscle Car
The Mighty Dodge Charger R/T
By
|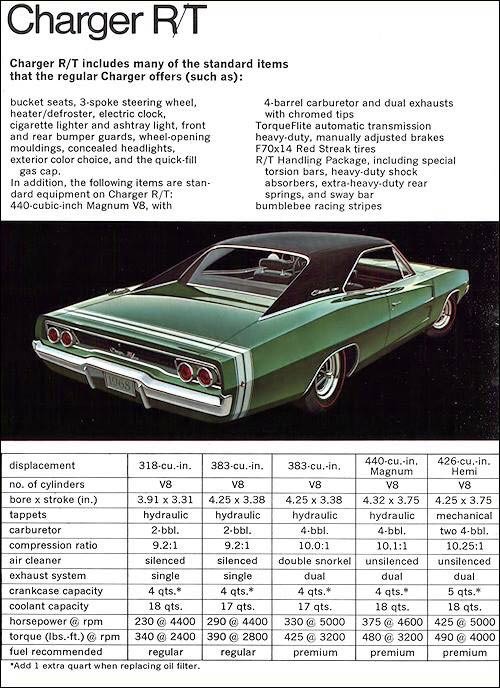 By Mark Weisseg
Imagine if you were in charge of the marketing for the Dodge Charger. Your competition is just the Camaro, Corvette, Mustang and the Plymouth line like a Super Bee and a Road Runner.
Your mission is to get the eyeballs of America on your product and fast. You know the competitors are working just as hard as you to get people in the showrooms. So, you come up with a very basic but positive chart that anyone can read and understand. You know the car is a great product but you also have no idea if your product will last more than a few years. You see, the attention span for any product is slim. Back in the late 1969's you have no idea that this car will skyrocket in sales and someday be a main stay for Television and movies. You are worried about the here and now. Your mission is a tough one and if you fail the competition will eat your lunch and you may find yourself unemployed or under employed. So, the chart was designed for the masses. Anyone can read it and understand the content.
Well, the car was a hit and sold in very high numbers. But, like any product there is always another day and another product to sell. Time as you know it marches on very quickly.
Here we are now in the year 2017 and we can look back on those days with a big smile.
The designers, the engineers, the budget department and the sales department. The car was a smash hit. Never did you think back in the 60's and early 70's that this car would be more popular now than it was then. You see today the car is tougher to find and very expensive to restore back to its roots. But, if you are a Mopar person or not the Dodge Charger is a winner.
The car still turns heads and is still in hot demand. The prices of the car today exceeds the inflation rates many times over. The car has been used in many iconic television shows and large screen movies. The chart as we called it back then holds true even today. Buyers of the Charger today have so many options whether to resto mod the car or take it back to what it was so many years ago. Either way the car is a winner. But, all the fast muscle cars of that era are red hot today.
The GTO, the Mustangs, Camaro, Corvette, the Road Runner, and more. They all were great cars and deciding what you wanted then is just as hard today. It just takes a lot more money today. However, I would argue that if you buy a Charger today from that era you are really on a mission of memories. You will appreciate the car more today because the car has bones. It's a verifiable automobile with legacy and history. Some cars fade away over time but this car never faded.
Certainly the name was used in recent times that made some of us squirm but all you need to do is look at the original and your entire outlook will change. It's a car for the ages. Few cars can say that with meaning. The Dodge Charger was built, driven, and loved by millions. Today it's not millions but for the fortunate ones that do have one they know it's history and now they know it's future.
More Muscle Cars For Sale – http://fastmusclecar.com/muscle-car-for-sale/
Donate To Fast Muscle Car
We spend a lot of time bringing you muscle car content. If you would like to donate something to help us keep going, that would be fantastic.
The Mighty Dodge Charger R/T

,