Best Muscle Cars
John Shaft Movie Co-Star The 1971 Chevrolet Chevelle SS
By
|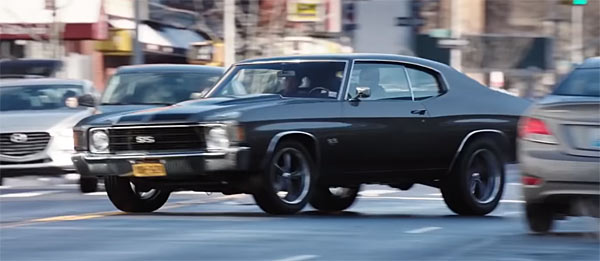 By Dave Ashton
The movie franchise Shaft started back in 1971 with 4 films and a TV series lasting up to 1974. A version was then produced in 2000 as essentially a reboot of the '71 film. Now John Shaft II is back in a 2019 movie with an unlikely co-star. There's now three generations to the Shaft family – the original legend Richard Roundtree, Shaft junior played by Jessie T. Usher and Shaft II played by the only person who could fit the part, Samuel L. Jackson.
However, this post isn't about the plot, a review or such, but the fine 1971 Chevy Chevelle SS which acts as the unlikely co-star of the movie. Initially, I would have thought a 1970 Chevelle SS would have been a better option, but '71 was the release of the first movie, so that choice makes sense.
As with all movie vehicles, there's not just one car in use, but several copies for different roles and jobs. In this case four 1971 Chevelles in dark silver 'picture cars' were prepared by Stephen Austin and his team from Atlanta, who had previously worked on films such as The Walking Dead and Zombieland. The four Chevelles all had to look identical with two being for close-up shots and the other two for stunt work, thus being smashed to oblivion.
According to popular mechanics.com, three of the cars kept their 454 big block V8 engines, with one of the vehicles having a smaller engine fitted for regular driving. A third brake pedal was also added to the stunt cars to help with aggressive maneuvering. The carbs. were also kept in place on the engines, rather than upgrading to fuel injectors. Two additional cars were also sourced and wrecked to test what the Chevelles could handle and what they were capable of during stunt work.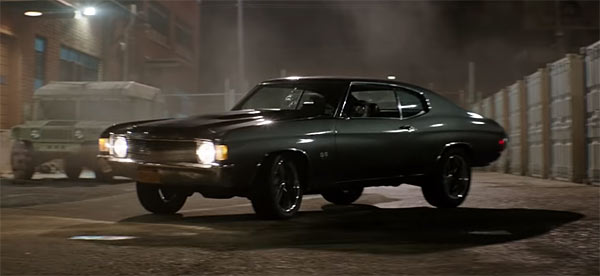 Austin, a huge car enthusiasts himself, is well aware that some of these classic muscle cars are going to be wrecked during shooting. It's not complete wanton destruction as scenes are usually worked backwards, starting with the final wrecked vehicles where they source the rustiest models available. Once crashed, you can't replace these things.
Other Chevy Chevelles in the movies
Even the most casual movie viewer may spot a Chevelle on screen and think they have seen one of those things before. plenty of first-generation (1964–1967) and second-generation (1968–1972) Chevelles have been used and abused over the years for our visual entertainment. In no particular order, here are Chevelles from some of the most standout TV shows and movies.
1966 Chevrolet Chevelle SS in 1967 'Teenage Mother.'
A 1966 Chevrolet Chevelle SS in the 2006 'Cars on Route 66.'
1967 Chevrolet Chevelle SS in '1966-1973 Mission: Impossible.'
1968 Chevrolet Chevelle SS in 1968 'Bullitt.'
1968 Chevrolet Chevelle SS in 1974-1980 'The Rockford Files.'
1968 Chevrolet Chevelle SS in 2007-2015 'Mad Men.'
1970 Chevrolet Chevelle SS in 2014-2019 'The Flash.'
1970 four-speed Chevelle SS in 2012 'Jack Reacher.'
1971 Chevelle SS in 2010 'The Other Guys.'
1970 Chevelle SS Convertible in 2003 'Charlies Angles: Full Throttle.'
1972 Chevelle SS in 2010 'Percy Jackson & The Olympians: Lightning Thief.'
1969 Chevelle SS in 2007 'War.'
1969 Chevelle Malibu in 2006 'Talladega Nights: The Ballad of Ricky Bobby.'
1971 Chevelle SS 454 in 2011 'Drive Angry 3D.'
1970 Chevy Chevelle SS 454 in 1993 'Dazed and Confused.'
1970 Chevy Chevelle SS 454 in 2009 'Fast and Furious.'
1970 Chevrolet Chevelle SS in 2017 'John Wick: Chapter 2.'
1973 Chevrolet Chevelle in 'Drive'
Donate To Fast Muscle Car
We spend a lot of time bringing you muscle car content. If you would like to donate something to help us keep going, that would be fantastic.
John Shaft Movie Co-Star The 1971 Chevrolet Chevelle SS

,