Best Muscle Cars
Is The Dodge Challenger RT Scat Pack 1320 Any Good?
By
|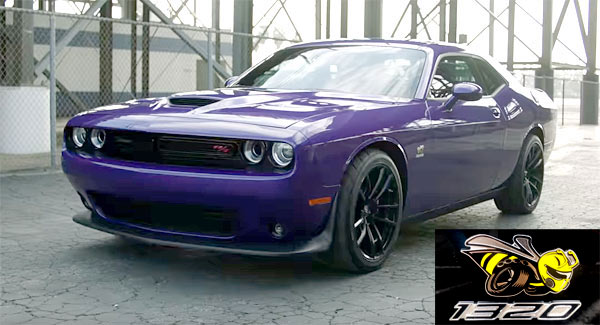 By Dave Ashton
It's been almost a year since the Dodge Demon was released to the public. The heavyweight champion of the muscle car world has definitely influenced the rest of the line, with one of its latest offspring being the RT Scat Pack 1320 'Angry Bee.' This '1320' package (1,320 feet in a quarter mile) is a $3,995 option on top of a regular Challenger RT Scat Pack at $46,080.
For the extra you get a 392 HEMI® V8 with 485HP and 475 lb.ft. of torque going through a TorqueFlite 8HP70 eight-speed automatic transmission, 3.09:1 rear end and with Demon influenced extreme-duty 41-spline rear-axle halfshafts, adaptive dampers with Drag mode, Torque Reserve system, trans brake and a finger-actuated line-lock. Basically, all the tools you need for a quality burnout and hard launch.
The package also add some niceties such as Super Bee logos, instrument panel, splash screen on the gauge cluster, Brembo brakes, gloss black 20-inch wheels on Nexen SUR4G drag-spec 275/40R20 tires and just like the Demon, just the drivers seat or the others included as a $1 option. There's even a nice little lip to the rear spoiler. Colors include – B5 Blue, Destroyer Grey, F8 Green, Go Mango, Granite Crystal, Indigo Blue, Maximum Steel, Octane Red, Pitch Black, Plum Crazy, TorRed, Triple Nickel (NEW), White Knuckle and Yellow Jacket.
Being drag race orientated, the car's been approved by the NHRA for Stock and Super Stock Competition, which means owners can tweak away on their cars as long as its within the rules. Dodge even says it's the fastest naturally aspirated, street-legal muscle car around. In real-world figures this equates to 11.7-second at 115mph in the quarter mile and 0-60mph in 3.8 seconds. Just that bit quicker than the 2019 Scat Pack R/T wide-body quarter mile at 12.1 seconds. (having just one seat drops 114 pounds and a tenth of a second faster with the 1320.)
So what's the main feedback? Alot of Demon tech. has been added, it's easier to drive than the Demon and more readily available. Its drag optimized, but can still do as a daily driver. If you couldn't get hold of a Demon and the Redeye is too expensive, then the 1320 is a good choice if you want to hit the strip, along with the options of daily niceties. The tech. is setup for drapstrip launches and Dodge positively encourage all owners to use the car for what it was made for.
The 392ci (6.4L) Hemi V8 is also the prime performer for Mopar outside the Hellcat setups. It's a rock solid performer, just waiting to be tweaked and fettled. It also has loads of aftermarket 'bits' available, making it an ideal platform for building up to any power levels your pocket or kid's trust fund allows.
Caveats? Well, if you want to include all the options then the price gets cranked up. You could get a Hellcat or Widebody, but the 1320 has more Demon tech. like the transbrake and covers the road and drapstrip in equal amounts. In 'Sports mode' its also potentially happy as a touring car. Adding all the extra goodies, may defeat the object of a drag optimized car, but the choices are there if needed for more roadgoing creature comforts.
So, if you need more whack than a standard Scat Pack, something dragstrip orientated straight from the factory and flavors of the Demon, then the 1320 could sit very well. The 1320 also includes a one-year membership to the NHRA or NMCA, 5-year/60,000-mile powertrain warranty and the Dodge 1320 club.
Donate To Fast Muscle Car
We spend a lot of time bringing you muscle car content. If you would like to donate something to help us keep going, that would be fantastic.
Is The Dodge Challenger RT Scat Pack 1320 Any Good?

,