Best Muscle Cars
Why the Dodge Challenger Outsells the Camaro
By
|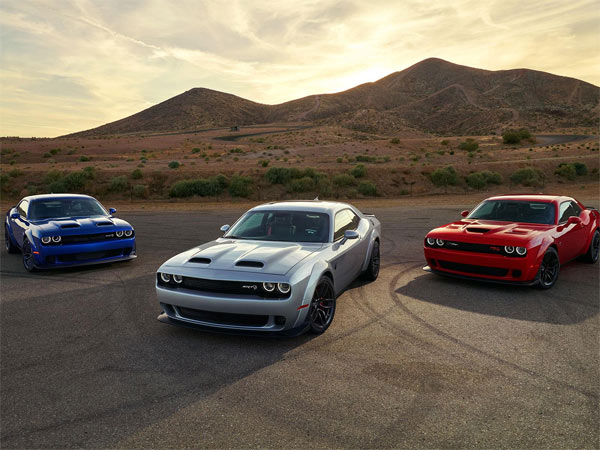 By Dave Ashton
The Dodge Challenger platform maybe a few years old now, but it's as popular as ever. The Detroit Free Press reported that the Challenger outsold the Camaro(12,083 units) in the first quarter of 2019 with 13,431 vehicles, coming in second behind the Ford Mustang(16,917 units).
Camaro sales were bolstered by a 2019 mild facelift, but even with Challenger sales down, Dodge still romped ahead of the Camaro selling 66,716 units, opposed to the Camaro with 50,963 units and the Mustang with 75,842 units. Sales have also been consistent for the Challenger over the last four years, selling roughly 65,000 units annually, compared to the Camaro where figures have dropped since 2014 and even Mustang sales have fallen somewhat since 2015.
There are some obvious factors that have pushed Dodge's lineup over the past few years. Releasing cars with rather cool names like the Demon, Hellcat and Redeye as opposed to, well…not with the others and top horsepower levels have helped cement the success. Cool color combos, roomier interiors for daily driving and even an all wheel drive version have giving customers lots of variety. But why would a modern muscle car beat out what's seemingly a more nimble sports cars?
Ethos
The Mustang has romped ahead in sales as its available in that other side drive for the rest of the world and in general, is aiming for sports car territory. A raw American V8 has become a welcome alternative to some of the more expensive high-end sports cars. The Camaro, still potent in nature seems to be stuck between its original pony car roots and a sports car. Nimble and track worthy, but neither pure muscle/pony car or sports car. The Challenger on the other hand is boldly proud of having been and still is a pure muscle car.
This isn't to say that the Challenger has stuck to antiquated principles. The tech. inside a modern Challenger is as robust as the rest, but power is still derived for straight-line speed and the most raw fun horsepower for the money. It's basically taking the best elements that made previous muscle cars great and wrapped them in a modern package. The raw fun of the past, with todays convenience.
In the modern era where engines are being downsized, EVs are starting to take over and top super cars are looking more like spaceships with an equivalent cost, the Challenger is sticking to its guns. A huge displacement V8, supercharged and with just the right balance of design to not look out of place either in a car park or on a drag strip. In other words, like vintage muscle cars, a medium-sized vehicle available to the masses, but with top power levels to rival the best. Ok, you can't exactly dive into a modern Challenger with a wrench to tweak things like a 1970 Challenger, but the ethos is still there.
It's also about being a pure muscle car, but also a modern one. There's something admirable about a carmaker that ploughs ahead with a concept and in the Challenger's case it's building the mightiest American V8 vehicle. Also, many vehicles are referred to as 'muscle cars' and proud of that moniker, but today it's really only Dodge that owns the term outright.
So, while the Camaro looks great, has a nice spread of engines from a 2.0L LTG turbo-charged I4 with 275HP, up to the 6.2L LT4 supercharged V8 with 650HP, it needs to become pure pony car or play the Mustang game and eye up the likes of Porsche domestically and abroad. The Mustangs have enough American V8 power to always leave a smile on your face, but is still civilized enough to work at home and abroad. The Challenger, especially in Demon, Hellcat or Redeye form dares you to take on its huge horsepower levels. The Camaro is almost somewhere in between.
Personally, I would like all 3 top makers to level the opposition. The upcoming Corvette C8 is going to take some of the limelight away from the Camaro, so we'll have to wait and see how the Camaro shapes up in the coming years. Maybe, as the upcoming C8 'Vette is going mid engined and vying for supercar territory, it's leaving room for the Camaro to be more pony or muscle car in the future.
For now, it's a proud time to be into muscle cars in an ever increasingly sanitized world and its the Dodge Challenger that is leading the march.
More Muscle Cars For Sale – http://fastmusclecar.com/muscle-car-for-sale/
Donate To Fast Muscle Car
We spend a lot of time bringing you muscle car content. If you would like to donate something to help us keep going, that would be fantastic.
Why the Dodge Challenger Outsells the Camaro

,