Best Muscle Cars
To Hot Rod or not to Rod
By
|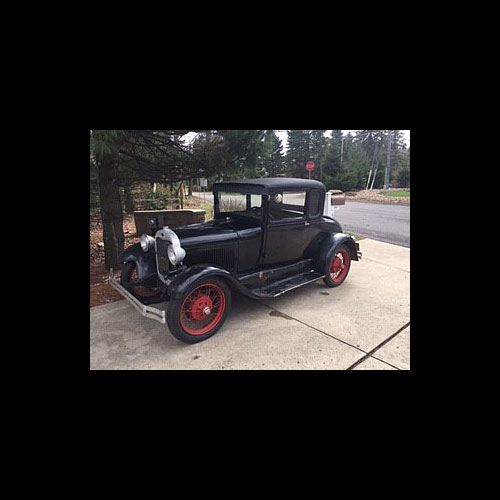 By Mark Weisseg
That is the age old question. Now this 1928 Ford Model A is owned by me. I found it in Illinois back in September of 2015. I discovered it lived most of its life in Minnesota. I contacted the former owner who said he had it in a barn for about twenty five years. He purchased the car from a local and only drove it about one year before retiring it to the barn.
I asked him why he parked it and he said he lost interest. I get that comment as these are hard cars to drive. They only have 40 horsepower and mechanical brakes. That means no master cylinder, and no brake fluid. Just metal rods that extend to each wheel to pull the brake shoes out to stop the car. A three speed on the floor that is non-synchronized. Meaning, double clutching. So, it's not the easiest car to drive but millions were sold between 1928 and 1931. So, when I purchased it I asked my master mechanic brother to once again mechanically restore this car to drive safely. The car is nearly one hundred percent original and it's a car I have had on my bucket list for years.
With all that history said I had a problem. Do I make a modern day hot rod or leave it alone? A modern day rod would have been a bigger Ford crate engine, a modern transmission as well as larger wheels and tires. Of course the rear end housing would need to be changed as would the entire suspension and brake systems. An updated interior and new glass would be needed and some other modifications.
These cars are "hot rodded" all the time so many companies already make kits that valuable on the aftermarket to speed up the process. It's very tempting. I could have a modern day hot rod with all the bells and whistles for a reasonable price. It would not be an easy transformation but nothing my brother could not do with my assistance. So, I asked around and got many opinions on the subject. Of course everyone has an opinion when it's your money and not theirs. But I listened contently to see what all my options were.
I always wanted a real bad ass hot rod but I also wanted a Model A just like my father had back in the early nineteen forties. He also had a black one with red wheels and spoke highly of his first car. I have looked at other Model A cars over the years and came close a few years ago to buying one in Michigan. I went and looked at that car – trailer on hand but left without it. It's still sitting in that barn frozen in time.
So, back to the present I had a decision to make. I chewed on it for months and finally my brother told me he needed the direction to go in quickly. Rip it down to the frame, or start disassembling the car for a mechanical restoration. I was torn on what to do and finally made the decision that was best for me right now. Leave it be. Yes, this one will stay as original as possible and the next one will be the hot rod.
I have plans written down as to what I want and how it will be done next time. It goes along the lines I mentioned above. You see I am one of those guys that believe you drop a Ford engine in a Ford and a Chevy engine in a Chevy. I get turned off right away when I see a 32 Ford hot rod with a big block Chevy engine. It's just not right. So, I can offer you this final thought. I already have begun searching for a real Model A or B to have that built into a full blown hot rod. When I do it I will do it right and it will be a killer. In the meantime I will putt around in my old Model A and enjoy the scenery at 35 miles per hour.
For all muscle car parts – http://fastmusclecar.com/muscle-car-parts/
Donate To Fast Muscle Car
We spend a lot of time bringing you muscle car content. If you would like to donate something to help us keep going, that would be fantastic.