Muscle Car
Honey Hole or Honey Don't?
By
|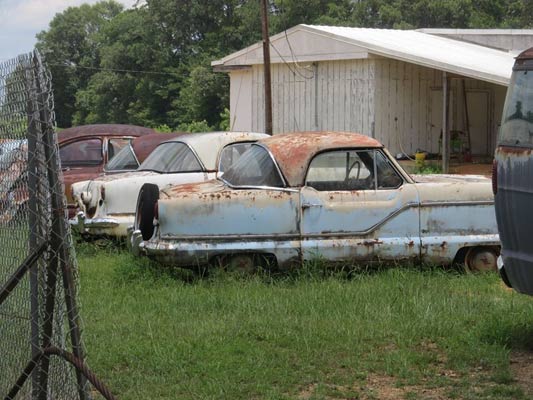 By Mark Weisseg
I had this picture sent to me over the long weekend and I marveled that so many cars are still out there.
We all heard of a honey hole of something. Could be cars, bikes, clocks, shoes, or whatever you are looking for. But sometimes a honey hole is a honey don't. Meaning of course even though your eyes see a treasure trove of something you cherish, I warn you of the following.
Maybe it's too good to be true? Maybe you are the zillionth person to discover the honey hole or lastly, you should have not found it. We all remember the "if it's too good to be true it probably is" or "there is no free lunch".
But, back to the cars and honey hole. Most of us have stumbled onto some sort of honey hole. It's almost too good to be true. And usually it is. Just because you see a bunch of old cars in a field does not mean the rainbow ended there. I am going to remind you of a few things as I think some of you are going off the rails. If the field is full of cars it means you are not the first to see them. The owner is not selling. Even if you somehow convinced him or her are you ready to take on a car that has been sitting in a field for 30 plus years? That is the honey don't hole.
You will spend more money that you can even imagine at this point. You will tear your hair out by the roots, you will spend so much time away from the family you will need to wear a name badge at functions. And that is the known stuff. The unknown is what you should fear the most. Do you want other family members asking "what happened to happy go lucky old Uncle Bob?" Someone's answer will be mumbled that you thought you were smarter than the last million guys that stumbled onto a honey hole.
Have you ever come across a green thing in your yard that you think is a weed? Do I pick it up? Or, do I mow over it? So, you are smart and you pull the green leafy thing out of the soil only to be told by someone much smarter you picked poison ivy. But, it looked harmless, it was green, shiny, and I thought it was easy. Now, you have 14 days of cream to rub on your hands and face and an antibiotic for 7 days. All because you thought it was a four leaf clover. Same with the honey hole of cars. Stop, drop, and roll thy self the heck out of there before the ground swallows you up like quicksand in old black and white movies. But, you are smarter than us. You think you can buy that field car for next to nothing and have it on the road by Christmas! I smell stupid in the air and remember when you are buying more parts and your computers death wheel is spinning that Mark Weisseg from fast muscle car.com warned you. And I did.
More Muscle Cars For Sale – http://fastmusclecar.com/muscle-car-for-sale/
Donate To Fast Muscle Car
We spend a lot of time bringing you muscle car content. If you would like to donate something to help us keep going, that would be fantastic.