Muscle Cars
The Hidden Truth Of The The New Dodge Demon
By
|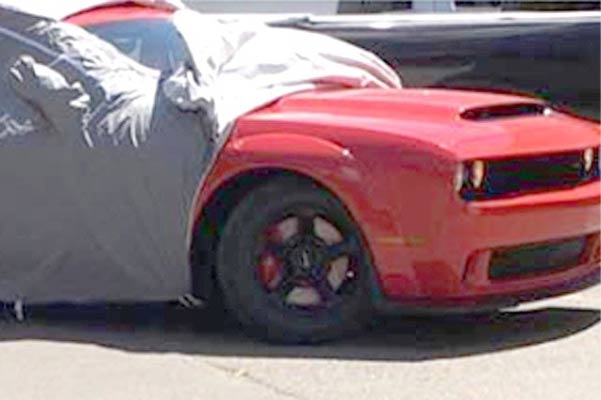 By Mark Weisseg
Seems like every other day some big OEM has a major announcement.
The latest out of FCA is the Dodge Demon shown here. Now, we all know back in the seventies Dodge had a Dodge Demon with a 340 engine. It was very fast because the car was lightweight. So, like the other OEM's Fiat or FCA is bringing back a version of that car. And that my friends ticks me off.
Why? Well, I love Mopars of old, and Fords and yes certain GM models. What I don't like is the use of old proven names of the past used again and again. Is it really that hard to come up with a new name? They all do it of course. When I was at Barrett Jackson, Mark Fields of Ford said they were going to bring back the Bronco in less than three years. Yipeeee. We certainly do not have enough SUV's out there now so let's bring another one on board.
Now, as for the hot rods. FCA is using the Challenger name plate of course for a car that looks a lot like the Challenger of old. Ford is using the name Mustang of course for its version of the new Stang that looks a lot like the one from the late sixties. Not to be outdone, Chevy has the Camaro today that looks a lot like the Camaro we all loved in the days gone by.
All the car companies tease us with spy photos and photos like the one pictured here. It gets us drooling and talking about buying one when available. I get that of course. Pre sale events are designed to get everyone babbling about what is to come. But, using names from the past pissses me off. Sorry. But does anyone who lived in the sixties and seventies think today's Dodge Charger resembles the Charger of old? No way. Will this Challenger Demon resemble the Demon of old? Nope.
Will the new Bronco look like anything like the old Bronco? I highly doubt it. So, can these highly educated people come up with a new name? It reminds me of today's Volkswagen. Maybe they would sell more cars if someone, anyone could pronounce the names of the vehicle. What is so hard about this. Can't FCA build a two door door hot rod that resembles a Demon and then call it a Demon? If you buy one of these cars most people will think you bought a Challenger- which you did.
I am as old as Moby Dick I guess but what's so darn hard about building a car and giving it a name that has not been used forty plus years ago. I know they are going after your memories and wallets but it shows no imagination at all. It's a bitch when you understand the best selling vehicle in the United States is a pick up truck for the last 40 years!
Back in the fast muscle car days it was not a truck. We had cars. We had cars that looked different from one another, rode different, and were loved. Today all the cars look alike. I read a quote from a big shot at GM recently. I cannot quote him now but the basis of his talk was that in very short order cars from GM will start to look very different. I guess that means you will be able to tell a Buick from a Chevy Bolt after all. I wish I could write an open letter to the OEM's and ask them if they are going to build a new styled hot rod today, please leave the past where it belongs and have the nuts to be different. Back in the sixties and early nineteen seventies you knew a Chevy Nova with a 396 was very different than a Dodge Charger with a 383 under the hood. They rocked. Why do you think our fast muscle cars are and were used so often in car movie chases?
Imagine Bullit with McQueen in a Chevy Malibu and the two assassins in a Ford Fusion. The movie would go to DVD and Netflix in a month and forgotten in six months. Yet, the movie as we know it lives big. Same with Vanishing Point and many other movies that used our hot rods. So, please you car builders think outside the 2×4 box you sit in. What's next? A new Ford Maverick? A Chevy Monza, or a Dodge Aspen. Oh wait they did that already and it bombed. Imagine that.
More Muscle Cars For Sale – http://fastmusclecar.com/muscle-car-for-sale/
Donate To Fast Muscle Car
We spend a lot of time bringing you muscle car content. If you would like to donate something to help us keep going, that would be fantastic.
The Hidden Truth Of The The New Dodge Demon

,