News
Ford Mustang Bullitt Hits Top Speed On Autobahn
By
|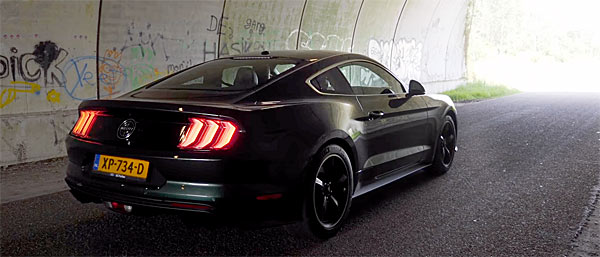 By Dave Ashton
Germany's Nurburgring and Autobahns are almost a rite of passage for a performance vehicle. While the Nurburgring is a closed-circuit, the Autobahns or at least parts of them, is a no holds barred, go as fast as you like bunch of highways….within the realms of what is safe of course.
One vehicle to give the German tarmac a run is the Ford Mustang Bullitt limited edition. Based on the classic Steve McQueen Bullitt movie car, the 2019 version as shown in the video below is a good indication of what a modern Mustang can throw out on the open road.
Firstly, what's under the hood? A slight increase in power from the regular Ford Mustang GT, with 480HP (20 more than standard) coming from a 5.0-liter V8. Manual transmission only, magnetic dampers, Brembo brakes and of course, the Highland Green paintjob. All wrapped up to be the fastest non-Shelby Mustang.
The Bullitt Mustang once on the main roads, has a rolling start and almost leisurely hits 162 mph (260 kmh) in fourth gear, leaving two gears left for leeway. When accelerating, it's almost like the Mustang isn't trying, easily hitting top speed. The exhaust note is hard to tell from from a video, but it definitely stands out the most when changing down gears, with some lovely V8 pops and gurgles.
Some comments of the video posed the question of why the low limit of 260 Km/h and the car can easily hit that in fourth gear making the other two gears more like overdrives. Like many leisurely road tests, it throws up more questions than answers, but the takeaway is to give you a general impression of what the Mustang Bullitt is like to drive.
So, here's another video of the same Ford Mustang Bullitt, accelerating to 260 Km/h and back, just as another comparison test.
Overall – great car, great sound and plenty of performance for the majority of uses. Some have said that the Boss 302 can reach 290mph with the same 5.0 and 444 hp, implying they expect more. Understandable, but this is also a limited edition model. Performance and collect ability here, so I guess Ford don't want users to be blowing up engines too soon, so better to be safe than sorry. Still, any type of Mustang Bullitt is a worthy car to buy still the best bang for the buck overall other performance vehicles.
Donate To Fast Muscle Car
We spend a lot of time bringing you muscle car content. If you would like to donate something to help us keep going, that would be fantastic.
Ford Mustang Bullitt Hits Top Speed On Autobahn

,