Best Muscle Cars
First-Delivered 2020 GT500 Runs Insanely Fast Quarter-Mile
By
|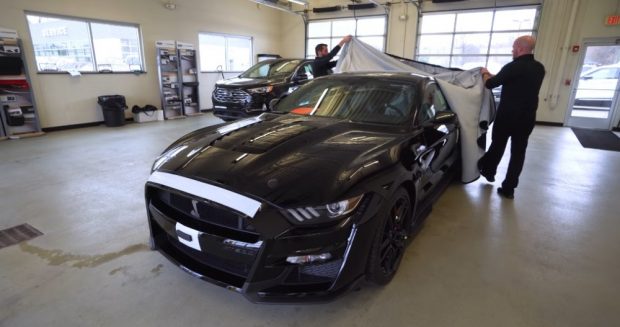 Ford's newest addition to the storied GT line of Mustangs is looking like one healthy pony. Unlike their more nimble and balanced stablemate, the GT350, GT500 Mustangs have always been about big power and crushing the quarter-mile. If what YouTuber Speed Phenom shared with the world the first week of December can be believed, this 2020 rendition lives up to that reputation and then some.
In a video posted to the world's public show-and-tell site, the teenage Phenom's car blazes to a 10.6-second 1/4-mile bone-stock. That's quicker than Car and Driver's professional staff were able to extract from a Porsche 911 Turbo S.
Run What You Brung
The old drag racing adage is one that Mustang aficionados know well. It embodies the ideology that laying down a respectable time is one thing, but doing it in a car you can drive to the track and back home earns extra provenance. How about driving across the country?
That's exactly what Speed Phenom (let's call him SP for short) did to take delivery of one of the first GT500s the world at large has ever clapped eyes on. Leading up to the silly-fast time at the strip, SP shared video coverage of the car's unveiling at Lasco Ford in Michigan after traveling to Ford Motor Company's home state all the way from Southern California. Key-in-hand, SP set off on a cross-country journey. Destination, Texas Motorplex drag strip.
Performs as Advertised
Ford rates the new Shelby GT500 at 760 horsepower from its blown 5.2-liter V8. That should provide ample motivation to get by that minivan squatting in the fast lane. What's impressive about this 1/4-mile time, however, is the car's ability to find traction.
To outrun a four-wheel-drive Porsche that costs nearly twice as much as the Ford is a serious accomplishment, particularly when you consider this car's independent rear suspension. While the IRS setup is ideal for carving corners, Mustangs of yore used a solid axle for durability and competence at the drag strip. Ford stated that the car should be capable of a sub-11-second 1/4 mile in promoting the car, but to see someone like SP, with zero track experience, accomplish this time after a full day of hard runs at the track is impressive.
This capability speaks to the car's performance, toughness and cooling capacity. To be clear, SP had track staff on-hand giving him advice about how to take full advantage of his new Shelby's launch control and line-lock systems. That, combined with what have been described as "ideal conditions" — a track sticky with fresh rubber and temperatures amiable to the force-fed 5.2's power production — make it a little less surprising to see the 10.6-second run, but plenty of cars we know would overheat or slow down after repeated runs.
Will the new GT500 continue to perform at such a high level, or will SP's abuse reveal the rental car bones of this perennial power pony? You'll have to stay tuned to Speed Phenom's channel if you want to find out. Or, you could go and buy yourself a new Shelby GT500. It'll cost you a cool 75 grand, but it's definitely the more fun option.
Donate To Fast Muscle Car
We spend a lot of time bringing you muscle car content. If you would like to donate something to help us keep going, that would be fantastic.