Best Muscle Cars
Find Of The Day: 2016 Chevrolet Camaro SS
By
|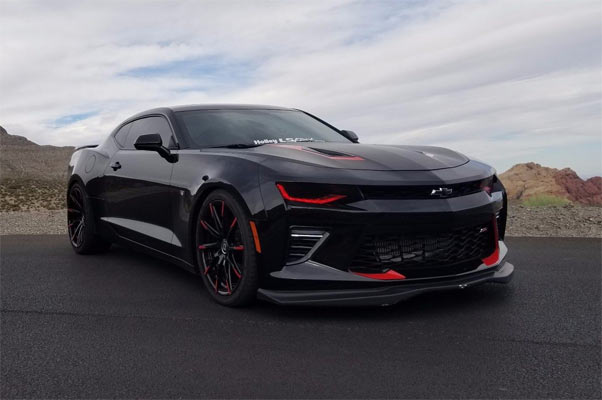 BUY NOW ON EBAY.
This 2016 Chevrolet Camaro 2SS as more than just visual appeal and the fact that 5% of sale price will be donated to TheChiveCharities is a possible bonus to some. It's highly modified, but the results prove to be a fantastic combination.
The full ad below sum up everything –
'To start this off I want to warn you. This car is violent, it will put you sideways harder and faster than your promdates father for bringing her home ten minutes late. Remove traction control and put it into competitive? Chances are you will end up in a wall if you don't know what you're doing. This car will kill you if you do not respect it. Everything done to it was for a specific purpose of beating HPR's 202.1 MPH top speed and it will beat it.. You will see 200mph all day long if your balls are big enough.
Did your co-worker just buy a Hellcat, Demon, GT350, GT500, ZL1, 1LE? Hell even a new Z06?? This will keep up with them all and give every single one of them a run for their money, once the boost kicks in better hold on! It'll feel like your on a NASA Shuttle launch. Is there some annoying ass kid in the area with a streetbike? He won't catch you… Have an annoying neighbor that you're in the middle of a pissing match with? You'll win, my neighbors hate the sound of the car on cold starts. They can hear me coming while cruising into the neighborhood in 2/3rd gear.
If you ever wanted to be Dale Jr with the rush of winning the Daytona 500, look no further than your empty freeway at 2am in Mexico.
If you buy this car, I am not responsible for the backlash you'll get from your wife, insurance company, mother, S/O nor am I responsible for your funeral arrangements. Do not buy this if you can't respect it.
Before you ask.. Yes the car has seen a drag strip, yes it has seen top speed runs, yes it has been driven like a race car. Let's be honest here people. You don't have 792+ hp to sit in the garage and drive like Ms. Daisy. You buy it to be "The Bandit" or "The Dukes"
792 was on a 5500 pull on the dyno with a low amount of boost (9lbs) on C16 race fuel. Car is currently being tuned on 100 Octane. Title is clean and clear with no issues.
Reason I'm selling? I want another Corvette plain and simple. There is a lot of time and money into this car, no corners were cut, no expense spared
I do still have some stock parts left. Lower end, Cam, Tail lights, Springs, DRL's, Cold Air Inductions CAI, Intake manifold.'
We have listed the full build list below –
2016 Camaro 2SS
Mosiac Black Metallic
A8
NPP Exhaust
Sun Roof
Red leather interior
Illuminated door sills
8in MyLink
12,000 miles on chassis, 2,000 on build
HP Tuned
Toyo Proxie Tires- 5k on them
MSD Airforce Intake manifold
Ported Throttle Body
American Racing LT Headers
XPipe
1.5in Lowering springs
BMR Tunnel brace
Lexani CSS-15 wheels
Matte Black hood wrap and 50th anniversary striping
Callies 416 Forged Crank
Callies Connecting rods
Custom Forged Diamond Pistons
Motor bored out to 416 CI balanced and blueprinted
Camshaft
Ported and polished heads with Inconel SS valves
ASC Splitter
ASC Sideskirts
Borla Atak NPP Axleback
D-1 Procharger with stage 2 inter-cooler and race bypass valve with helix cut gears
Meth Injection- Snow performance controller
Z06 LT4 Fuel Pump
Z06 LT4 Injectors
Headlights tinted
Dark Smoke GM Tail lights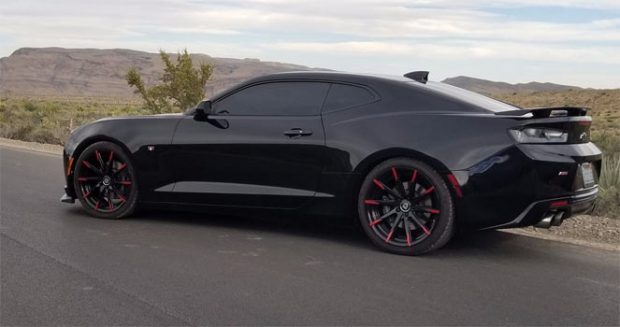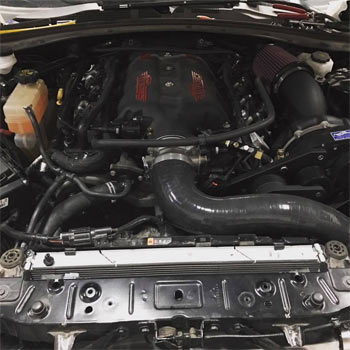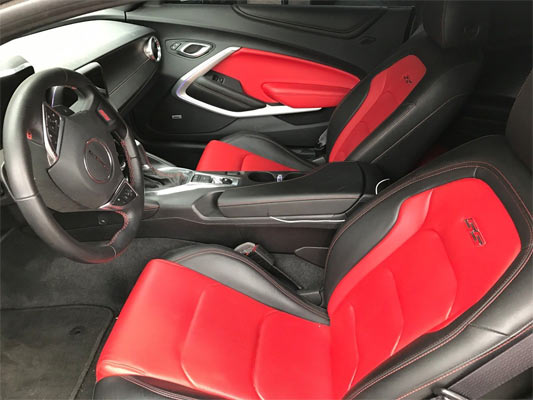 BUY NOW ON EBAY.
More Muscle Cars For Sale – http://fastmusclecar.com/muscle-car-for-sale/
Donate To Fast Muscle Car
We spend a lot of time bringing you muscle car content. If you would like to donate something to help us keep going, that would be fantastic.
Find Of The Day: 2016 Chevrolet Camaro SS

,