Best Muscle Cars
Dodge Charger History From 1964 – 1970
By
|
Dodge Charger History From 1964 – 1970
By Dave Ashton
The Dodge Charger is arguably one of the most famous and classic muscle cars and just like offerings from Ford and Chevrolet, it has a lengthy history going back to the 1960s. Although the model started its first generation in 1966, a show car was first produced in 1964 and from 65 to 67 Dodge Chargers were produced based on the Dodge Coronet.
1964
The first Dodge with a Charger name was produced in 1964 based on the Polara and featured a 426 Wedge engine. There were other models such as the 1965 Dodge Dart, which had the name 'Charger 273' 180 factory made and 300 kit versions made available at dealers. This model was based on a Dart GT, 13X6 Cragar mag wheels and charger badging.
1966 first-generation Dodge Charger
The 1966 Dodge Charger was a result of the fastback craze started by the Mustang and Barracuda. Initially launched on New Year's Day. Arguably a fastback Coronet with a now electric shaver Charger grille, sweeping C pillars, hidden headlamps full web taillights and chrome Charger badging.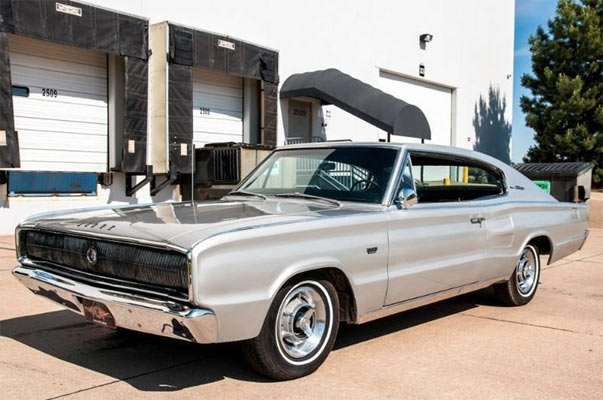 The interior had four bucket seats, fold down rear seats and cool looking electroluminescence dash pods. The dash showed a 0 to 6000 rpm tachometer, 0 to 150 mph speedometer, alternator, fuel and temperature readouts.
Engines ranged from a 318cu. V8 to a 361 cu., 383 cu. 4bbl B V8 and the legendary 426 Street Hemi advertised 425 bhp with an actual output around 500 bhp. This added around $1,000 on top of the $3,122 base price with only 468 built in 1966. Transmissions came in a three speed manual, four speed manual and Torqueflite Auto.
Total production for this year was 37,344 units. 426 Hemi V8 425: 0-60 in 6.4 sec, 1/4 mile in 14.16 sec @ 96.15mph.
Factory colors –
Silver
Black
Light Blue
Medium Blue
Dark Blue
Light Green
Dark Green
Medium Turquoise
Dark Turquoise
Bright Red
Red
Yellow
Cream
White
Beige
Saddle Bronze
Gold
Sandstone
Mauve
Maroon
Deep Plum
1967 Dodge Charger
The '67 model had some minor changes, such as the turn signals mounted on the fender, vinyl roof and the full on console got rid of.
Engines came in the form of the newly introduced 440cu./375bhp Magnum with 4-barrel carb, a 383 cu. replaced the 361 cu. The 318cu. V8 was the standard in the base model.
Only 15,788 units were produced this year as the buying public wanted more compact pony cars. So what did Dodge do, produce the second generation which is arguably one of the most iconic of muscle cars.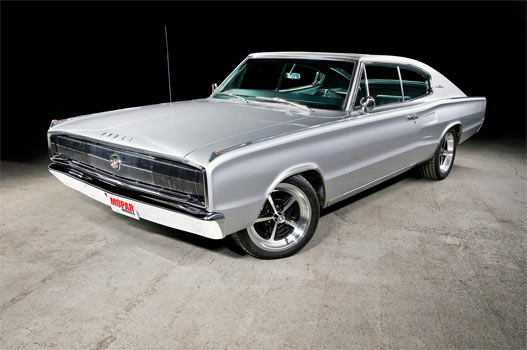 1968 Second generation Dodge Charger
The second generation Dodge Charger B-body had a re-design with a Coke bottle profile and more smooth curves designed by Richard Sias and Harvey J. Winn. The rear of the car was inspired by Group 7 racing with a kick up spoiler and a flying buttress on the roof to make a rear window look more like a Pontiac GTO. The hidden headlight grille was a main feature with the rear quarters far more curved than before.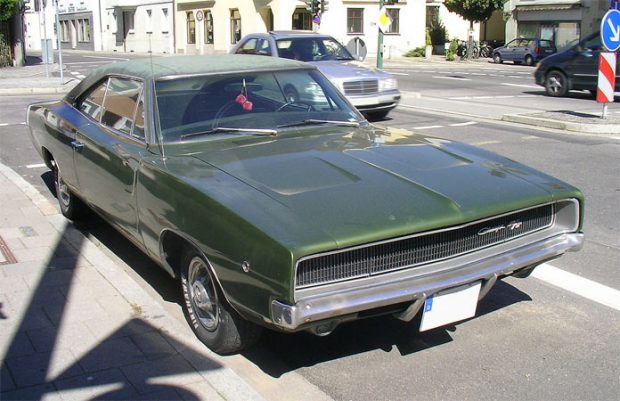 Engines came in the form of a 225 cu. 1bbl I6 , 318 cu. 2bbl LA V8, 383 cu. 2bbl B V8, 383 cu. 4bbl B V8, 440 cu.4bbl RB V8 and 426 cu. Hemi 2×4bbl RB V8.
Transmission variations were a A904 3 speed automatic, A727 3 speed automatic, A230 3 speed manual and a A833 4 speed manual.
The 426ci/425hp was capable of 0 to 60mph in 6 seconds and the quarter-mile of 13.5 sec @ 101.1 mph.
The 440ci/375hp could do 0 to 60mph in 6.5 seconds the quarter-mile in 14.9 sec @ 95.0 mph. The 68 version of the Hemi had a longer-duration cam, upgraded valve springs and tweaks for the reduce consumption of oil.
The interior was also made over with optional centre cushion console,  plenty of included safety features and in six colors – White, Blue, Red, Black, Green and Gold. Exterior colors included – Silver, Black, Medium Blue, Pale Blue, Dark Blue, Light Green, Racing Greeen, Light Gold, Medium Gold, Light Turquoise, Medium Dark Turquoise, Bronze, Red, Bright Blue, Burgundy, Yellow, Medium Green, Light Blue, White, Beige, Medium Tan, Charger Red, Dark Green.
This year saw the introduction of the R/T package part of 'Scat Pack' line.
92,590 Chargers were produced for 1968, 17,665 for the R/T package, 475 for the Hemi. 16% of Dodge sales in 1968. Wheelbase 117 in.
Resource http://www.allpar.com/model/charger.html
1969 Dodge Charger
The 1969 version of the Dodge Charger is possible of the most iconic. This could be mainly due to it centre stage in the TV series The Dukes of Hazzard. The appearance was more or less the same as the year before with a centralised grill divide, white reverse lights now below the bumper and recess taillights.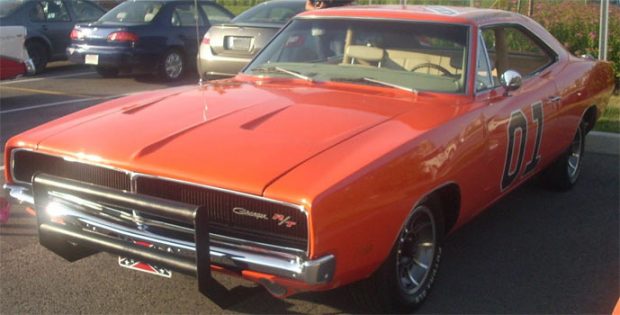 The slight exterior refinements also included upgrades to the engineering. Rallye suspension, sway bar, special handling packages for the R/T and 500 models, cruise control and front disc brakes to name but a few.
This year saw a focus to compete more in NASCAR, which saw a Charger 500 and Daytona. The Charger 500 saw some aerodynamic improvements such as a Coronet grille and slant rear window flush with the roof. The Dodge Daytona was similar in looks to the Plymouth Superbird, had a elongated nose and added tailwind to improve aerodynamics. 500 Charger 500s were made and 503 Charger Daytonas. Engine variations were the 440cu./375hp Magnum V8, A727 Torqueflite Automatic Transmission and 426cu./425 hp Hemi with optional A833 4-Speed Manual.
Not a great hit with the public at the time as the designer was seen as quite extreme. The Daytona was initially priced at $4,000 and could hit 150 mph on the track. The model came with either a 440cu. V8 or 426 Hemi. Both these cars are now super rarities.
In 1971 NASCAR decided that Wing car engines will be restricted to 305 cu. which put an end to the Daytona and the Plymouth Superbird.
Resource – https://en.wikipedia.org/wiki/Dodge_Charger_Daytona
A Special Edition (SE) group had bucket seats, woodgrain steering wheel, time delay ignition light, hood mounted turn signal indicators and inserts on the dash. You could even get four colors in the fashionable vinyl tops which included tan, black, green and white.
Engines included a base 225 Six 1-bbl. carb. with 145Hp, 318 V8 2-bbl. carb. 230Hp, 383 V8 2-bbl. carb. 290HP, 340 V8 4-bbl. carb. 275Hp, 383 V8 4-bbl. carb. with 330Hp, 383 Magnum 4-bbl. carb with 335Hp, 440 Magnum 4-bbl. 375Hp, 440 SixPack 3x 2-bbl. 390Hp and the 426 Hemi 2x 4-bbl. with 425Hp. The hemi having a 10.25:1 compression ratio and 490 lbs. ft. of torque.
Transmissions were a 3 speed manual, 4 speed manual and Torqueflite automatic.
Production: hardtop – 69,142, SE – 503, 500 – 392, R/T – 20,057
1970 Dodge Charger
Changes to the 1970 Dodge Charger included a chrome loop front bumper without thin middle divider, full width taillamp, electric headlight doors, door scoop on the R/T model and longitudinal stripe, ignition switch buzzer. New front fenders were added, along with a low-priced version, which had bench seats, a modest trim package, the return of the 500 model which sat between the base model on the R/T.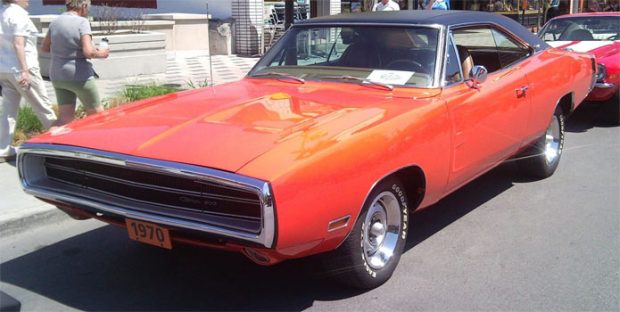 The SE package could be bought for the 500 model and the R/T. A Hemi Hood cutout was optional in silver reflective tape. The model was also 1 inch longer and had 14 inch wheels. Interior changes included high-back bucket seats, map pockets in the door panels as options, ignition, now on the steering column and the glove box was hinged at the bottom.
The 440 Six Pack with 3 Holley two barrels and 390Hp made its debut this year, which now included the 440 Magnum and the Hemi. The Hemi was treated to hydraulic lifters this year, instead of solid tappets and only 42 examples of Hemis were made this year.
The Hemi engine could do 0 to 60 mph in 5.5 seconds and a quarter mile in 13.9 sec @ 105 mph. The 440ci. did 0 to 60 mph in 6.4 seconds and the quarter-mile in 14.7 sec @ 96.7 mph.
Engines:
I6 225ci. 145 hp, 1x1bbl
318 V8 230bhp, 1x2bbl
383 V8 335bhp, 1x4bbl
426 V8 Hemi 425bhp@5000rpm, 490lb-ft@4000rpm, 2x4bbl
440 V8 375bhp @4600rpm, 480lb-ft@3200rpm, 1x4bbl
440 Six Pack V8 390bhp@4700rpm, 490lb-ft@3200rpm, 3x2bbl
Production numbers were Hardtops and 500's – 39,431 and R/T's – 10,337.
Factory Exterior Colors
Plum Crazy
Sublime
Go Mango
Hemi Orange
Banana
Light Blue Metallic
Bright Blue Metallic
Dark Blue Metallic
Bright Red
Light Green Metallic
Dark Green Metallic
Dark Burnt Orange Metallic
Beige
Dark Tan Metallic
White
Black
Cream
Light Gold Metallic
Factory Interior Colors
Autumn Tan
Bayou Green
Baltic Blue
Jewel Black
Dove White
Ivory
Citron Gold
Puma Tan
Sunfire Orange
Sierra Blue
Resources – https://en.wikipedia.org/wiki/Dodge_Charger_(B-body) , http://www.allpar.com/model/charger.html
Check out these links for Dodge Charger sales brochures http://www.lov2xlr8.no/dodge.html and  http://www.oldcarbrochures.org/index.php/NA/Dodge/1969_Dodge/1969-Dodge-Charger-Brochure
The Dodge Charger had a redesign for its third-generation between 1971 and 1974. However, it is the second generation that is arguably now the most iconic and collectible.
More Muscle Cars For Sale – http://fastmusclecar.com/muscle-car-for-sale/
Donate To Fast Muscle Car
We spend a lot of time bringing you muscle car content. If you would like to donate something to help us keep going, that would be fantastic.