Muscle Car
Do You Want Your Own Junkyard?
By
|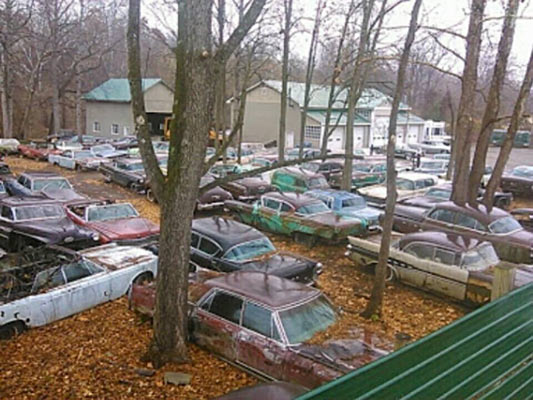 By Mark Weisseg
What is obvious around our country is the lack of good old fashion junk yards. Some called them bone yards, some called them scrap yards but overall the word Junk stuck. With all the regulations today it is very difficult to own and operate these. Fluids leaking into the ground and overall appearance has really hurt this business. Of course some survive and prosper but many have gone away forever. I found pleasure in going to the junk yard tools in hand to find that part I needed. Well operated yards could tell you where to find the car you were looking for. While others pointed to a big field and said Good Luck. Some of the real successful yards today have inventory. That means at times they have already torn the car apart and have the pieces in a warehouse that is computer savvy. That obviously saves time and money for you. Not least would be tearing out a intake in the rain or cold. Sure you pay a bit more but they did all the hard work for you.
I miss going to the junk yard. I would wander around and look at all the cars and trucks and imagine what the history was. Usually you would stumble across something you have not seen in a while and that prize made your day.
Now in certain areas of the country you will see yards like what is shown here in the picture. Not an official scrap or junk yard. Nope. Usually it's someone's property or farm and they just cannot throw anything away. Sometimes the owner will invite you in and sometimes the Doberman makes you understand you are not welcome. Either way it's a dying business. If you get the DEP or EPA sniffing around you might be in a heap of trouble. They know cars leak. Gas, oil, coolant are of course the big leakers. Brake fluid and power steering fluid is next. If they ever nab you be prepared to face stiff fines. And on top of that you may need to remove the bad soil and pay for new soil to be brought in. Hundreds of thousands of dollars can smack you in the face. I know this as a fact as a person I know bought an old gas station and in due order guess who showed up. Yep, they made him dig up the fuel tanks and oil tanks. They claimed the soil was saturated and made this guy have the bad soil removed and special new soil brought in. And, if you are near a creek or river they will somehow find a way for you to repair or replace water retention areas. That is only the tip of the iceberg so be fore warned. I read or hear stories about guys buying old abandoned service stations with the idea to store cars or make a cool man cave. Before you sign on the dotted line I would encourage you to have soil tests done. If there is anything found you need to step up to it or run. The government agencies will go after every owner of that property to get to the bottom of the issue. Everyone will pay including you as the new owner. So, now do you see why many bone yards have gone Kaput?
More Muscle Cars For Sale – http://fastmusclecar.com/muscle-car-for-sale/
Donate To Fast Muscle Car
We spend a lot of time bringing you muscle car content. If you would like to donate something to help us keep going, that would be fantastic.