Readers Rides
Car Talk: From smoke to Clean Air.
By
|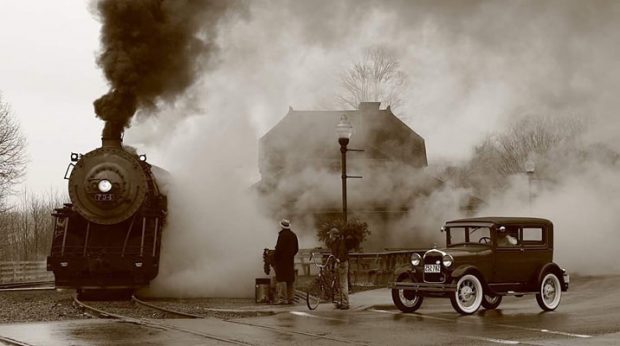 By Mark Weisseg
I love classic fast cars, obviously muscle cars and I love trains. Mix the two together and I am one happy cat. This picture shows everything that I love and hate about both. It is why the image is so great.
Let's assume the photograph was taken the mid to late 1930's since the car fits into that frame work. Both the car and the locomotive engines were pollution makers at there best. The train ran on coal and the car obviously on gasoline. If you have ever worked with coal you know it is very dirty. And the evidence is pouring out the stacks of this train.
Today, both cars and trains are nearly pollution free. As are factories across the world. Society agreed at one point we could not keep polluting our air forever and everyone seems on board except possibly a few countries.
I can recall a time as late as the 1950's and 60's that a mans white shirt would be brown at the end of the day from the soot in the air. Today if I see pollution like this I cringe. There is simply no reason we should pour out the black smoke like we did years ago. Who wants filthy air or water? The line would be short.
So, we all love to reminisce about the good old days but like any old guy that has seen both sides of the coin not everything was good then. Jets would pour black smoke out of the engines, diesels were very dirty and we made excuses at our factories that the black smoke was a necessary by product for the products produced. All that is hog wash. It did make for some great back drops to old movies. The look and suspense of those old back and white films wouldn't be the same without the steam and smoke.
Today, we have clean diesel technology. Heavy duty trucks do not pour out the coal like they once did, and our trains are as clean as we can imagine. The good old days are here now and in the future as we get even smarter and better than we are now.
I love my old cars but will not allow them to blow black smoke, blue smoke or any smoke anymore. There is just no justification for it. When I see how far we have come in the diesel business since just the year 2002 I feel proud we put our heads together and figured this out.
This is essentially why muscle cars will live on. Most think the huge displacements will die out, but alternative fuels can be used and the cars adapted if needed. These old trains still run and we can enjoy the bellowing smoke once in a while as we know its a one off. The smoke then becomes a treat not a threat.
More Muscle Cars For Sale – http://fastmusclecar.com/muscle-car-for-sale/
Donate To Fast Muscle Car
We spend a lot of time bringing you muscle car content. If you would like to donate something to help us keep going, that would be fantastic.