Best Muscle Cars
Car Guide: How to Buy a Muscle Car Out of State?
By
|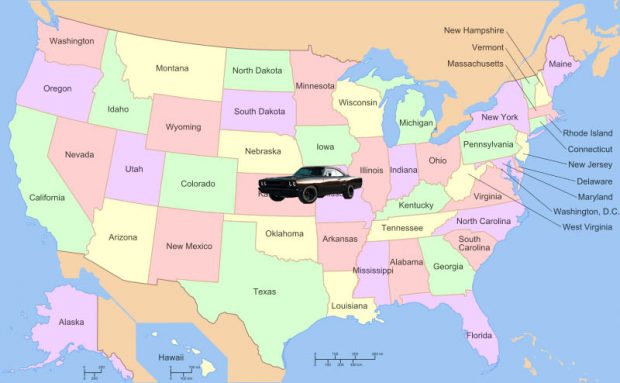 If you are a muscle car enthusiast then you would definitely understand how at times it can be extremely difficult to buy a collector or classic car. Most of these cars are generally not available at local stores or the state you live in. You might sometimes even have to travel across the country to buy your car either from private dealers or other parties. Moreover, self-driving your car from a different state can be a way too dangerous and exhausting task.
In addition, it can also take a lot of time and money to drive your car from one state to another. This is where auto transport companies like Nexus Auto Transport come into the picture. These auto transport service providers possess the utmost knowledge and skills to get your car safely delivered to your desired destination. However, if this is your first time purchasing a car from a different state then there are many factors which you must take into account while placing your order.
In this article, we have listed down some prominent and significant factors that you must consider while purchasing your car outside the state.
1. Sales tax
Generally, you have to pay tax in the state where you register your car. Also, many states ask car owners to register their cars in the state they live in. You must make sure to do the necessary research regarding the sale tax method in different states before placing your order. This is one of the crucial factors about purchasing a car out of state which is overlooked by most buyers.
Therefore you must make sure to know everything related to sales tax so that you can calculate your purchasing cost accordingly.
2. Registration
One of the major drawbacks of self-driving your car from different states is that you have to go through a lot of legal processes. You are required to purchase a temporary registration to drive the car to your home state. On the other hand, if you hire services from auto transport companies then you need not have to worry much about paperwork.
Auto transport companies look after all the legal paperwork and keep you updated for the same.
3. Emissions
Each state imposes different emission requirements, which are followed by the residents living in that state. You must make sure to do appropriate research and understand their requirements. If needed you might also have to abide by strict rules and regulations.
Most auto transport companies travel according to the rules and regulations of each state. This way you can enjoy peace of mind while your car is in transit and focus on other important factors.
4. Car insurance
If you already own a car then depending on your current car insurance policy, you might get the coverage for your new car before you buy it. However, in some cases, you might not get coverage for your new car. You must make sure to cross-check the same with your insurance agent. On the other hand, if this is your first time purchasing a car then opting for a car insurance policy is always a wise decision. You also get an option to get your car insured while in transit.
5. Get your car history
If you are buying a brand new car from a well-known dealer then you might not have to worry much about the condition of your car. Whereas while purchasing a car from a private dealer you must make sure to take necessary precautions. You can also check a vehicle's car history which is recommended.
You can ask for the car history from the dealer to know more about the condition of the car. Ask for vehicle identification numbers and pictures of the car to get access to accurate information.
6. Negotiate the right price
One of the major factors that you must take into consideration is negotiating the right price. Many dealers tend to take advantage of interstate car purchases. Moreover, if you are purchasing your car from a private dealer then this factor becomes even more important. You can ask for car conditions and if any accident that took place in the past. Based on which you can decide the right amount for negotiating. This way you will be able to identify whether the dealer is genuine or not.
7. Have someone look at your car
Lastly, if you are not sure or are not satisfied with the information and details provided by the dealer about the car then you can ask your friends or family members or a trustworthy person to have a look at the car. The person can check the legal papers and other documents on behalf of you and even finalize the deal as quickly as possible. Nevertheless, if needed you must consider visiting the dealer by yourself.
We hope with the above-mentioned details you will be able to make mindful decisions while purchasing your car from different states. Nexus Auto Transport is one of the leading shipping companies in the market. You can visit their website to learn more about their shipping services or contact them today to book your appointment.
Donate To Fast Muscle Car
We spend a lot of time bringing you muscle car content. If you would like to donate something to help us keep going, that would be fantastic.