Muscle Car
Big Time Muscle Horsepower: The Pontiac Trans Am
By
|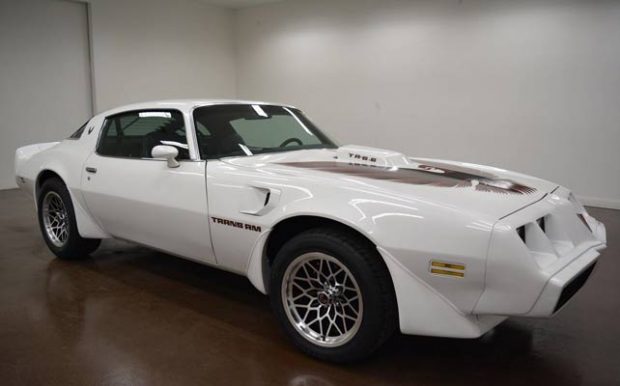 By Mark Weisseg
As I have stated in the past I was not a big GM guy until I got older and my voice changed. Stumbling onto this Pontiac Trans Am on the web reminded me of why I opened my heart and wallet to some GM cars. This monster in white has the loaded for bear 6.6 liter engine. Most of these cars came with an automatic and the interior was what we call camel today. But, trust me you young gunners not too many cared what the interior color was. This car back in the day was a chick magnet and a street force to deal with.
They always had bucket seats with a console between the seats. That was bothersome back in the day because we all took girls to drive in movies. Not for the movies but for the submarine races….. The bucket seats made it look like we were playing the game Twister in the front seat. That is why my first car had a bench seat. See I was not so stupid after all.
But, back to this mean machine. Yes it was a gas hog as we called it back then. After all when gas got to one dollar a gallon people wanted to overthrow the government. These did not get good gas mileage. But Gadzooks, you were as cool as cool gets. Break out the sunglasses and tight jeans and cruise the streets looking like you were John Travolta. Speaking of dear old John when I was in high school he came to our school one after noon. He was promoting his TV show Welcome back Kotter. Well, I could give a crap so I bailed and went home to ride my motorcycle. But, all the girls stayed and some of the so called guys. Big John got up on the roof of a van and wiggle his hips and slung his big head of hair for the girls. Looking back I should have stayed cuz I was told after he left the moistness was felt all around the school grounds and anyone with three legs could score. My life.
Anyway, these big 455 engines were fast for the time. Not as fast as some of the other cars out there but no car made you look so cool. They did not ride all that great but with a nice radio and a cassette deck you could really put the groove on. Today, these cars can be a hundred grand for a low miles good shape car. The problem as a friend told me is that they are now a two hour car. I asked what that meant. He said once you pass age fifty and car you drove as a teenager will tear you up as a old man. I thought about that a lot. One day after cruising around in my 69 Road Runner I realized my back hurt and shifting all the time is not as fun as it once was. Sure enough, I own several two hour cars. But, I am keeping them. So there.
More Muscle Cars For Sale – http://fastmusclecar.com/muscle-car-for-sale/
Donate To Fast Muscle Car
We spend a lot of time bringing you muscle car content. If you would like to donate something to help us keep going, that would be fantastic.
Big Time Muscle Horsepower: The Pontiac Trans Am

,