Best Muscle Cars
The Best From The 2017 Chicago Auto Show
By
|

By Mark Weisseg
I attended the 2017 Chicago Auto show recently. There are many themes with a car show this big but what we are all interested in is the new hot rods. And, Chicago did not disappoint.
First, I noticed the Chevrolet Corvette in all its glory. Powerful, strong looking and very enticing. However, nobody would even discuss the possibility of when a mid engine might arrive. Lots of rumors but nothing in stone yet. Secondly, I moved toward the huge Mopar area. They offer indoor Jeep rides as well as a very small track to ride along in other cars. FC has done this before and it is a big hit. At one point you line up and face a Christmas tree of lights.
When that goes green the driver nails the throttle to demonstrate the powerful engines and the great braking systems. Thirdly I moved over to the Chevrolet area. The new Bolt is gathering some attention and I admit I studied it. But what I was there for was the Camaro. Several choices were available including a really cool drop top. It was a ZL 1 but no information was posted. You had to go ask a consultant for more and they really did not say anything that was concrete in nature. I guess they are testing the waters on several cars.
Lastly I moved over to Ford. Of course Ford had the GT roped off and everyone was kept at a good ten feet away. Boy, I was thinking if only I could sit in one I really could get the vibe. No luck and no way. However, the Mustangs were readily available. I sat in the new GT350 and wanted to fire her up and drive right out the door. It had a sticker of 61k but I was not looking at that. I just fell into the seat and dreamed I was in a Hollywood movie and my job was to drive it hard. Next, I sat in a 5.0 black Mustang that just felt good all over. Roomy and very nicely laid out. But the star of the Ford display was the dyno. A representative fired up the crowd and egged them on to look at this car up on the stand. Then some lucky person got the chance to get in and start her up. Your goal once given the green light was to race through the gears. A young guy there did just that and it was announced he had gotten the car up to 147mph. The crowd loved it. I loved it and wondered how I would do. Except I had no patience to stand in this crowd and somehow get the attention of the guy running the show.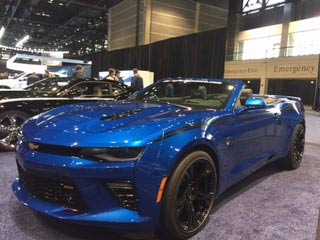 Of course many of the cars there from around the world were bragging about luxury, power, and why you should buy one. Heck, even the folks at Jeep had a concept Wrangler there with a Hemi in it. I thought how fun that might be in a straight line given the fact the Jeep was so light.
Circling back I stopped again at Mopar. I sat in the ever present Challenger with a big Hemi. Plenty of head and leg room for this tall guy and for a moment thought I should have bought one a year ago when the opportunity presented itself. But, one cannot live by history. There were so many cars and only so much time. The show was crowded and for that reason we did not go on a Saturday in order to avoid baby strollers and generally larger crowds. Even Ford did something a bit off the mark. They were raffling off a 1971 Mach 1 for ten bucks a ticket. It was restored and certainly was a crowd pleaser. They probably sold enough tickets over the shows length to pay for several restorations.
As we left we all discussed what our favorites were. The group I was with was diverse. One guy looking at what could carry his new baby while another was looking at cross overs for his canoe and gear. Myself and another were focused in speed, looks, and price. The choices were very tough at the end of the day. Corvette, Camaro, Mustang, or Challenger. Those were the finalist.
We all had differing opinions but all agreed the hot rod future looks bright. The cars are full of creature comforts yet provide amazing power and torque. The decision might come down to your loyalty. You know the old slogan about once you owned a certain type of hot rod you might always stay in that family. I am not sure that is true as much any more as the choices are getting harder all the time. We were trying to figure out what might be a future classic as well. What will be a winner now say twenty years from now?Either way a consumer of any brand is going to have great choices. You can bet I will stay tuned as I believe we are just seeing the tip of the story right now. The big three is pulling out all the stops to get you in the seat. And, I love that.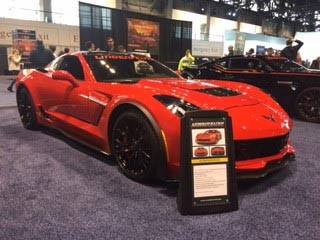 For all muscle car parts – http://fastmusclecar.com/muscle-car-parts/
Donate To Fast Muscle Car
We spend a lot of time bringing you muscle car content. If you would like to donate something to help us keep going, that would be fantastic.