News
900HP Hellcat Charger vs. 850HP McLaren 720S Drag Race
By
|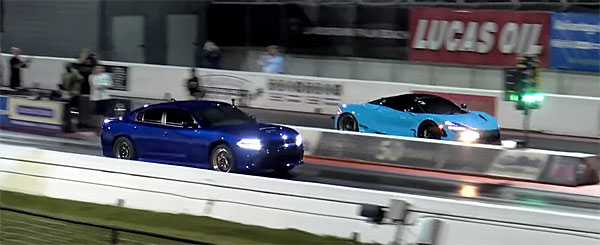 By Dave Ashton
There's nothing like a good old drag race, especially when it comes to rival makes of car. For those who don't really get the drag race concept, it's a bit like watching the 100m meters sprint final in the Olympics. On the surface it's just a bunch of guys running for about nine seconds, but it's the deciding event for who is potentially the fastest person in the world and the most popular event of the games. With drag racing, cars replace the humans and events can happen any time, anywhere. Not every four years with national TV coverage.
So, back to the events at hand. This little match up pits European performance ideologies against seemingly raw American muscle. 'Raw' in the sense that the McLaren 720S costs $350,000, while the Charger Hellcat comes in at $80,000. In this respect, you could almost by 3 1/2 Charger Hellcats for one McLaren 720S. Plus, the Charger is a four-door. Far more practical on a day-to-day basis. Plus, the McLaren is said to depreciate by $80,000 in less than two years.
Which brings us to the specs. of each vehicle. In the light blue corner, the McLaren 720S takes a very high-tech approach, chock-full of carbon fiber wrapped around a 4.0 Liter Twin Turbo V8 producing 710 HP, 568 lb/ft. of torque(now around 850HP) and weighs in at approximately 3200lbs. The video also mentions that the McLaren is running through a 7 speed dual clutch transmission, has had a tune up, on drag radials and may have catless downpipes.
In the dark blue corner, the Hellcat Charger sports a 6.2 Supercharged V8, producing 707 HP and 650 lb/ft of torque, through an 8 speed automatic transmission when stock. But this one has been tuned with a Pulley, Tune, E85 and Drag Radials, now produces 900 HP. This one weighing in at a more substantial 4400lbs.
Both vehicles represent their own individual ways of producing power and laying it down. The McLaren adopts the European view of squeezing the most power from the liters it has under the hood, while the Charger sticks to the 'no replacement for displacement' principle. You could also argue that this is a matchup between turbos versus superchargers, heavyweight versus lightweight and value for money versus prestige supercar.
We're not going to give away any spoilers here, you'll have to watch the short video. However, on launch, the Hellcat Charger gets the upper hand, thanks to the instant power of the supercharger, but the McLaren soon starts to make up ground.
Conclusion
Which brings us to the point of does this video draw any conclusions? Without even touching a road surface, the Dodge Charger Hellcat is far better value for money. Kind of irrelevant if you have the funds to afford a McLaren. If you are in the market for a performance vehicle, is relatively practical with a four-door layout and is sensibly priced, then the Dodge Charger is a good option.
Add to the fact that any upgrades performed on a Charger are going to be a hell of a lot cheaper and without the worry of something going wrong on a vehicle costing over a quarter of a million, like the McLaren.
I think perfectly summed up by one of the comments from the video, 'Great race, only 2 tenths difference. The McLaren is an awesome car, but practical? The Dodge is bullet-proof, American made, has a trunk, and can carry 4 people. The McLaren, not so much. A ten-second daily driver street monster; what's not to like?! Not to mention you can keep a whole pile of cash in your bank acct.'
Donate To Fast Muscle Car
We spend a lot of time bringing you muscle car content. If you would like to donate something to help us keep going, that would be fantastic.