Muscle Cars
Looking Inside A 1969 Plymouth Road Runner
By
|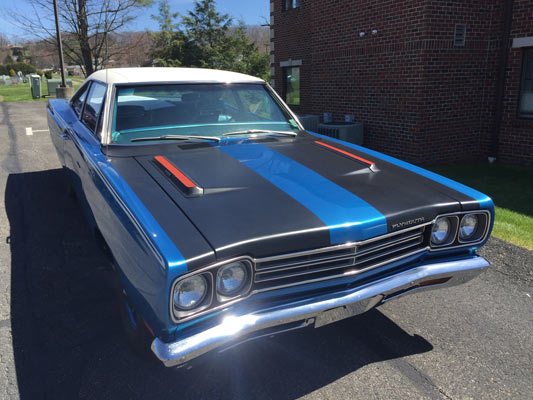 By Mark Weisseg
As stated this is a 1969 Matching numbers Road Runner. Remember folks, Road Runner is two words. I had a purist correct me on that error once. I bought it over a year ago from a dealer in the southern part of our country. It had a full restoration before I bought it and from what I have gathered it took the guy almost one full year to do it.
It's the engine and transmission ( 4 Speed) that came with the car. It has a four barrel carb but I am going to replace that carb with a new Holley 750 in the next 30 days. I will keep the old one and rebuild it as time allows. It has the factory bucket seats and is blue to match the outside.
I registered the car with Galen Govier and they did a background check for a price so I could have the piece of mind that everything that came with the car is back where it belongs. We did discover that before the car was restored it was owned by the same guy for about twenty five years. I wish I had I pictures from that guy but I do not even know who he is.
The gentleman that restored the car did a full restoration in that the underside is so clean you could eat your dinner from it.
Everything under the car has been replaced. I almost wish when I take it somewhere I could flip the car over so everyone could see how clean it is.
The engine has been rebuilt and painted all the correct colors. Everything inside the car is original except the carpet.
The dash shows some age but I am fine with that. The only issue I have is that the car now has fifteen inch steel wheels and tires. That is not how it came out of St Louis but the guy that restored it should have looked closer.
When it was built the car had the steel wheels but they where fourteen inch wheels and tires. Of course the tires were bias ply back in the day.
In due time I am going to spring for some Magnum 500 correct wheels and red line fourteen inch tires to get this car back to exact standards. It is a pricy change that will cost about two grand before its done but I need it to be correct.
The only other item turned up by the great Galen was the two screws that hold the fender tag in place are a hair too big.
I know it is a minor issue but I have a drawer full of Phillip head screws so I will install two smaller ones and repaint the heads. Other than that the car will not see rain or snow while it is in my care. It is a dream come true in that way back in my teenage years I wanted one but could not afford it.
Now, I can so I did. A very familiar story for all of us car lovers. The only other item is the white vinyl top.
Yes, it came with a white vinyl top and was replaced at restoration time. My concern is how many were built that way. I am on every Mopar site known to man and I never see another RR with a white vinyl top. Two years ago at a car show, rolled a 69 RR almost exactly like mine. His had a tachometer and a black vinyl top.
So, while he was drooling over my car I was drooling over his. And for the real weird part his name is Mark. He does have the Magnum 500 wheels from the factory and that is what started me thinking. Funny, he says he loves my car with the dog dish hub caps and sleeper look. I think his is real special with the red lines, different wheels and a tacometer.
His vents in the hood are a bit different as well but they are red like mine and are operational where as mine are for looks. He has a 383 and yes a four speed and lives pretty close to me. I just found it ironic that we have such similar cars and did not know each other existed until now. The only other RR I have seen in the area has a special VIN and fender tag as it has some sort of experimental status. But, it's painted some odd shade of yellow and quite frankly is not very special looking.
But, my old RR is a great car. You just need to remind yourself you are driving an old car that is completely different than today's vehicles. Yes, we get many a thumbs up and stares as I drive along as it is a moving form of art work. The kids at the shows want to hear the 'meep meep' of the RR horn while the adults seem to fancy under the hood. Now, back in 1969 this was Motor Trends car of the year and I have that magazine cover as well as some other trinkets to display along with a poster board with facts and details.
Lastly, I have no regrets in purchasing this car. I had to get it out of my system and I did. As for the future, well, nobody has any idea.
For all muscle car parts – http://fastmusclecar.com/muscle-car-parts/
Donate To Fast Muscle Car
We spend a lot of time bringing you muscle car content. If you would like to donate something to help us keep going, that would be fantastic.
Looking Inside A 1969 Plymouth Road Runner

,