Best Muscle Cars
2021 Ford Mustang Options: GT, Shelby GT500, and the Mach 1
By
|
By Dave Ashton
If you require a ride that is less than genteel, while still being affordable, the 2021 crop of Mustangs has plenty in the wheelhouse to give you that tingling sensation in the nether regions. Depending on your needs, budget, and power preferences, the top options in the performance category are the Ford Mustang Shelby GT500, 2021 Ford Shelby GT, and the Mach 1 (not to be confused with the Mach-E or Mark Morrison's Return of the Mack)
2021 Ford Mustang Shelby GT500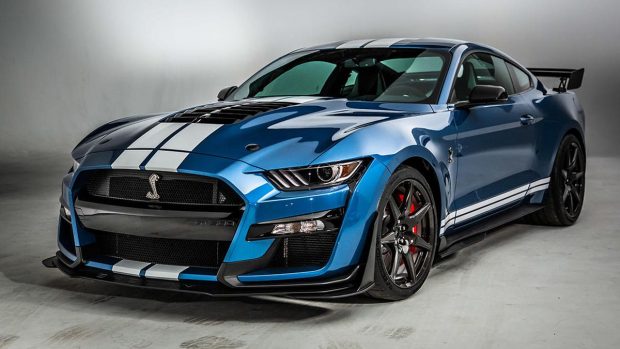 The Ford Mustang Shelby GT500 has been a staple of performance since the late 1960s. The GT500 is part of a wider lineup which includes the Mustang coupe, Mustang Mach 1, Mustang convertible, Mustang GT Coupe, Mustang GT convertible, Mustang Bullitt, and the Mustang Shelby GT 350.
The 5.2-liter V8 Predator V8 engine is good for 750bhp and 625lb-ft of torque, utilizing a 2.65L roots-style supercharger which requires 90bhp as a start point. This equates to a 3.5 second 0-62mph time and a top speed of 180mph. A seven-speed auto paddle shift comes as standard, with various driving modes.
The GT500 may not have the ultimate finesse and refinement of a supercar, but that's not the point here. The GT500 can produce the same G forces and stick you in your seat performance as a supercar, with more of wild nature, like its native Horsey moniker.
As for pricing, you will have to part with $72,900 in the US, with optional extras such as the 'Carbon Pack' for $18,500. With this package, there is a rear seat delete, large rear spoiler, carbon wheels, and Cup2 tires. If you want to enjoy sedate views of the countryside, then you will get 18mpg, but on the track, this is more like 3.6mpg.
Ultimately, the GT500 is like a full-blown Kiss concert. Over the top, in your face, and if you get the concept, hours of adrenaline-filled enjoyment.
2021 Ford Shelby GT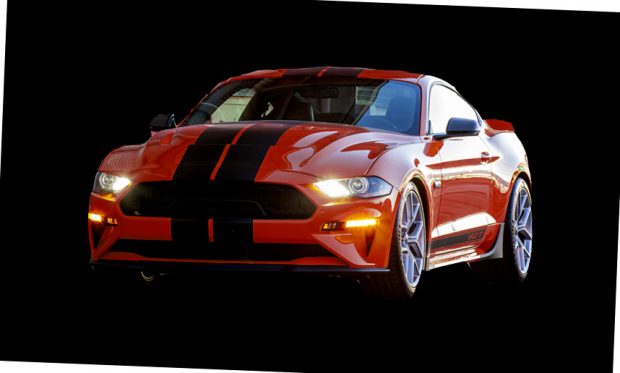 The 2021 Ford Shelby GT sports a 5.0L V8 with 480bhp and a Borla exhaust kit. The standard performance setup includes a Ford performance suspension and 20 inches staggered wheels. If you want to up the ante, there is a supercharger upgrade bringing in 700hp, and a Brembo brake upgrade. Styling upgrades include a hood with functional vents, rear spoiler, and custom grille inserts. Leather seat covers are also included, as with custom floor mats and an individually numbered plaque on the dash and engine.
Pricing for this one starts at $62,310, with a 6-speed manual or 10-speed automatic box. Each vehicle is individually Shelby serial numbered and given a listing in the Shelby registry. You can also apply the GT upgrade to a used 2018- Mustang GT which will cost $24,995.
2021 Ford Mustang Mach 1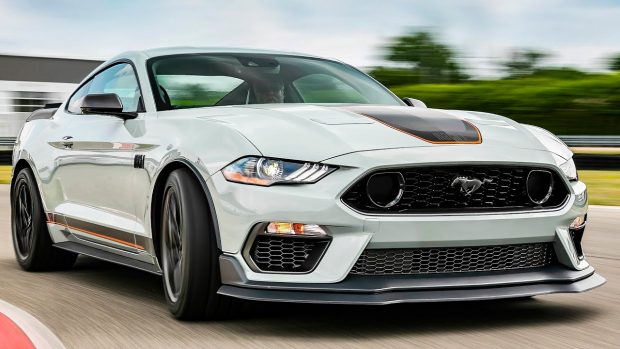 First used in 1969 and then in 2004, the Mach 1 is a limited edition Mustang for 2021, slotting in between the Mustang GT and the Shelby GT500. The Mach 1 is also a mix of components from other Shelby vehicles. The engine, short-throw shifter, and clutch are ported from the Mustang GT, the Tremec 6-speed manual transmission coming from the GT350. The suspension, aeros and coolant system coming from the GT500. All components coming nicely together to produce a tidy track-ready Mustang.
The 5L naturally aspirated V8 is good for 480bhp and 420 lb-ft of torque, going through a 6-speed manual transmission as standard, and a 10 speed automatic as an option. Obviously, everything is rear-wheel drive as Zeus intended.
If you want added extras, there is a $1,000 appearance package which includes fighter jet gray paint, Mach 1 fender badging, orange accents, orange brake calipers, and a dash of ebony/orange to the trunk design. There is also a $3,500 Handling Package including a large front splitter providing an 150% increase in front downforce, large spoiler, and GT500 tires.
The Mach 1 is equally at home on the track and on regular roads. The road-going sensation is more like the regular GT, with the magnetic dampers and tour mode providing long-distance comfort, then firming up in Sport+ and Track modes.
You will have to part with $52,915 for the Mach 1, which is roughly $8,000 less than the GT350. This is quite a reasonable setup compared to the Mustang GT performance package, which will set you back $52,400. The handling package of the Mach 1 comes in at $,3500.
Donate To Fast Muscle Car
We spend a lot of time bringing you muscle car content. If you would like to donate something to help us keep going, that would be fantastic.