News
1971 Dodge Charger
By
|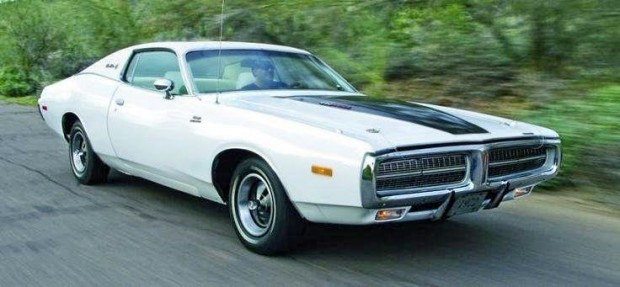 By Mark Weisseg
Yes, this 71 was a beautiful car back in the day and yes, it still is. The issue is did it lose its appeal as a hot rod? My answer is yes and it hurts to admit that.
The 71,72, 73, and 74 Chargers were very nice cars. I had the opportunity to buy one after riding in a friends at times. The hoods seemed endlessly long, the interior was plush with leather and was big. The hide a way headlights were sporty and the wheels and tire packages were nice. Under the massive hood the engines changed. Sure a 440 could be purchased with an automatic transmission but most people at this point were frightened of gas prices over a buck a gallon. More and more opted for a 318 engine or the somewhat new 360 V8. The new government regulations had finally take a foothold in the automotive industry and not for our best interests. The engines lacked horsepower and torque. They had items under the hood and in the exhaust that were all new to us. Remember when "smart" people were draining the pellets out of the converters? Or, bypassing the converters? One was threatened by stiff fines if you got caught doing this but many felt they could bypass the emission systems and get the power they once had. In truth, they didn't. The cars now had computers under the hood or seat and were programmed. We had no idea back then how to tap into a computer and change the settings. Today, it's almost a given a computer can be hacked into and setting be changed.
But back to our car up here. The body is very attractive and when you drove the car it seemed to dip into turns. Lots of sway, poor stopping power but nice amenities. Loaded with power everything, air conditioning , and soft leather seats along with cool gauges and switches. So much for the 70 Charger that was built to rocket in a straight line. If you pulled up to someone at a light in a 70 they understood your mission. Now, the 71 's and up changed all that. Now, it was a soft, comfortable car with a nice sound system and big doors and plush carpet. As we have heard before, " oh what a year makes". Sure it was a nice car but it is now officially over as far as the hot rods from here on out. It took years to make a decent hot rod again from Chrysler. Lots of hits and misses and gaff's. The little Dodge Charger of the eighties had a glimmer of hope with the turbo 4 cylinder but those too faded away and at this point remain mostly ignored.
We all wanted power again and it took a long time until finally the car makers figured out how to get us back. The Charger even though it is a four door currently has brisk sales. The reintroduction of the Challenger went very well until they offered the Hellcat and then, all Hell broke loose. Amazing sales and yes our hot rods were back , only this time with a stunning amount of safety features and toys. Bells and whistles all over the dash made the car enjoyable again. Chrysler has made promises of more very soon. Is there a two door Charger or a two door Cuda soon? I believe yes and I really hope so. Take your pick. Do you want a Dodge Journey in your driveway or a Charger? Duh. Easy question.
With Chrysler offering a Hemi in pick up trucks now for years they touched a nerve as well for the truckers. All this stuff has re energized Ford and GM as well. They have a hot list of cars and trucks now with big horsepower right out of the gate. We have Cadillacs off the showroom floor with over 600 hp. Today, you can have your hp and still have all the creature comforts. Fuel Economy should not be your first concern if you buy such an Animal, but honestly these new vehicles do pretty darn well.
In closing let's not eliminate the 71 model year. It was a different era and the car makers were under the hot light to do certain things to comply. This 71 has a sweeping body and it rode very nice. The power under the hood was just ok, but as stated before it was another era that brought on massive change. Hats off to the auto makers that use the old school hot rods to make very enjoyable cars today. The new Mustang in 2005 was a direct copy from the 67 and 68. Same with Camaro and Challenger. They looked at their roots and came up with amazing styling cues, fantastic engines, and now, very safe cars. All because we thought maybe our hot rods were dead forever. Nope, just a little rest for them was the answer but they are fully awake now and ready rumbleeeeeeeeee!
More Muscle Cars For Sale – http://fastmusclecar.com/muscle-car-for-sale/
Donate To Fast Muscle Car
We spend a lot of time bringing you muscle car content. If you would like to donate something to help us keep going, that would be fantastic.
1971 Dodge Charger

,