Readers Rides
1970 CHEVELLE DURAMAX DIESEL SS TWIN TURBO 1100HP!
By
|
1970 CHEVELLE DURAMAX DIESEL SS TWIN TURBO 1100HP!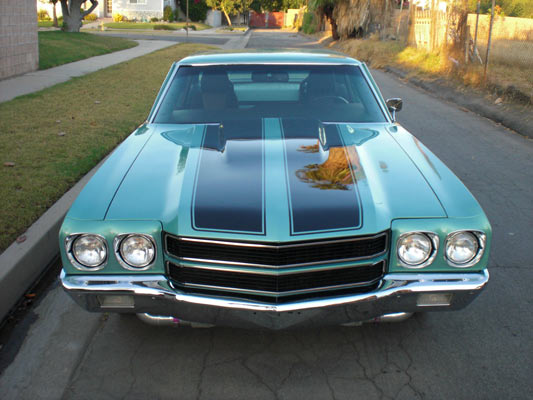 You Can Have Everything with This Car. Power, Milage, Comfort. One of a Kind. Drive IT Anywhere with 34 MPG, Run IT AT the Track and Keep the Air Conditioning on!
Video below Shows This Cars Only ¼ Mile Pass in Bowling Green Kentucky on the Hot Rod Power Tour. I Did a Real Easy Run and Check out the Time, 123 MPH@13.3 on Street Tires. Put a Real Set of Slicks on This and You Have a Easy Nine Second Car. We Did Not Even Use the Nitrous yet! I Drove This Car across Country with Zero Problems. IT Is Very Safe and Reliable. Better Than an Oversized Big Block Gas Engine. They Are Fun but Are Not As Street Friendly, and Suck down the Gas. The Last 632 BBC I Built Was Four MPG.
I Do Not Need to Sell This, I Have Another Project Car I Am Building NOW and Not Much Time for This. Will Also Consider Trade for a Tesla P 80 5D
This Car Has Appraised AT 220,000.00 Featured in Multiple Magazines. You Will Not Find Another One like This.
1/4 mile 0:30 Play next Play now
speed/stop 0:35 Play next Play now
autocross in a tubbed car 0:46 Play next Play now
Art Morrison chassis, 10 point roll cage corvette C-5 front suspension 4 link rear.
chassis and aluminumn work by Fast Eddies Race Cars.
rearend: Fast Eddie 9 inch. Gear ratio: 3:25 Posi: Detroit locker 35 spline.
Rear springs: Coilover Rear shocks: Koni adjustable
Front suspension modifications:
Front springs: Coilover Front shocks: koni
Anti-sway bars: front Corvette C-5
Make & year of front spindles: Corvette C-5
Type, make & year of brakes: Master cylender hidden under the car to clean up the firewall.
front: Willwood 6 piston calipers, 14 inch rotors, slotted/drilled
rear: Willwood 4 piston calipers, 16 inch rotors, slotted/drilled
Make & size of wheels: front: DPE S-5 18×8 rear: DPE S-5 20×16 Brand & size of tires: front: M/T 26x12x18 rear: M/T 33x22x20
new style SS centercaps made to fit the wheels.
Engine (list manufacturer, type, and modifications to all components)
Make: Chevy truck LLY Duramax Year: 2005 Displacement: 6.6L 403 ci
Bore: 4.05 Stroke: 3.90
Engine built by: Mike Racke City: Fullerton State: Ca
Machinework done by: So cal Diesel City: Valencia State: Ca
Pistons and pins: So Cal Diesel Modified stock pistons, Compression ratio 16:1
Rings: Stock Crankshaft: stock, balanced.
Connecting Rods: Carillo Timing Chain: Gear driven
Camshaft: So cal Diesel special
Valves: 33mm intake 33mm exhaust inconal.
Valvesprings: So cal diesel beehive. Rockers: Stock forged Pushrods: So cal Diesel, Intake manifold: 1 off custom made. 3/4 inch Aluminum base plate, 16 runner, dual 3 1/2 inch plenum. Plenum was cut in half, runners were filled with tig weld and port matched, reassembled and fully polished.Air cleaner: Dual 4 inch tubes joined into one 5 inch tube with MAF. Aluminum air intake box that houses 2 8×10 K+N air filters under the radiator.Injection: Direct injection, 23,000 max psi. 6,000 psi at idle. PPE Dual Fueler CP3 Bosch injection pumps, PPE Lift pump.
Cylinder heads: Modified LLY 4 valveModifications made to cylinder heads: 5 axis CNC ported, bronze valve guides, 5 angle valve job, new seats, stainless intake valves, inconel exhaust valves, beehive springs.Oil pan/oiling system: stock oil pan, cut down 2 inches.Headers/Exhaust 1 off Bassani headers, polished stainless 3 inch exhaust, no mufflers.Nitrous system:Blower (turbo): Twin Garrett T38R Diesel turbos. custom made twin Bell intercoolers.Fasteners, filters accessories: ARP stainless bolts throughout. Wiggins flexible clamshell clamps for turbo piping and coolant hoses. Catipillar Diesel 2 micron fuel filter. relocated nascar oil filter and oil cooler.
Max. Horsepower est. 1100 1800 TQ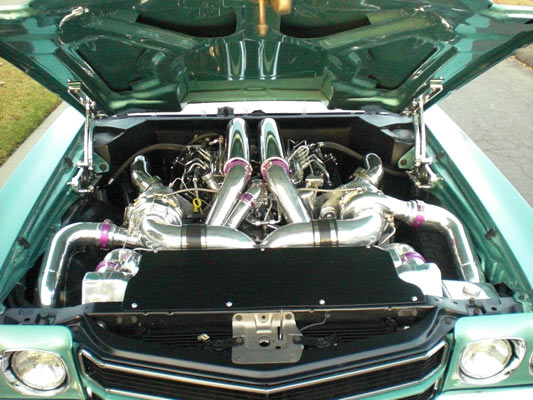 Click for More Muscle Cars – http://fastmusclecar.com/muscle-car-for-sale/
Donate To Fast Muscle Car
We spend a lot of time bringing you muscle car content. If you would like to donate something to help us keep going, that would be fantastic.