Muscle Cars
1969 Woodstock And Its Muscle Cars
By
|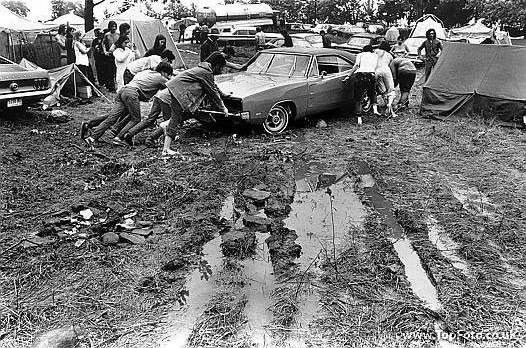 By Mark Weisseg
Hard working young people pushing a Charger out of the mud at Woodstock! Who would believe it……
The joke is how many young people does it take to push a Dodge out of a muddy field? Clearly the answer is many as most were higher than Joe Cockers tent but A for effort.
Also, note the Mustang in the background. Would it not be cool to know where those cars are today?
Not everyone back then rode around in VW buses with flowers in there hair at the time. Nope. What was to be a small gathering of a few hundred people turned into the biggest of live music by people and bands on a pig farm in New York State. The trivia question of the day is " who is the performer that was in Hawaii and skipped this gig? The clue is that it was a pig farm and was to last only three days.Duh. I know the answer so let's see how smart all of you are? No Googling now as that would be cheating and after all we are not at West Point here.
The real deal here is the cars of course. We all read that all the hippies showed up following the grateful dead and Dylan. The fact is that all sorts of young people showed up any way they could. Hitch hiking was the "in" thing back in the day and it was a way to get where you had to go. The cars were our everyday cars and after a week here, you needed a good car wash and a good airing out if you get my drift.
Yes, the bands and stars were plentiful and the music real and live. No lip sync, no fake musical equipment. It was the real deal and some folks became very big stars after this with lifelong followers. I worked with a guy years ago that had two regrets in his life. One, he skipped Woodstock thinking it was a crummy three day concert in the middle of nowhere with no facilities of any sort (treu). You know, bathrooms, food, security, and so on. The other regret is one he would not speak of but he always mumbled about shallow graves for some reason.
However, the picture shows that muscle cars were also part of the Woodstock Festival. It was a festival for everybody that also included the cars. So next time you think of Woodstock, Hendrix, flower power and the like, you can also think of the cool Dodge Charger getting those young, hip types to this legendary event.
…and the performer who stayed in Hawaii, Tommy James. Yes, Thee Tommy James of the Shondels. The sorry guy was in Hawaii and decided to stay there. His career was still good of course but he regrets the decision to stay in paradise.
More Muscle Cars For Sale – http://fastmusclecar.com/muscle-car-for-sale/
Donate To Fast Muscle Car
We spend a lot of time bringing you muscle car content. If you would like to donate something to help us keep going, that would be fantastic.
1969 Woodstock And Its Muscle Cars

,