News
1935 Duesenberg Model SJ Town Car by Bohman & Schwartz
By
|
1935 Duesenberg Model SJ Town Car by Bohman & Schwartz
Lot 231, RMauctions.com, The Andrews Collection, auctioned on Saturday, May 2, 2015.
Without Reserve – $3,400,000 – $4,500,000.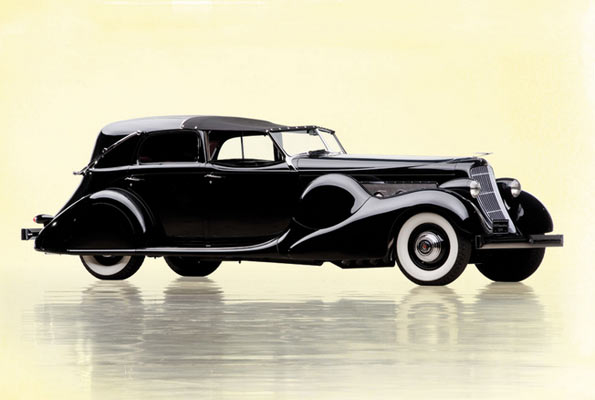 'This Duesenberg is a singular car that had been owned by singular people, and it has few equals.'
This statement more or less sums up the Duesenberg which is coming up for auction at RM auctions on May 2, 2015.
Exclusive, ultra-rare and extremely well documented, this Duesenberg is a true one-off.
320 bhp, 420 cu. in. DOHC inline eight-cylinder engine with a centrifugal supercharger, three-speed manual transmission, beam-type front and live rear axles with semi-elliptic leaf springs, and four-wheel vacuum-assisted hydraulic drum brakes. Wheelbase: 153.5 in.
A one-off streamlined creation on a factory-supercharged chassis
Designed for Mae West; built for candy heiress Ethel Mars
Formerly owned by William Harrah and Richard Dicker
Featured in all of the important Duesenberg texts
Original engine, chassis, and body; ACD Certified Category 1 (D-044)
The ultimate SJ Duesenberg
'KNOWN PROVENANCE
According to the records of Duesenberg historian Dwight Schooling, the Model SJ remained with Mrs. Mars until her passing in 1945. The following year, it was sold by her estate to renowned Chicago Duesenberg dealer John Troka for $2,500. Over the next six years, it would be passed from Troka to a handful of Chicago-area owners, at one point being used as a taxi and then as a local bank president's "rainy day car."
In 1951, the Duesenberg was sold by Troka to Walter and Wladzia Podbielniak. The Podbielniaks, both talented engineers and inventors, had made a considerable fortune in manufacturing laboratory equipment and lived a flamboyant nouveaux riche lifestyle. Mrs. Podbielniak would be chauffeured between the couple's State Street offices and their Lake Shore Drive castle in the Duesenberg or drive herself in a Delahaye upholstered in leopard skin.
The Podbielniaks' lifestyle was brought down by their eventual divorce, the breathless details of which occupied Chicago's gossip pages for some time. A liquidation sale of the Lake Shore Drive house was held in 1961, but Wladzia's reserves on her cars were not met, and she held onto the three automobiles until 1966, when she sold them en masse to William Harrah for his famous Automobile Collection in Sparks, Nevada.
The Duesenberg remained on display in the Harrah Collection, in largely original and somewhat shopworn condition, for 20 years. Prior to its sale in 1986, it was refinished in bright red by the Harrah's shop and was then sold to retired railroad executive and car collector Richard Dicker.
Mr. Dicker proceeded to give the Town Car the total restoration that such an important car justifiably deserved, which was left in the hands of Robert Turnquist's Hibernia Auto Restoration of New Jersey. Hibernia refinished it in Chinchilla Grey Poly, correctly reupholstered the interior, and installed a correct reproduction supercharger after replacing the original unit, which, as on most SJs, had been removed in the 1940s. In this form, the car was widely shown all over North America at various concours d'elegance.
Following Mr. Dicker's passing in 1995, his Duesenberg was sold to the Blackhawk Collection. It went on to be owned by two further respected enthusiasts in the coming years, and then it found its way into the Andrews Collection. By this time, the car had been refinished by RM Auto Restoration in its present menacing black livery and with an interior to the original design but in bright coral, as a dazzling counterpart appropriate for a wealthy socialite. The car has been beautifully preserved during its time in the Andrews Collection, still appearing fresh in every detail, and it has made only a handful of appearances at major concours d'elegance, including Amelia Island.'
Andrews Collection Auction Teaser.

Click for More Muscle Cars – http://fastmusclecar.com/muscle-car-for-sale/
Donate To Fast Muscle Car
We spend a lot of time bringing you muscle car content. If you would like to donate something to help us keep going, that would be fantastic.
1935 Duesenberg Model SJ Town Car by Bohman & Schwartz

,