Readers Rides
1932 Ford: Name me someone who does not love this?
By
|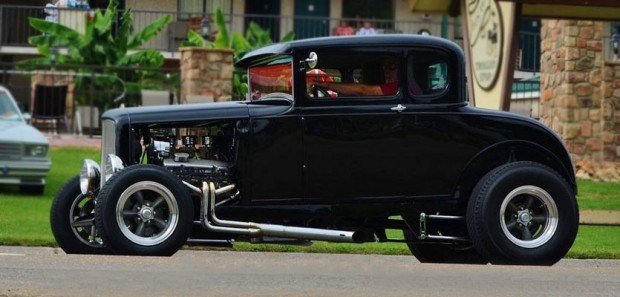 By Mark Weisseg
I won't bore you with this 1932 Ford because everything intelligent has been written about this car. I want one, you want one, everybody wants one.
That is why when you do find one the price is so high. Even if you happen by dumb luck to find just a body or one in a bone yard everyone breathing knows the value. How in the heck did it happen that a 32 Ford Coupe skyrocketed to such crazy heights?
That answer is simple as we all know by now, the high boy status, the ease of restoring one or making your dream hot rod. I always hope when we travel I will stumble on to a 32,33,or 34 somewhere and the owner will just want to get rid of it. I am a dreamer I know.
But let's look at some other facts. The inside of this car is very small and cramped. If you are over six feet tall it is uncomfortable. How do I know? I own a Model A and not much changed and I can attest that it is tight in there. The next thing to get past is that there are alot of them out there that have been chopped, channeled, roded or changed somehow. Big chrome engines, big headers or side pipes and the back end slightly higher than the front. You can almost predict what the owner will do before he gets going. It's almost a given what will happen. What if you just left it alone?
Nope, if you are lucky enough to find one of these be prepared to lay out a lot of money and then everybody giving you advice on what you should do.
By the way, that is pet peeve number one with me. Nothing gets me more annoyed when someone tells me what I should have done this or that to my car or truck. I always respond and I mean always respond that they should buy one and do what they preach. Or, I will ask them if they have a classic car or truck at home. If the answer is yes, I advise them. Normally, it is no and then I slip in that " when you do, call me". It's easy to stand on the sidelines or be a arm chair quarterback. It's only when you are up to your ears in parts that you realize how tough this game is.
Trust me, I look all the time for one of these cars. Every vacation, every road trip, newspapers, web site, word of mouth, and anything else to get my hands on this classic. Will I ever get one? I don't know obviously, but it will not be from lack of effort
More Muscle Cars For Sale – http://fastmusclecar.com/muscle-car-for-sale/
Donate To Fast Muscle Car
We spend a lot of time bringing you muscle car content. If you would like to donate something to help us keep going, that would be fantastic.