News
The Best American Muscle Cars for 2016?
By
|

By David Ashton
We are living in great times. You could argue that not since the late 60's and early 70'thes have American muscle cars been as popular.
The big three makers are now producing some of the best American muscle cars as yet, so it's only fitting that the top three go head-to-head to see which is the best of the crop as per this review over at cars.com
The three contenders here come in the shape of a 2016 Chevrolet Camaro 2SS, a 2016 Dodge Challenger R/T Scat Pack and a 2016 Ford Mustang GT.
All three cars were given a thorough testing over the course of a week to judge performance, 0-60 times, quarter-mile times, long distance, handling, comfort and acceleration.
Below are the overall specs for the machines on offer here.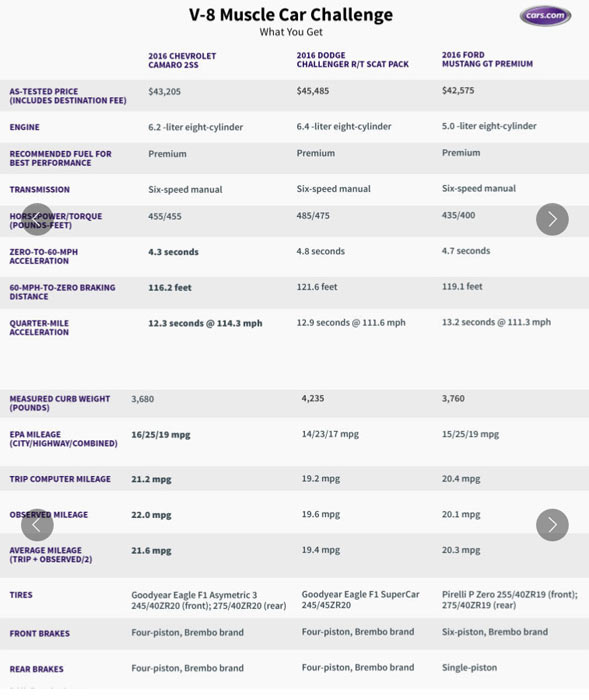 Cars.com graphics by Paul Dolan
If you don't like spoilers, look away now, as the points may stack up not as you expected.
2016 Ford Mustang GT, 797 points
The Verdict: "With more evolved performance than the Challenger, yet still a little rough and raucous around the edges when driven hard, the Mustang is the perfect evolution of the muscle car," Wiesenfelder said. "It's fun and ready for track day yet comfortable and livable for daily use."
2016 Dodge Challenger R/T Scat Pack, 809 points
The Verdict: "This car is everything you want a muscle car to be: It's big, it's loud, it looks aggressive, it's a handful to drive, and it's a little bit scary at times," Robinson said. "But it puts a big smile on your face every time you get behind the wheel and fire it up."
2016 Chevrolet Camaro 2SS, 816 points
The Verdict: "The Camaro SS is the surprise in this test, demonstrating remarkable civility, comfort and user friendliness on the street, and eye-popping capability when raced on a racetrack," Bragman said, "with only its poor brake feel and lack of head and trunk space counting against it."
As this test wasn't just about performance, but was also covering factors such as, worth the money, fun to drive, comfort and quality, each car had its plus and minus points which you will find in the full review and scored higher for the second and third placers.
As each year goes by, each of the top three makers are keeping their beady eyes on their competitors to see which elements work and which do not. So, if you're considering any of these three is down to the usual test drive and what you prioritize as the features most important to you.
In any case, this is a great in-depth review of what the big three muscle car makers are currently offering in 2016.
For all muscle car parts – http://fastmusclecar.com/muscle-car-parts/
Donate To Fast Muscle Car
We spend a lot of time bringing you muscle car content. If you would like to donate something to help us keep going, that would be fantastic.