Best Muscle Cars
Why The 1998 – 2002 Chevrolet Corvette C5 Is A Great Buy
By
|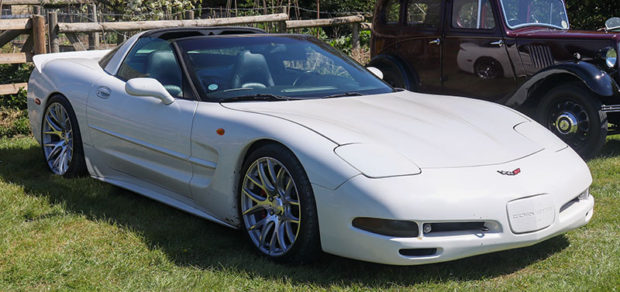 by Dave Ashton
It's easy to forget that the Chevrolet Corvette C5 was a cost-effective way to take on more highly fettled sports cars such as the Noble M12 GTO, BMW M3, TVR Tuscan or even the supercars of the day. At the time of release, the Chevrolet Corvette C5 was seen as a bit of a bargain in the performance world and still holds that criteria today. In today's market, you're still getting a lot of car for your money, with a unique look that is bound to turn heads.
The engine and stuff
First and foremost, let's talk about the engine. The C5 debuted with an all-new 5.7-liter V8 engine, dubbed the LS1, which was rated at 345 horsepower and 350 pound-feet of torque. This engine was a significant improvement over the C4's engine and went on to be used in other high-performance vehicles at the time, such as the Camaro and Trans Am. The C5's engine provides the car with an incredible amount of power, making it an absolute joy to drive. This was more than a surprise to most at the time, considering its design principles were still based on older principles. The engine could output 344bhp through a 6-speed manual or 4-speed automatic transmission. The engine block was now made from aluminium, providing an overall lighter weight to the car.
The engine management system gave a wide range of torque values. Adding in things like antiroll bars and switchable suspension gave the C5 plenty of options for the average user.
Design
Another notable feature of the C5 is its sleek and stylish exterior. The car is long, low, and lean, making it both attractive and aerodynamic. Its low center of gravity also contributes to its excellent handling, providing the driver with a more connected and engaging driving experience.
The C5 also comes with various technological features that were ahead of their time. For example, it was one of the first vehicles to have a head-up display (HUD) that projected essential information, such as speed and RPMs, onto the windshield. This allowed drivers to keep their eyes on the road while still accessing vital information. Also available as a targa-roofed coupe or a convertible model, with plenty of tech of the times such as the Twilight Sentinel system which automatically switched on the headlights in bad weather.
One potential concern for buyers considering the C5 is its age. After all, the car is over 20 years old at this point. However, it's worth noting that the C5 was built to last. Its sturdy frame and reliable engine make it a durable car that can withstand the test of time. Additionally, the C5 has a large community that provides support and parts for maintenance and repairs.
In conclusion, the 2000 Chevrolet Corvette C5 is a car that's still worth buying in 2023. With its powerful engine, advanced technology, and sleek exterior, it provides an excellent driving experience that's both engaging and enjoyable. So, if you're in the market for a classic car that's still relevant today, the C5 is an excellent choice to consider.
How much is a C5 Corvette worth today?
Depending on the condition of the vehicle, a C5 Corvette can cost you around $25,000. that's a lot of car considering its 345bhp can hit 170mph and do a 0-60mph time in 4.7 seconds. For the best experience, the 6 speed manual is the best option, although gear changes can be quite heavy-handed.
In total, you're getting a lot for your money here with the C5 Corvette. Unique looks, a tried and tested powertrain, and a fantastic driving experience will definitely make you stand out from the crowd with this one.
Donate To Fast Muscle Car
We spend a lot of time bringing you muscle car content. If you would like to donate something to help us keep going, that would be fantastic.
Why The 1998 - 2002 Chevrolet Corvette C5 Is A Great Buy

,