Readers Rides
The white knuckle Ride Of Early Chryslers
By
|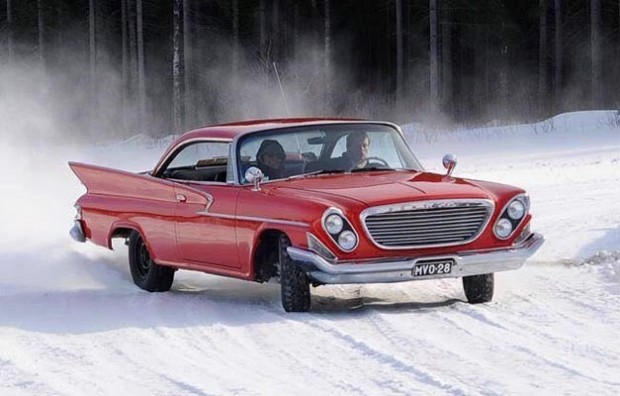 By Mark Weisseg
This car is very overlooked in the world of fast muscle cars. Look close at you will see the name Chrysler on that grill but I was looking at the cool fins. Obviously it was all the rage in the day with Cadillac finally winning the fin war.
Chrysler cars back in the day were big cars and they had big engines. Not known for off the line quickness but, once the tank got going she would really fly.
Stopping was another issue all together but, not many of us concerned ourselves with that. Even today, I look back and wonder what we were thinking. Get the car going as fast as possible and bury that needle. Never gave much thought to fast stopping until it was a panic situation. I know most of you can remember smelling the brakes burning and when you pulled them at a later date you could still see the bluing on the drums.
These Chryslers had really nice dashboards and big, big seats. Automatic transmissions and most cars like this were not feared on the road. They were considered the family car or "Daddy's car".
If you had some highway to work with you could punch that gas pedal and hear the four barrels kick in and off she goes. A 440 engines, 413 engines and more.
Chrysler had some really honest to goodness big bad ass engines way back in the very early 1960's. That is why when the big hot rod craze set in around the middle to late'60's Chrysler was very ready. They just stuffed these monster engines in smaller cars.
Roadrunners, Chargers were big cars but not huge like a Chrysler 300 K per se. I remember, Chrysler corporation stuffed the 426 and 440 in Dodge Darts and that combination was and is serious. I knew a guy with a Dart with a 440 in it several years ago. This guy said it was the scariest car in a straight line ever. I recall him saying he had two issues. One, he had a hard time getting traction because the back end was so light. Two, he could not stop very well with drum brakes. I know the new FCA cars are almost flawless but, they may lack the white knuckle fear we all had at one time.
A lot of Chrysler's successes started in the very late 50's but most began here in the early 60's and just boomed from there. Today's FCA cars are taken from a very broad history. Go watch an auction on TV if you do not believe me and watch the pricing of the late 60's and early 70's Mopar's. They are in an orbit all of their own.
More Muscle Cars For Sale – http://fastmusclecar.com/muscle-car-for-sale/
Donate To Fast Muscle Car
We spend a lot of time bringing you muscle car content. If you would like to donate something to help us keep going, that would be fantastic.
The white knuckle Ride Of Early Chryslers

,