Best Muscle Cars
What The Brits Think Of the 2019 Ford Mustang Bullitt
By
|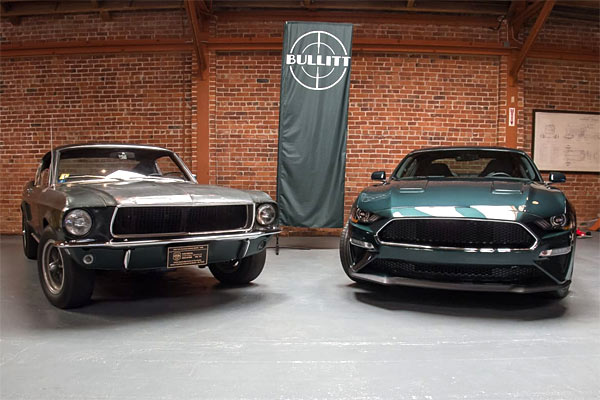 By Dave Ashton
You initially may think why the opinions of Europe would count for or against a pony car. East of the Atlantic have always had their small pockets of muscle car lovers, but it's not exactly been widespread. However, in an automotive world which is pointing towards the more sanitized, electric box as a driving experience, the 2019 Ford Mustang Bullitt and a few others are still holding their heads high with tried and tested designs.
Ever since the Ford Mustang became native hand drive across Europe, it's been outselling the more common European and Japanese performance vehicles, showing there is still a lot of love for raw horsepower, especially the American kind.
In this review from the Sunday Times, the 2019 Ford Mustang Bullitt is put through its paces to see how it measures up, not just in the European landscape, but also against other European top performers. in this case, the Turbocharged Jaguar F-Type Coupé P300 i4.
V8s have been around in Europe as long as they have in the US, just to much smaller extents. Europe's main mindset has always been the souped up four-cylinder, which means the burble of an American V8 is not just another alternative, but also a note to remind everybody what pure driving fun used to be like. Huge sound and huge displacement. It's old school, but it will always work just like a suit never goes out of fashion.
This isn't a review of a review, you can read that through the link above. It's basically to show that the attitude is the same across the water. This car wants to keep the old, raw ways alive, even having an old-style handbrake and cigarette lighter. One may spend most of its days in a heated garage pulled out at the weekends, but it still offers great value for money per horses. If you measure the horsepower per £ the Mustang makes great value for money.
The main takeaway is the Mustang represents a carefree driving experience which future generations may only be a to read about in history books. Before the black box governed, autonomous pods of the future, the symphonic blast of any type of pony or muscle car will be more fresh air than a country meadow. It's not quite an endangered species yet, but the numbers are definitely far less than yesteryear.
So, it's no surprise the Ford Mustang and this limited edition Ford Mustang Bullitt Fastback are popular both at home and abroad. Pros – 'Lots of performance for the money' and 'Old school charm.' Cons – 'Build quality's a bit so-so for a nearly £50k car' and 'Not the best-handling sports car you can buy.' But the pros definitely outweigh the cons. They have to as it wouldn't be selling this well otherwise.
As the final sentence in the review says, 'So, before every new car comes with a black box installed, buy one of these and lock it in your garage. When the time comes, break out your turtleneck — and go off-grid.' …..and what could be more self-sustaining and eco-friendly than going off grid.
More Muscle Cars For Sale – http://fastmusclecar.com/muscle-car-for-sale
Donate To Fast Muscle Car
We spend a lot of time bringing you muscle car content. If you would like to donate something to help us keep going, that would be fantastic.
What The Brits Think Of the 2019 Ford Mustang Bullitt

,