Best Muscle Cars
What Are Car Codes And Numbers Matching Muscle Cars?
By
|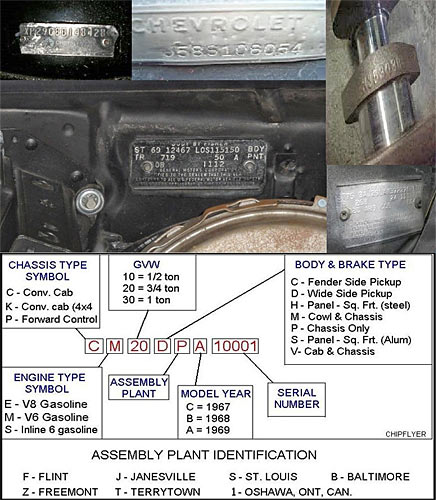 This was a question asked on our Facebook page , 'what does matching numbers mean on a muscle car and what are car codes?'
Gulp..Like any question, the answer is dependent on who you ask and possibly what make and model of car you're talking about.
So, we will try to answer these two questions in our usual ramshackle way.
VIN Numbers (vehicle identification number)
Car manufacturers started stamping identifying numbers on cars parts in the mid-1950s. This was done to easily identify the parts needed for each car and to clearly identify all information needed about a specific car.
There was no clear standard for VIN numbers up until 1981. Each manufacturer had its own way of doing things and this also changed over the years, until the National Highway traffic Safety Administration standardized the format.
Today's VIN numbers can be found below the driver's side windshield (in the US), while in the past they could be located in various places on the car, such as on the front of the engine block, front of the car frame, the rear wheel well, inside the driver's side door jam, driver's side door post or underneath the spare tire.
VIN Number Decoders
There are plenty of VIN number Decoders online to help you identify your car, make, and model.  This one by Edmunds is just one of many.
It's also a good idea to find a VIN number decoder specific to your make of car.
Here is a Mustang decoder – https://blog.municibid.com/how-to-read-a-vin/
An AMC decoder – http://www.javelinamx.com/javhome/articles/vincodes.htm
A Dodge decoder – http://www.allpar.com/mopar/vin-decoder.html
Matching Numbers
If the car is advertised as being 'matching numbers' it loosely means that the engine and transmission have the same sequence number and possibly the rear axle has the same date code and casting numbers.
Ideally, it should mean that all the parts in the car are as it was first manufactured, but a 100% original vehicle as it rolled off the production line is very rare, so the term usually just applies to the engine and transmission numbers.
When you are buying a numbers matching car, ask for visual proof of the matching numbers. Also, ask which parts are completely original and which are not.
Why bother with matching numbers?
The more original the car, the more it is worth. If you can quote 'matching numbers' with a car for sale, it greatly increases its value.
Once you identify the location of the VIN numbers on a car, use an online VIN number Decoder, it should help you find how original the car really is or not.
No VIN plate on car – walk away.
Car codes
The individual codes, such as 'M21, C55, FC7' on are the various codes that relate to the specific information about a car, e.g. a 1970s Dodge Charger code of 'E74 = 426 cid HEMI 2x4bbl' , 'XS29 = Charger R/T' and
'FY1 = Top Banana exterior color.'
If you have a list of what every code relates to, you can decipher all the information you need about a certain car and the car's original options.
If you want to check out a car's VIN number, remember to have the car's VIN number decoder at hand, know where that car's VIN number plate is located on the car, and ideally have somebody with you who is knowledgeable about the car.
More Muscle Cars For Sale – http://fastmusclecar.com/muscle-car-for-sale/
Donate To Fast Muscle Car
We spend a lot of time bringing you muscle car content. If you would like to donate something to help us keep going, that would be fantastic.