News
Watch The Dodge Charger Timeline
By
|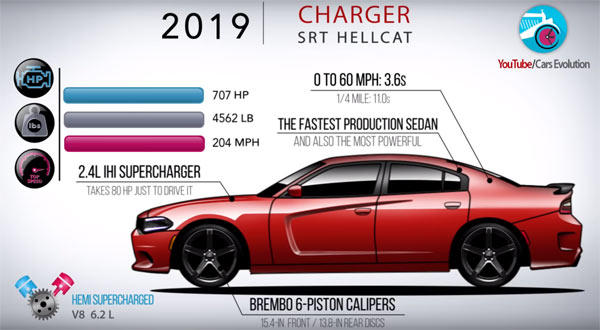 By Dave Ashton
I still find it remarkable that the Dodge Charger has been in production since 1966. Apart from a few down years and when it was on sabbatical trying to be a luxury car, the Dodge Charger has been waving the flag for muscle cars for quite a few decades. This fantastic video by Cars Evolution gives a nicely condensed roadmap of the Dodge Charger with all salient facts from 1966 up to present day.
Arguably one of the most identifiable of muscle cars, the Dodge Charger hit the streets in 1966 as a two-door, fastback model. The B body platform was used, sharing a front end and chassis with the Coronet. Engines ranged from a 318ci. V8 to a 440ci. V8 and the option of the ubiquitous 426 Street Hemi. 37,344 units were made in 1966.
Entry into NASCAR in 1966 started the journey into tweaking the design for better performance, such as the lip spoiler on the trunk, culminating in the 1970 Charger Daytona with its huge nose cone and rear wing. The first-generation lasted from 1966-67, until a design change in 1968-70, which is arguably the most recognizable Dodge Charger design featured in many Hollywood movies and TV series. This was also the generation where the Charger adopted its full muscle car personality, rather than trying to be half luxury car. Models like the R/T, Scat Pack and Super Bee with a 440 Magnum or Hemi V8 definitely stamped their marks.
1971-74 saw the entrance of the third-generation with a restyled split grille and more rounded design. 1972 started to see emission laws and other restrictions start to press down on huge displacement engines and with the rest of the muscle car gang, the Dodge Charger carried on with the full muscle car spirit until a complete design revamp in 1975 for the fourth generation models.
The fourth generation from 1975 to 1978 was still based on the B body platform, but that period was like your favorite band going off and producing a weird concept album or two just to change direction. We admit this period existed, but don't like to talk about it…….(oooh, look over there, a flying bird…ahem…)
The fifth generation for 1982-87 saw the compact years based on the L platform. There were standout models like the Dodge Shelby Charger and the offshoot Charger GLHS by Carroll Shelby himself, but we then had to wait until 2006 when the modern era of Dodge Charger came into being. Since 2006 the Dodge Charger has crushed all the previous negative caveats associated with muscle cars, while keeping its main ethos. Tons of power, great handling, great looks, cool colors and a lot of horsepower for your money. Even the most ardent dissenters conclude the modern Dodge Charger as fun, raw and always unexpectedly better than they thought.
It's possible to write volumes on even one generation of Dodge Charger if you take into account every option and offshoot of its history. But there has to be a starting point, or if you just want the main periphery points they are covered in this video.
There's a bunch of videos in this series featuring the most popular muscle cars, which we post soon.
find Dodge Chargers on fastmusclecar.com
Info. about the Dodge Charger on Wikipedia.
Dodge charger homepage.
Donate To Fast Muscle Car
We spend a lot of time bringing you muscle car content. If you would like to donate something to help us keep going, that would be fantastic.