Muscle Car
Top 8 Ford Muscle Cars That You Should Know About
By
|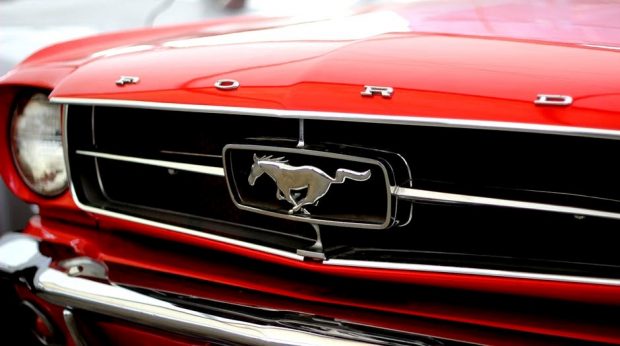 Ford muscle cars were once some of the best of the muscle car era.
In the 1960's, Ford basically ruled racetracks across the world. But in the streets of muscle car wars, Ford was still playing catch-up even with the Mustang. It wasn't until Ford's 1968 428 Cobra Jet, that gave Ford muscle cars were given serious street cred.
If you're considering a muscle car, or simply want to learn more about these majestic vehicles keep reading. We got you covered with all the information you'd ever want to know about the top Ford muscle cars that defined a generation.
1. One of The Best Ford Muscle Cars: 1968 Mercury Cougar GT-E
This is one of the most overlooked performance cars from 1968. The 1968 Cougar GT-E, is one of the rarest cars and is incredibly valuable today, and we can see why.
If the Road Runner was at the top of bare-bones performance, then the Cougar GT-E would represent the other side of the muscle car spectrum with a price that reflects that. You do not want to overlook this powerhouse of a car.
A GT-E package would cost the buyer $1,311 alone, which is almost half of the price of an entire 383-powered Road Runner, when this car debuted in 1967.
When the Cougar debuted in 1967, Motor Trend named it Car of the Year. Which came as a shock, as many would assume that title would go to the more gussied up Mustang. These two cars do have the same engine.
2. 1968 Ford Fairlane Torino GT
It's no shock that the late 1960's inspired a rise of budget muscle cars that spread like wildfire. After the Road Runner's success, every other muscle car manufacturer raced to get their cars on the streets ASAP.
Ford did not want to miss out and redesigned the Fairline Torino in 1968 with a Mustang like fastback that streamlined this car for NASCAR's speedways. This car's new shape came in a variety of engine, 289, 302, and also 390.
So Ford built 600 of these hardtops with a 428 Cobra Jet and C6 automatics. 193 of these cars come with a 3.91 rear axle ratio. The car itself doesn't come with much decoration, simply a badge on its front fender.
3. 1969 Mercury Cougar Eliminator
The turning point for the Ford Mercury Cougar happened in 1969 with the Mercury Cougar Eliminator. This car isn't totally Mustang's cousin, as it comes from Ford's slightly more upscale division that came into its own this year. This car not only has a convertible, but also an Eliminator option giving this Cougar some fangs.
This car is longer, wider, and heavier than the 1968 version. The 1969 car has the same 111-inch wheelbase wit three more inches than the Mustang, which gives the Cougar more legroom.
This vehicle's body has a different style than the Ford pony, with a sharp crease on the flanks from the nose to each side, This design ends just at the edge of the rear wheel arches, which is not that much different of a design from how the Buick Skylark stood out from the Chevy Chevelle.
Similar to the Mustang, the Mercury Cougar had a redesign in 1969, gaining 3.5 inches in length, and 3 inches of width. The Cougar Eliminator has a stripe down its flanks, sporting the word Eliminator with a sizeable rear wing like Mustangs and a hood scoop
4. 1969 Ford Talladega
This car is on its own mission. Ford was watching the taillights of faster cars like Mopar and GM muscle rivals in the 1960s and early 1970s. This car was named after NASCAR's newest superspeedway, Talladega.
The 1969 Ford Talladega was Ford's answer to Dodge's Charger 500, so Ford built the street version of this car so it could qualify for racing. This car is similar to the Mercury Cyclone Spoiler.
For this car to be eligible to race, NASCAR only required Ford to build 500 units. Instead, Ford built 736 all with a C6 automatic, 428 CJ and a column shifter. To make the Talladega, Ford had to extend the Torino's front ends by 15.5 inches, also adding a 30-degree slant and a grille that's flush-mounted.
Ford then modified the rear bumper with a V-shape and mounted it, altering the rocker panels so the car would have an aerodynamic benefit. This design also staggered the rear shocks.
The design has a few emblems of T above the fake gas cap in the center of the tail and door handles. This vehicle comes in three colors, but all have black hoods.
5. 1970 Ford Torino Cobra
The Torino was the follow-up to Ford's speedway superstars. While the 1968 and 1969 fastback Torino might not have done well on the racetrack, at a Ford dealership, this redesigned car jumped 52 percent in sales. Motor Trend even named this series the "Car of the Year."
This new model was a little fragmented with a bolder look complete with a dozen various trim levels, many that were considered to be new. However, these resign really grabbed the attention of automotive media, making this car appeal to America's high-performance set.
The Ford Torino Cobra also has strong mechanical DNA, making it the choice of several 429 big-blocks with Wide Oval tires, four manual gates, Competition Suspension, and a massive air scoop with 429CJ Ram Air.
This car also has a blacked out hood and grille, making this car the very height of in this factory-fast time period. This car also comes in a range of comfort options, giving the driver a level of personalization with this car.
The 1970 Torino is still a fastback, it just has the style and attitude to take on Road Runners and Chevy Chevelles. The Torino Cobra comes with three brand new 429 cubic-inch engines.
6. 1973 Ford Falcon XB GT
Falcons were barely new in Australia in 1975. Since 1960 Ford offered a series of Falcons, with the twin being the Falcon four-door sedans that were sold in America.
Since 1962, there were a few Austrailain market changes in design that were made in 1964. Ford of Australia started building its own signature auto-bodies under the Falcon name.
It was the 1965 Falcon XP that was a make it or break it car for Ford. This car ended paying off when it was put head to head with its nemesis on the Australian market, The Holden.
You might recognize the 1973 Ford Falcon XB GT as the car Mad Max drove, and you'd be right. But that's not why this legendary Australian car is on our list. It's because of this third-generation Falcon is legendary in performance for many reasons.
Not only does this car look awesome, but it's also a cross between the 1970 Torino Cobra and the 1973 Mustang Fastback. This car isn't much different than it's a generation before, but it does have a new front end and a twin-scoop hood like a Mustang.
This car was made for gearheads, as it has a standard 351 Cleveland with 300 hp and a 380-pound torque. This is because of the lack of emission standards that were around when this car was made. These standards have since killed most performance cars in the United States.
The 1973 Ford Falcon XB GT is four-speed, with a nine-inch rear end that is fitted with tall gears.
7. Shelby Mustangs
The Shelby Mustang is a variant of the Ford Mustang that has higher performance value. This car was built by Shelby American from the years 1965 to 1968. Form 1969 to 1970, this car was then built by Ford.
After the 2005 introduction of the fifth generation Ford Mustang, the Shelby was revived as a newer high-performance model, only this time it was built and designed by Ford.
The famous 1965 Mustang Shelby GT 350, is a serious performance machine. Some buyers felt this car was too serious, so the next year the car replaced features like the fiberglass hood, adjustable Koni shocks, side-exit exhaust, and Detroit Locker rear diff were either removed, replaced, or just made optional.
There was even a Paxton supercharger option in the 1966 design. The GT 350s were ideal for the track. Later the GT 500s were ideal for drag racing, as they were fitted with a 428 big-block.
1967 and 1968 Shelbys were able to go on low 14 second runs of quarter miles. There was also an even faster KR model made as well.
8. 1999 Ford F-150 SVT Lightning
The 1999 Ford F-150 SVT Lighting, looks a lot different than these other muscle cars mentioned, but don't let its appearance fool you. This car can be drag raced at 13.62 seconds at 101.16 mph, making this the faster ride of these muscle cars, which is impressive for a 4670-pound two-wheel pick-up truck.
This car is the second generation of the SVT Lightning. You'll see under its hood that there are hot rod steep sides. There's also a supercharged 5.4-liter single overhead v-8 cam with a boost of eight pounds and 360 hp factory rating with 440 lb-ft torque.
These trucks use a four-speed automatic transmission, a column shifter, and 18 inches, 295mm wide tires. This truck costs about $30,000, from 1999 to 2004 more than 28,000 of these trucks were made.
Get Your Muscle Car Today
Now that you know the top eight Ford muscle cars, isn't it time you got in on the action? Find the muscle car that is right for you and your driving needs. For more information about cars, be sure to check out our website.
Donate To Fast Muscle Car
We spend a lot of time bringing you muscle car content. If you would like to donate something to help us keep going, that would be fantastic.