Video
The Real Reason Why Dodge Hellcats Are NOT Slow?!?
By
|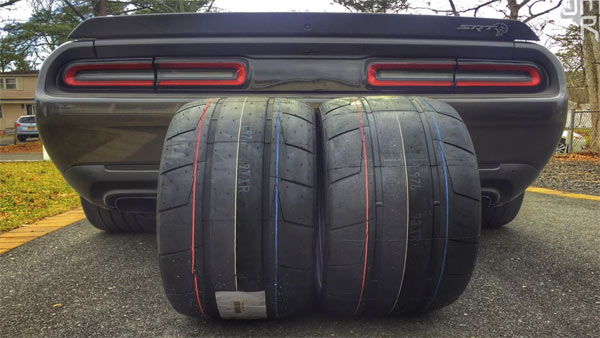 By Dave Ashton
Dodge Hellcats are slow?!?? How can that be? They have 707 Hp, tonnes of torque and all the mod cons. of any other sports car to launch the thing and keep it going, theoretically faster than the rest with its mighty power output. However, many have experienced the figures not translating into reality. The presenter of this video shows his own 0-60 ET. time of 4.8 seconds. Still quite fast, but nothing like what it should be producing compared to some other makes and models. So, what gives?
The Dodge R/T is estimated to be able to do a 0-60mph. time of around top 4 seconds with the right setup and tires with roughly half the power. It's obvious that Dodge are not going to release a flagship vehicle which isn't as fast or quick as less powerful models, but many Hellcat owners are experiencing what they think is a vehicle nowhere near the power to the street it should have. Thus, negative comment city around the Internet.
The solution? The proper tire set up for starters. You have a heavy car at 4,469 lb (2,027 kg) and physics says that it takes a lot more energy to move a heavy weight, so lots more power and traction needed. Also, as pointed out in one of the comments, 0-100mph is more realistic a time frame to judge the Hellcat's speed and a rear wheel drive vehicle in general – push versus pull and getting a heavy weight up to speed. On the track, with the right tires, setup and conditions, a more respectable 0-60mph is easily within reach. But not everybody has access to a track or dragstrip every day of the week.
One big factor is that the Hellcat is carrying through muscle car heritage, rightly or wrongly and this is what your partly buying into. The nostalgia of there is no replacement for displacement where huge engines and huge horsepower numbers used to equal raw power output still works in the right conditions, but you have to have optimal setup and the setup is specialised, most evidently to the dragstrip where the muscle car is most at home. Mostly how to get you through a quarter or eighth mile in the quickest time possible down a dragstrip is the underlying objective. Thus, the release of the Demon which is meant to be the ultimate dragstrip monster as a production vehicle. The Hellcat and the Demon carry through this heritage and are arguably the flagwavers and trailblazers in this area, not necessarily the vehicle that is everything to every man.
One of the main reasons why people got excited about the launch of the Dodge Hellcat was its high HP rating out-of-the-box. It brought back the feeling of huge potential power, like the muscle cars of old and that's what we like as human beings. You can obviously take any vehicle to a shop, stick on some mods and get 1,000HP+, but there are precious few vehicles that carry over raw musclecar heritage straight from the factory. The Hellcat represents a time when we had no potential limits and huge horsepower ratings connects to those times if nothing else. It's the potential and what it stands for, which is just as important.
The DNA of the Hellcat is optimised for a quarter-mile where the speed tops 100mph, not up to 60mph, but the vehicle is mainly used on the street and even a daily driver. Many speed and quickness tests against the hellcat have been off the line only. Not as many as quarter-mile sprints. You buy into a Hellcat because you should love its muscle car DNA and dragstrip heritage. It may not work for all occasions, but that's like owning a Labrador and wanting it to be as good of a guard dog as a pitbull and as fast as a greyhound in one package. Just like a greyhound or pitbull, they are built for specialist needs and so is the Hellcat.
We are so used to the luxury hamper of vehicles these days that boast great 0-60mph times, with a few tweaks can be great as a daily driver and a racer, but if you want to get more specialised the vehicle has to be optimised for that purpose. Dragstrip monster and then daily driver are poles apart. Crow barring the Hellcat into both camps to do a great quarter mile time and be a regular driver is a difficult proposition at best.
So are Hellcats inherently slow? No they are not, they are more specialised creatures which means they need a more optimised setup to get the most out of them, along with buying into the muscle car club. 0-100mph over a quarter mile is where the Hellcat is most happy and once in the zone, the mighty roar of the V8 easily surpasses its contemporaries. This really can't be achieved in the same way with a Honda Civic and a reasonable turbo. So, bear this in mind if you want to buy a Hellcat or own one already. Check out the video and decide for yourself.
More Muscle Cars For Sale – http://fastmusclecar.com/muscle-car-for-sale/
Donate To Fast Muscle Car
We spend a lot of time bringing you muscle car content. If you would like to donate something to help us keep going, that would be fantastic.
The Real Reason Why Dodge Hellcats Are NOT Slow?!?

,