Best Muscle Cars
The Plymouth Barracuda: The Golden Years
By
|
The Plymouth Barracuda can now fetch some of the highest prices in muscle car auctions and the rarest optioned models being some of the most expensive cars in the world.
So here is the back history of the prime years of the model and why it became so special.
The Plymouth Barracuda was made from 1964–1974. The golden era between 1970-1974.
The last Barracuda made was on 1st April 1974.
The first generation of the car was based on the Plymouth Valiant, a fastback A body coupe. Rumors were that the Barracuda was to be originally called the Panda but after they had come down, the Barracuda was selected as a much more cool name we presume…….Plymouth Panda, nah!)
The Barracuda was happy to be an everyday car until 1970, where it broke out of its pupa and became the magnificent butterfly it is known as being today.
The economy car persona was shaken off with an all-new style body, new engine and transmission options and many trim options.
The body was based on Chryslers B platform, now called the E body, designed by John E. Herlitz. The Barracuda shared its platform with the Dodge Challenger, but the Challenger had 2 inches more wheelbase.
1970 'Cuda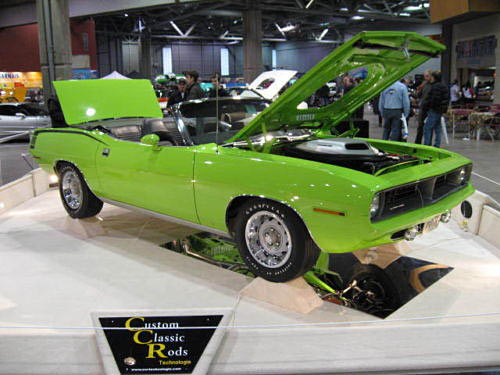 Standard with the 383cid/335hp or a 426 Hemi cid/425 hp, good for 0-60 mph = 5.8 seconds, quarter mile = 14 seconds at 102 mph.
Other engine options were –
383-4V/335 hp
440-4V/375 hp
440-6V/390 hp
426-8V/425 hp
The Hemi engines got new hydraulic lifters, two Carter AFB four-barrels with Air Grabber hood, H.D. driveline parts.
Transmissions were a New Process A-833 four-speed or the 727 TorqueFlite.
Dana 9 3/4-inch rear end with leaf spring suspension – six leafs on the right and five plus two half-leafs on the left.
652 hardtops produced in 1970 with Hemis, 284 being 4 speeds. Only 14 made as convertibles.
Colors included: Lime Light, Bahama Yellow, Tor Red, Lemon Twist, Curious Yellow, Vitamin C, In-Violet, Sassy Grass and Moulin Rouge.
1970 AAR 'Cuda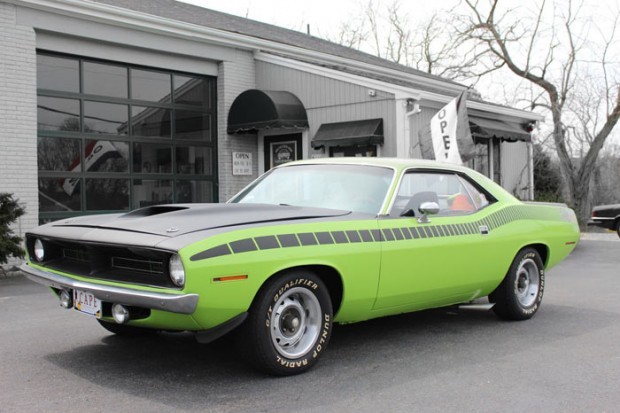 Named after Dan Gurney's All-American Racers and to meet the rules of the SCCA Trans-Am racing were the inspiration.
Mopar produced the 340cid/390HP/5.8 second quarter mile small-blocks and de-stroked the engine to 303.8cid to meet the 5.0 Liter new rule.
1,900 AAR Cudas were built to meet the Trans AM V8 rules.
The 340 engine had hi-po heads, a single four barrel carburettor for racing models and triple, two barrel Holleys on production models.
other extras include fibreglass cold air induction hood, rear spoiler, front and rear sway bars, side exit exhaust and rally wheels.
Transmissions included the A-833 four-speed with Hurst shifter of the Chrysler 727 TorqueFlite.
2,724 AAR Barracudas were made this year.
1970 'Cuda 340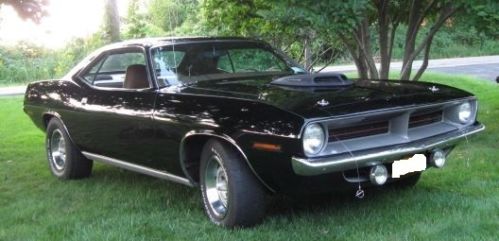 This model appealed more to the younger muscle car market who couldn't quite afford the 440 or Hemi.
The engine had 4.04 x 3.31-inch bore and stroke giving 275hp and 340lbs foot of torque, 10.5:1 compression with a single barrel carburetor.
A quarter-mile time could be done in 15 seconds at 95 mph. Not as quick as the hemi-model, but a great all-round car.
From 1971 to 1974 the Barracuda had various cosmetic changes like a new grille and single headlights, but as gas prices started to rocket and insurance companies looked unfavorably on powerful cars, engine started to become neutered, the car's weight increased due to safety features and the public would pushed more to economic driving than muscle cars.
This resulted in the last Barracudas being built in 1974.
Many rumors have come out about a reintroduction of the Barracuda, but no reissue will have the same legendary status as a golden era Barracuda.
Click for More Muscle Cars For Sale – http://fastmusclecar.com/muscle-car-for-sale/
Donate To Fast Muscle Car
We spend a lot of time bringing you muscle car content. If you would like to donate something to help us keep going, that would be fantastic.