Muscle Cars
The Future of Muscle Cars: EVs and the Changing Automotive Landscape
By
|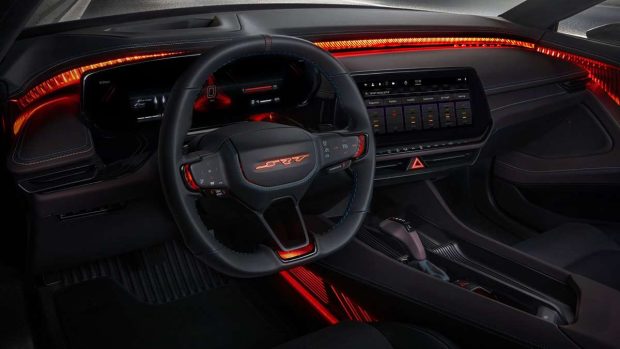 The world of electric vehicles (EVs) is rapidly growing. To meet this growing demand for performance EVs, Dodge has developed the upcoming Dodge EV Muscle car: designed to deliver an exhilarating driving experience with its powerful electric motor.
The Dodge EV Muscle car is an all-electric sports car set to revolutionize the world of electrics. It promises to be the most powerful EV ever, offering customers an unbeatable combination of performance, style and sustainability.
In this blog, we'll investigate the various features of the upcoming Dodge EV Muscle car. We'll take a close look at its design, powertrain, advanced technology and pricing.
In August 2022, Dodge introduced the Charger Daytona Banshee concept car as an important milestone in the world of electric cars. This concept car demonstrated the potential of an electric muscle car and provided performance car enthusiasts with a glimpse of what performance cars could look like in the future.
The Charger Daytona Banshee concept is an eye-catching vehicle that seamlessly merges classic muscle car design with modern electric technology. Its sleek lines, aggressive stance, and bold styling will surely turn heads wherever it goes. Plus, its aerodynamic body, sport-tuned suspension, and high-performance brakes make it a true driver's car.
One of the standout features of an electric muscle car is its R-Wing, a front aerodynamic wing that preserves Dodge's iconic profile while offering impressive aerodynamic efficiency. Furthermore, they introduced Fratzonic Chambered Exhaust–an industry first for electric vehicles–which delivers performance sound equal to or surpasses that of an SRT Hellcat.
Fratzonic Chambered Exhaust is an innovative feature of electric vehicles (EVs) that amplifies motor noise and transforms it into an "exhaust" sound.
This feature is completely unnecessary from a functional standpoint, but it appeals to muscle car enthusiasts who insist that their vehicle must be loud. The Fratzonic Chambered Exhaust can reach up to 126 decibels, providing an exciting and thrilling driving experience.
For a true Dodge driving experience, the car will come equipped with the eRupt, an electro-mechanical multi-speed transmission designed to deliver thrilling acceleration that is synonymous with their brand.
The Charger Daytona SRT Concept will be powered by the 800V Banshee propulsion system, expected to deliver exceptional performance and range. Its futuristic look pays homage to Dodge's muscle car heritage while offering a modern take on BEV design.
Battery Production:
As the automotive industry transitions towards electrification, demand for electric vehicle batteries is rapidly rising. Market.us recently published a report that states "The Global Lithium Ion Battery Market was valued at USD 59.8 billion in 2022 and it's projected to reach USD 307.8 billion by 2032, representing an annual compound growth rate of 18.3%."
Stellantis' decision to build its next electric vehicle battery factory in Kokomo, Indiana marks an important milestone in the auto industry's transition towards electrification. As parent company to Dodge, Jeep and Chrysler, Stellantis is teaming up with South Korea's Samsung SDI – a leading EV battery maker – to construct this plant.
Stellantis plans to expand its battery manufacturing capacity in order to meet the growing demand for electric vehicles. This move is essential in fulfilling their electrification strategy, which seeks to have 40% or more of U.S. sales made up of electrified models by 2030.
Stellantis had previously announced plans to build a $4.1 billion electric vehicle battery plant with LG Energy Solution in Windsor, Ontario. Their selection of Kokomo, Indiana as the site for their next battery factory demonstrates their dedication to expanding their North American battery manufacturing capacities.
Pricing of the EV Muscle Car:
The Dodge EV Muscle car is expected to be priced at around $50,000. It will come in three trim levels – base, mid-range and high-end models; pricing for each will be announced at a later date. With so much on offer, the Dodge EV Muscle car promises to be an instant hit among both electric vehicle (EV) enthusiasts and muscle car fans alike.
Donate To Fast Muscle Car
We spend a lot of time bringing you muscle car content. If you would like to donate something to help us keep going, that would be fantastic.