Best Muscle Cars
The Cost of Insuring a Muscle Car
By
|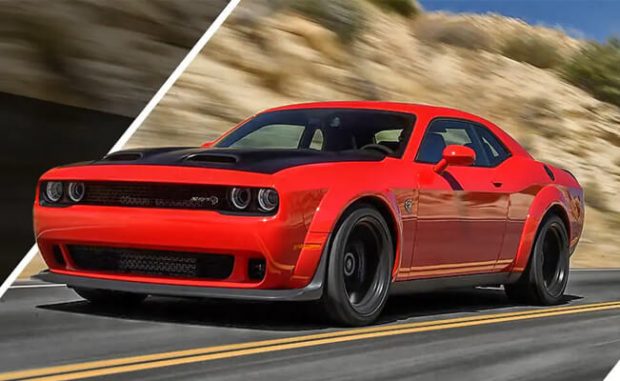 by Dave Ashton
As with any performance car, horsepower, torque, and styling cues are the usual talking points. However, rarely discussed are the ongoing costs which include insurance. So, what are the real-world costs of insuring the likes of the Chevrolet Camaro, Ford Mustang, Dodge Charger, and Challenger?
Over at motortrend.com, the guys have worked with Insure.com to put together quotes based on the template of a single 40-year-old male, with clean credentials. Other criteria slotted into the equation include a policy limit of $100,000,'$300,000 for all injuries, and $50,000 in property damage, with comprehensive and uninsured motorist coverage and a $500 deductible.'
The Cheapest Muscle Cars to Insure in Each Category
Life would be simple if it was just one model compared to another. But each model has a range of pricing and power options. Therefore, the first comparison is between a Mustang EcoBoost, Camaro 1LS Vs, and the Challenger SXT.
The above three examples have power ratings knocking around the 300hp mark coming from V6 power plants. the Challenger is the most expensive to insure at $2000 per annum, with the Chevrolet Camaro 1LS costing $1,732.
Next up is the comparison between the Mustang GT Vs. Camaro LT1, and the Challenger R/T. Slightly more horsepower here from V8 units, ranging from 375 hp for the Challenger R/T to 460 hp from the Ford Mustang GT. The Challenger R/T is the most expensive again to ensure at $2,091, while surprisingly the Ford Mustang GT has the lowest cost at $1,951.
Next, the middle-of-the-road V8's are compared – the Mustang Bullitt, Camaro SS, and the Challenger R/T Scat Pack. Generally, these vehicles provide more styling and options than the previous category, along with a touch more power. The costs in this category don't vary that widely with the 485 hp Challenger R/T Scat Pack costing $2,329 per year, followed by the 475 hp Mustang Bullitt at $2,247, and the cheapest being the 455 hp Camaro SS at $2,016 per annum.
Lastly, we have the full-fat V8's in the form of the Mustang GT500, Camaro ZL1, and the Challenger Hellcat Redeye. More performance means higher insurance costs, with the least surprise being the 797 hp Redeye costing $3,282 per annum to insure. Next is the 650 hp Camaro ZL1 at $2,539, then the 760 hp Mustang GT500 at $2,488 per year.
The takeaway here is the Dodge Challenger is generally the most expensive to insure, with the Camaro and Mustang almost having equal weighting.
These findings aren't a massive surprise for anybody who has owned any type of performance vehicle in the past. But it's something to bear in mind if this is your first foray into the muscle car world.
Muscle Cars Available for 2022
If a muscle car appeals to you, then the tried and tested V6 and V8's are plentiful for the 2022 year.
Camaros
Chevrolet recently opened up their 2022 Camaro configurator, with lots of options available. The LT 1LE Track Package is no longer available, as with 20-inch Caliente wheels, but there are plenty of new options to whet your appetite.
There is now a Design Package 3 option, with other appearance package options, including the new colors of Vivid Orange and Rapid Blue. As usual, the Camaro is available in both convertible and coupe forms covering the 1LS, 1LT, 2LT, 3LT, LT1, 1SS, 2SS, and ZL1. Prices start from an MSRP of $25,000, with horsepower ranging from 275 to 650 hp. Engines go from a 2.0 L 4-cylinder, to a 6.2 L V8.
Dodge
For 2022, the Challenger comes with a new SRT super stock trim, with minor trim and feature updates. There are also plenty of engine choices and models covering the Dodge Challenger R/T Scat Pack, Dodge Challenger SRT Hellcat, Dodge Challenger SRT Hellcat Redeye, Dodge Charger R/T, Dodge Charger R/T Scat Pack, Dodge Charger SRT Hellcat, and the Dodge Charger SRT Hellcat Redeye. Prices start from a MSRP of $28,870, with horsepower ratings going from 303 to 807 hp. Engines range from a 3.6 L V6, to the 6.4 L V8.
Ford
The long-standing Ford Mustang is available in the forms of the Ford Mustang GT, Ford Mustang Bullitt, Ford Mustang Mach 1, and the Ford Mustang Shelby GT500. Horsepower ratings range from 310 to 480 hp, with engines from a 2.3 L 4-cylinder, to the 5.0 L V8.
The Most Bang for your Buck
Below is a list of top picks for what you can get for your hard-earned cash. This takes into account not just overall costs, but also hp, mpg, and the most important factor of how each vehicle tickles our onions.
1. Chevrolet Camaro LT
This is the most affordable car with an MSRP of $25,000. The LT provides 275 to 335 hp, an MPG of 22 City / 30 highway, and engines ranging from a 2.0 L, 4 cyl to a 6.2 L V8.
2. Ford Mustang Ecoboost
The still respectably powered Mustang Ecoboost can be picked up for an MSRP of $27,155. This version provides 310 to 330 hp from a 2.3 L 4-cylinder and can do an MPG of up to 21 city / 32 highway.
3. Dodge Challenger SXT
If you want to go the Dodge route, then the SXT costs $28,870, with a power rating of 303 hp, MPG of 19 city / 30 highway, from a 3.6 L V6.
However, muscle cars have rarely been about sensible options. Therefore, if raw power is the top of your list, then you will have to search the dealerships and used market for a Dodge Challenger Demon which is capable of 2.3 seconds to 60 mph. However, be prepared to pay around $130,000.
Other notable tire burners include the 2020 Ford Mustang Shelby GT500 taking 3.3 seconds To 60 mph. The Dodge Charger SRT Hellcat Widebody – 3.4 Seconds To 60 mph, then the 2020 Chevrolet Camaro ZL1 only needs 3.5 seconds to reach 60 mph. The 2019 Dodge Challenger R/T Scat Pack can also hit 60 mph in 3.8 seconds.
You can read the full article covering insurance costs over at Motor Trend via the link below
https://www.motortrend.com/features/ford-mustang-chevrolet-camaro-dodge-challenger-insurance-prices-premiums/
Donate To Fast Muscle Car
We spend a lot of time bringing you muscle car content. If you would like to donate something to help us keep going, that would be fantastic.