Best Muscle Cars
The 24 Best Muscle Cars Of All Time
By
|
The 24 Best Muscle Cars Of All Time
1970 Buick GSX was built on the success of the Buick GS 455 big-block coupe.
The GSX had 360 horsepower with 510 lb-ft of torque, although like most other cars, the figures were most probably underrated. GM wanted to show how it could produce an engine over its previous 400-cubic-inch limit.
The engine's performance – 510 lb/ft at a low 2800 rpm. Quarter mile times around 13.30s were reported in motoring magazines at the time.
Further editions included the 350-4 bbl option, the standard 455, and the Stage 1 engines.
The 1970 Buick 455 Big block V8 with stage 1 heads produces around 420 hp and 510 ft.lbf. of torque.
Available in only two colors, Apollo White and Saturn Yellow. ….with racing stripes.
Only 678 GSX coupes were produced.
Hot Wheels line of 1/64-scale die cast toy cars kind of spoiled the surprise of the launch of the Corvette in 1968, but this did nothing to stop its ongoing popularity.
Made from 1967 to 1969, it had a big block 427 V8 with solid-lifters.
171 mph top speed and 500 horsepower, it was developed for the track.
VL 88 had a warning sticker on the centre console saying only racing fuel was to be used.
Factory upgrades could include Muncie M22 Rock Crusher or M20 Hydramatic Transmission, F41 heavy duty suspension and G81 positraction differential.
The Chevrolet Camaro ZL1 was a COPO (Central Office Production Order) A 9560 optioned car which was produced on a very limited basis.
Conceived by drag racer Dick Harrell, and ordered through Fred Gibb Chevrolet in La Harpe, IL, they were built with the intention of entering NHRA Super Stock drag racing. In order to qualify, a min. of 50 had to be sold to the public. In all, 69 were actually produced.
prices started at $4,160.50, and were listed as the "HIGH PERFORMANCE UNIT". The total price of the car was $7,300.
The ZL1 produced 500 hp, a V-8 engine,a top speed of 125 miles (201km) per hour, 60sec. in about 5.3 seconds and the quarter-mile in 13.16.
Engine – small-block 302-cubic-inch DZ 302/290 HP V-8, designed for Trans-Am racing, officially rated at 290 horsepower. It also featured F41 sport suspension, standard front disc brakes and a Muncie 4-speed gearbox.
1970 Chevrolet Chevelle 454 SS LS6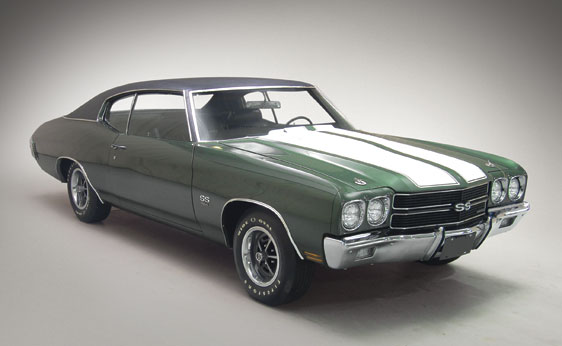 454 cubic inches — about 7.4 liters and hit 60 in six secs. Already at 360 horsepower, the LS6 upgrade went to 450 horsepower. Still the highest-output production car to date.
Included the 396 CID V8s – rated at 325hp, 350hp and 375hp, the mid horsepower 396 was rated at 360 hp for 1966 only and 350 hp. Almost all the extras of the SS396 could be ordered on the 1966 and 1967 El Camino, but the SS396 series El Camino was not available until and only in 1968. The 300 Deluxe and Malibu in 1969, the Malibu from 1970 to 1972, the SS version could be ordered in the El Camino also.
1969 Chevrolet Chevelle 427 COPO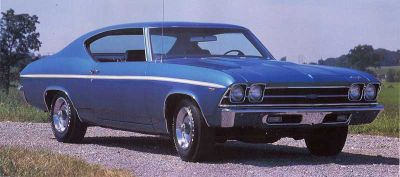 In a limited run of about 320 cars.
Yenko ordered L-78 equipped SS Camaros and swapped in the Chevrolet Corvette's L-72 427 in3 (7.0 L) V8. The cars came with a 4.10 rear end and heavy-duty suspension. The exact number of cars produced is not known, estimates around 50. Yenko also installed a fiberglass replacement hood similar to the "Stinger" hood on the 1967 big block vettes.
It had 450 horsepower, an L-72 427-cid V-8 engine.
Made famous in the 80s from the The Dukes of Hazzard, the standard was a 440 Magnum engine with 375 horsepower, but with a 426 Hemi engine – 425 horsepower, although the engine weighed nearly half a ton.
425 Horsepower, 490 ft-lb of Torque
Films featured – Bullitt, The Fast and the Furious.
Suited originally for street performance or drag racing.
1969 Dodge Hemi Charger Daytona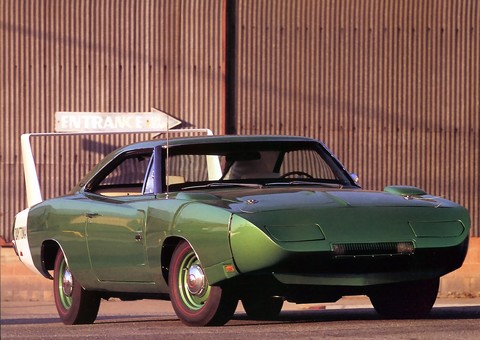 Originally a limited edition of the Charger with the main aim of winning NASCAR races in 1968.
440 CID Magnum engine 7.2 L, with optional 426 CID Hemi V8 engine 7.0L, in only 70 of the 503 made.
Winged Warriors was the nickname.
In 1969, modified versions of the 428 Mach 1, Boss 429 and Boss 302 took 295 United States Auto Club-certified records at Bonneville Salt Flats. The outing included a 24-hour run on a 10-mile (16 km) course at an average speed of 157 miles per hour (253 km/h).
The Boss 302 had the high-rev Boss 302 V8 engine, which was underrated at 290 horsepower to match its Camaro archrival. Made for Trans-Am racing, the Boss 302 did 0-60-mph in under 7 seconds, and a sub-15-second quarter-mile.
The popular option was the L69, available only in 1971.
360 horsepower.
Only 54 factory-released W-30s, although another 97 were dealer-installed.
The Pontiac GTO, dubbed the 'Goat' the 389-cubic-inch engine had 335 horsepower, offered with a Tri-Power option adding 25 horsepower. 0-60 mph in less than 6 seconds.
The 389 engine had revised cylinder heads with re-cored intake passages, improving breathing.
335hp (250 kW) at 5,000 rpm base 4—barrel engine, the Tri-Power was rated 360 hp (270 kW) at 5,200 rpm. The Tri-Power engine had slightly less torque than the base engine, 424 lb·ft (575 N·m) at 3,600 rpm versus 431 lb·ft (584 N·m) at 3,200 rpm. Transmission and axle ratio choices remained the same.
1970 Pontiac GTO Judge Ram Air IV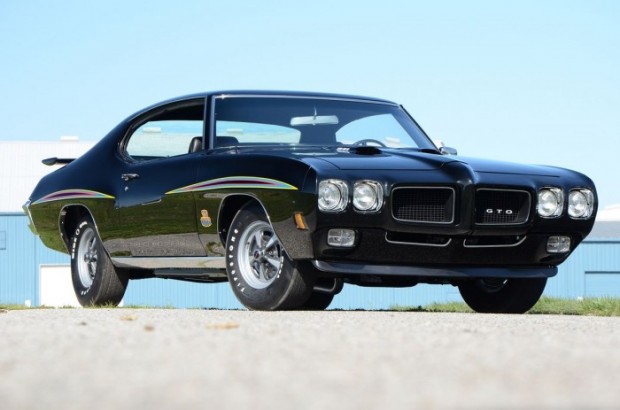 6.5-liter engine and several luxury interior options packages. In addition to the internal redesign, changes were made to the outside that launched the popularity of the car all over again.
1969 Pontiac Firebird 400 Coupe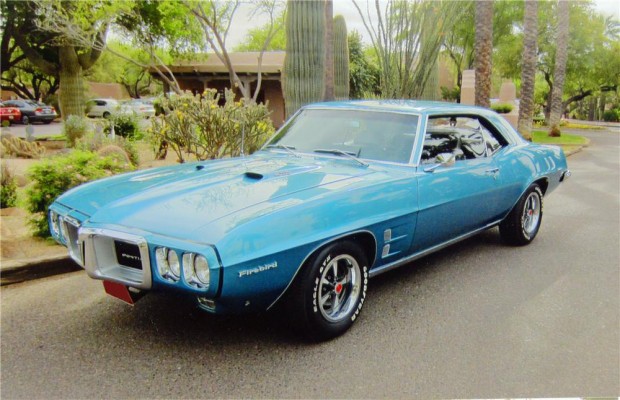 330 Horsepower, 430 ft-lb of Torque
1973 Pontiac Firebird Trans Am SD455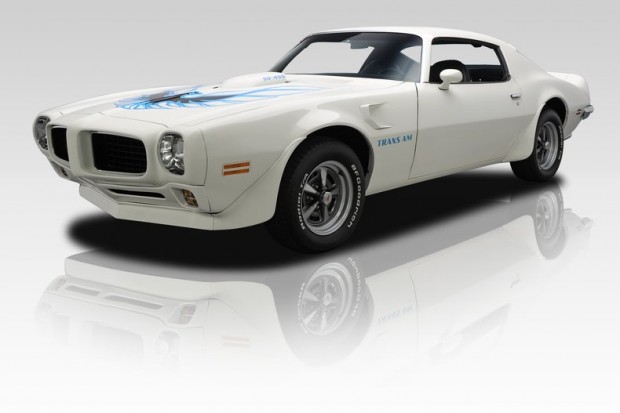 A second generation Pontiac, The SD (super duty) carried many unique parts, hard to find for restoration, 290hp at 4,000 RPM, 390-lbs.ft. of torque, four-speed manual transmission,Turbo Hydra-Matic 400 three-speed automatic was a no-cost option.
The original Firebird was a close cousin to the Chevrolet Camaro, and the 1968 model offered a range of engines, including a 400-cubic-inch V8, good for 335 horsepower.
Redesigned for 1970, the Plymouth Barracuda was offered with five high-powered V8 engines, the 426 Hemi was the best at 425 horsepower with a quarter-mile in the low 13-second range.
Two six-cylinder engines were available — a new 198 cu in (3.2 L) version of the slant-6, and the 225 — six different V8s: the 318, 340, 383, 440-4bbl, 440-6bbl, and the 426 Hemi.
Hemi-equipped cars had upgraded suspension and structural reinforcements.
Launched in 1964, it took more than six years to become a hit.
In 1970, Plymouth introduced a 7.2-liter engine capable of 390 horsepower.
Only about a dozen convertibles had the Hemi setup.
1970 Plymouth Road Runner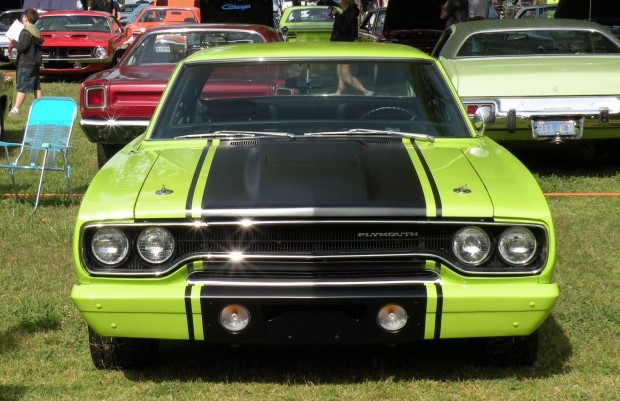 335 Horsepower, 425 ft-lb of Torque
The Plymouth Road Runner was first introduced in 1968, with a price of $3,000.
Mods included the "six-pack" increasing the 383 horsepower to 390, or a 426 Hemi.
Quarter-mile in 13.5 seconds with top speed – 140 miles per hour.
In 1969 alone, more than 80,000 units sold.
About 2,200 ever produced.
1970 Plymouth Road Runner Superbird 440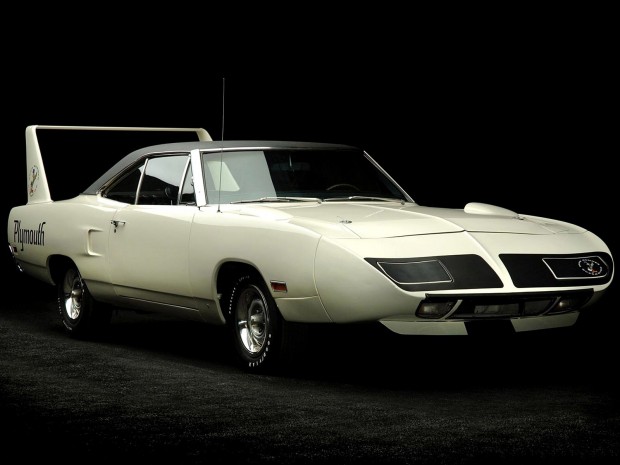 Dubbed the 'Aero Warrior', the Plymouth Superbird was a sister car to the Dodge Charger Daytona.
The Superbird was made to dominate stock car racing and elevate Plymouth's race credentials at the same time. The modifications helped the car beat the Ford Torino Talladega at NASCAR.
Magnum 440 cubic V-8 engine, 375.
Upgrade choices: either a "six-pack" (meaning three two-barrel carbs instead of the stock 4-barrel) or the 425 horsepower Hemi V-8, which remains the more valuable.
Although not purely American, the 427 Cobra is one of the best-known muscle cars ever made.
Based on a lightweight British AC Ace roadster, the Cobra was born from legend Carroll Shelby, using a Ford 427 engine under the AC's hood.
The 1966 Shelby Cobra 427 S/C featured an impressive 480 bhp.
Two twin turbocharged versions were made – one for Bill Cosby and one for Shelby.
Cosby sold his because it had too much power and the next owner put it in a lake.
Shelby's Super Snake was sold in 2007 for $5.5 million.
The GT500 was basically a factory-authorized tuner Mustang created by Carroll Shelby.
Introduced in 1967, the GT500 offered a 428-cubic-inch Police Interceptor engine with 355 horsepower. Despite the larger engine, it was actually designed to be a more usable road-going vehicle than the lighter, race-ready GT350.
Still one of the most valuable muscle cars.
1966 Shelby Cobra 427 Super Snake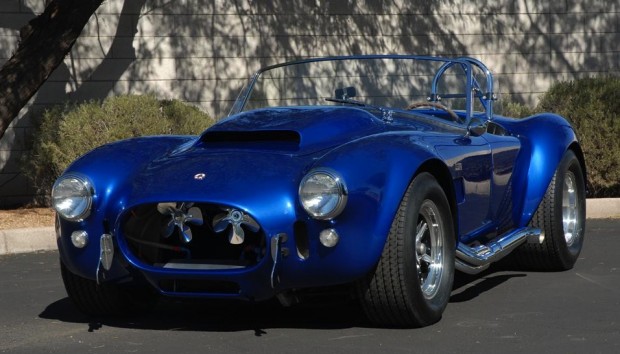 Made history on January 21, 2007, fetching $5.5 million at the Barrett-Jackson Collector Car Auction.
The 800 horsepower muscle car was one of just two produced and was used as personal transportation by famed racer and performance-car builder Carroll Shelby himself.
0-60-mph, just over three seconds.
A 427-cubic-inch V-8, two Paxton superchargers, giving the Super Snake almost double the horsepower of a production 427 Cobra.
Shelby actually created two Super Snakes. The other was originally sold to comedian Bill Cosby. Cosby returned the car after just one drive for being too powerful.
KR" stood for "King of the Road"
Ford's new Cobra Jet GT engine opposed to the 428 ci engine used in the the "67 and "68 GT500s.
A total of 933 GT-500KR fastbacks were produced along with 318 convertibles.
335-bhp, but more than this in reality.
0-60 mph, in 6.0 sec.
Number built: 1251.
1/4 mile, – 14.3 sec. @ 100 mph.
For the best muscle cars of all time, click here.
Donate To Fast Muscle Car
We spend a lot of time bringing you muscle car content. If you would like to donate something to help us keep going, that would be fantastic.
The 24 Best Muscle Cars Of All Time

,