Readers Rides
Sixty four and a half lucky Mustang
By
|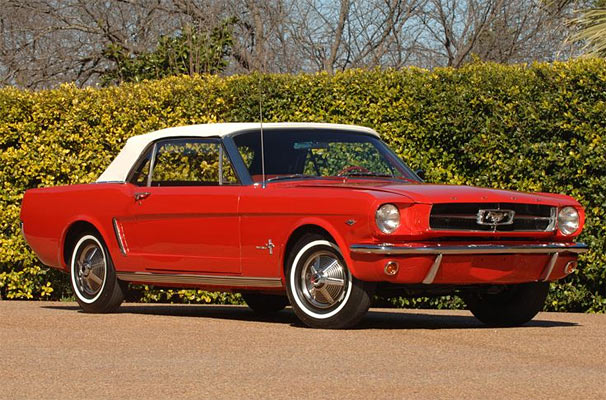 By Mark Weisseg
Several years ago at work, one of my friends told me he bought one of these fine cars over the weekend. It's an interesting story so please indulge me.
Frank as we will call him had been looking for this type of a Mustang for quite a while. He and his wife looked at many cars that were rusty and needed tons of work. He did not want to take that much on. Others, were fully customized and not to his conservative tastes. He gave up the search as he was frustrated and figured he needed a break from the "hunt".
Frank's wife worked in an office environment and one day while at work she overheard a co-worker say she and her husband wanted to sell a car. This lady and her husband had this sixty four and a half Mustang for quite a few years and rarely drove it. Grandchildren and life's activities had taken over and the little red 'Stang now just sat in the garage.
Well, Frank's wife nearly fell out of her chair and told the co worker to hold that car for the weekend. Frank and his wife went out that Saturday and after very little time bought the Mustang and drove it home.
Frank was over the moon happy with the purchase and a dream he had was now true. How amazing this story is in that Frank was searching web sites, ads, Internet searches and more only to find his dream car only about twenty miles away. His wife's co worker of all things.
About a week later Frank brought the car to work and we all went outside and drooled all over it. Frank leaned over to me and said, " pinch me". So, I did.
Recently, Frank and his wife retired to Florida and the car is driven all the time now. No more storing it for the winter. My point is what I said in a previous article when it comes to classic cars. Be sure everyone you come in contact with knows you are a car guy. Talk about them, have pictures on your desk if you have one, mention it at church, yell it from the mountain tops but by golly, get to be known as a car guy.
To think that Mustang was right in his wheel house and he did not know it is a shame. Luckily for him, it worked out by chance. My bet is there is a car close to where you reside and you do not know it.
I know of a few cars near me that are in garages and not be used. I know because I made sure I was known as a car guy. Even then, I bet I don't know them all.
I went to rent a U haul trailer in January of this year. I noticed when I walked in the door an elderly lady talking to one of the guys behind the counter. My attendant asked what kind of car I was going to go get and where. After I told him the lady walked over to me and said she had a old '63 Ford in her garage. Six miles from my house. Gulp.
After I caught my breath I pelted her with questions and she gladly offered to show it to me and give me the car just to unload her garage of the sitting car. I was so stunned I could not feel my legs and feet and my ears were burning.
This episode was another example of being communicative. Don't be shy about your hobby.
Everyone has a relative, co worker, neighbor and such that may know someone. The chain could be endless so start the process now.
Even make a negative a positive. What do I mean by that? I live in a housing plan that has a loose HOA. This past year some stuffy neighbor down the street turned me in as he thought I was running a business out of my home without a permit or license. Now, he should have a life but he doesn't. The association President came over to my house and did his "investigation" and was as nice as can be. He loved my car and truck collection and told me some very interesting stories. Another guy from our HOA showed up and he too was a car guy. His interests were BMW's but we both were interested in each other's vehicles.
We all walked away friends and now these two gentlemen are my friends and advocates. Score one for the car guy.
You just never know who has what.
It took me a long time to get to my point all starting out with my friend " Frank" but the story is worth the telling. Since that event I have had a couple of "hits" but I was not interested. But, I keep plowing the fields and one of these days it will hit again. Do not keep your hobby a secret!!
For all muscle car parts – http://fastmusclecar.com/muscle-car-parts/
Donate To Fast Muscle Car
We spend a lot of time bringing you muscle car content. If you would like to donate something to help us keep going, that would be fantastic.