Readers Rides
Should We Throw You Out Of The Car Show?
By
|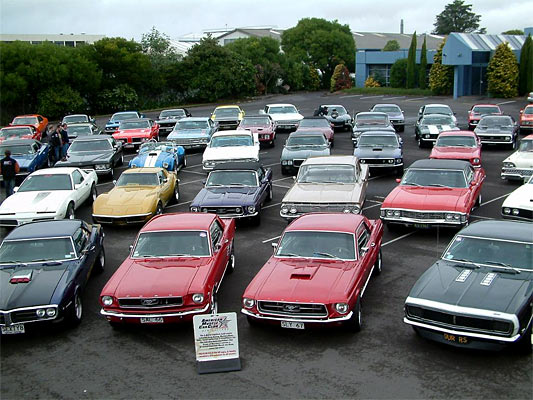 As I sit here with the temperatures dropping and the wind racing through the hair, I began to reflect on this past years car shows.
I am lucky in that one of the biggest car shows in my area is every Friday night from Memorial Day to Labor Day. The show starts at 5 pm and ceases at 9pm. This past car show season was a good one with favorable weather most of the year. The crowds were good and the car participation was very good. Now, here is why some might or should throw you out of a car show. Rowdy behavior? Drinking too much? Illegal drugs? Loud music? Nope. It is your car.
Well, that ought to get your attention. This past car season I took a walk. Normally several of us will walk around and gawk at the cars and trucks whose owners brought them to be cherished. I decided to take a walk by myself because for a long time I have been hearing" we are the biggest car show on the east coast". Really? That seems quite the statement. So, I decided to break away from the guys and gals for a moment to sniff around and here is what I found.
I arrived in my 69 RoadRunner, numbers matching, near perfect car. My buddies who parked next to me have a numbers matching 67 Corvette, a 65 Shelby, a special code 06 Shelby, and so on. We look pretty darn cool with all our special cars and the pricy tabs that come along with owning them. So, I began my journey. Walking up and down rows and rows of cars. Some folks looking at me like I was a crazed loner, others not bothering to notice me as they sit in there semi circles of friends. But, I was taking mental notes along the way. Corvettes, Mustangs, Camaros, Challengers, pick up trucks, Hudsons, Packards, an Army Jeep or two, Ford Fairlane, Nova's and so on. Geez, there are a lot of cars and trucks here. Also, a big section set aside for Motorcycles and scooters. You want vendors? We have them. They all do. Corn dogs, Weiners, Burgers, greasy fries, soft drinks, popcorn, and so on. It's a regular carnival atmosphere and everyone is having a great time. But now it's time to throw you out of the car show. What? Let me explain.
If I backed out all the newer Corvettes, Mustangs, Camaros, Challengers, Motorcycles, and trucks we would reduce the car show to about half. As I walked around I noticed dozens of Challengers from 09 to present. Who cares? There are just as many on Craigslist everyday. Corvettes. My gosh I counted dozens from 2004 to present. What is the attraction of viewing that car that I can see on the street every day. Same with the Mustang and Camaro crowd. Why should anyone stop and gawk at a 2013 Camaro that I can see everyday on the road? Mustangs, heck a dime a dozen. Ram trucks with big tires. Yawn. A 2013 BMW motorcycle. So what? My point is the "car show" has become a social club. Now I like social clubs but take a moment and think back. I mean use the way back machine in your head.
My late Father every once in a while when I was a child would take me to a car show. The time frame here is the late 60's and early 70's and when we would go we would see Model A's, 39 Chevys, a 47 Plymouth, maybe a 56 Corvette, and if we were lucky an old Cadillac. The shows took him back to a better day for him and for me it was time with Dad without the women around. Fast forward to the summer of 2015 and I look around and see a 2015 Corvette, or a 2014 Camaro and yes the foreign cars now show up. What could be better than seeing a 2004 Mazda, or 2013 VW Passat that some earring kid "souped up". I'd rather have a root canal.
This is why the organizers should throw you out or never let you in. Man, am I going to hurt some feelings here. But, I brought a high quality classic car and you brought a Passat? The only reason they cannot draw a line in the sand on this hot topic is that the state of the Union will not allow it. The outrage would be horrifying if one pulled up to the entrance and the car show police said they were sorry but you cannot come in the car show with your average ho hum 2011 Challenger with a 6.2 Hemi.
Oh, the disgrace! Call the real police, call the media, call Mommy, but raise holy heck. I submit to all of you that we all love our cars and trucks, but as we proceed down this path together, you will see I own more than one classic car. I just wish we were all not driven by the correctness police. Not that many years ago the average person could sense where they were not welcomed or belonged possibly.
A young boy would not apply to the Girl Scouts and a girl would not try to join the men's choir. But today , anything goes. Marry your dog, don't you dare tell a dirty joke amongst a crowd, no smoking in public parks, if you walk your dog you better carry the infamous plastic bag. Fly the flag? Sounds like the right thing to do unless you live in a homeowners association. They might tell you to take it down or fine you tons of money because someone might be offended.
So, for the sake of humanity please consider leaving your every day car at home on Friday night or Saturday morning and bring something of value that few have seen.
by Mark Weisseg
More Muscle Cars For Sale – http://fastmusclecar.com/muscle-car-for-sale/
Donate To Fast Muscle Car
We spend a lot of time bringing you muscle car content. If you would like to donate something to help us keep going, that would be fantastic.
Should We Throw You Out Of The Car Show?

,