Best Muscle Cars
Is The Shelby A Hellcat Eater?
By
|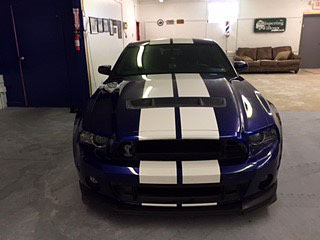 By Mark Weisseg
Yes this is my GT500 Shelby Cobra. Yes it arrived with a stock 662 horsepower engine. It has a six speed transmission that yes you need to shift. It has huge wheels and tires and is very angry.
You see I bumped the horsepower up a bit ( I am short changing you) to get more power out of it. I am an angry driver driving an angry car. I am tired of hearing about the four door Dodge Fiat Charger or the Dodge Challenger Hellcat. And now the Dodge Challenger Hellcat Demon. That's a lot of wording. But Fiat is desperate.
Sales are soft for the Hellcat so now they put out commercials to make you want one. I want one but I want one next to me. Or in front of me so that I can swallow it. I already experienced this once. I came up on a Hellcat and that old man thought he was the king of the road. He was an older guy and he was showing how he could do big burn outs. So, while he was doing magical burnouts the crowd smiled. I pulled up. I must have looked like Clint Eastwood from the Good, Bad, and the Ugly. You know sort of quiet but ready for anything guy.
So, I told the old man I thought his car sucked. Boy did that get his ears up. I asked him if he was ready to be swallowed up by a Shelby and spit out the ass end. He looked me over and then the car. Que the movie music. He was looking me over and all I did wait and stare. I glared at him and he started fidgeting and I could tell I had him where I wanted.
I finally asked him if he the old man was ready. He stammered a bit and I did not flinch. I just stared at him. Finally he spoke. A low voice he had. Barely a whisper. I asked him to speak up. After all he had a small crowd of people watching. He cleared his throat. I just waited with my car idling in hot anticipation. My Shelby was hungry and angry that evening. Her tires were warmed up and she needed something very bad to calm her down.
Finally the old man said No. He did not think it would be a very good idea. I replied I agreed with him. I could hear his watch ticking as loud as his heart. I watched the sweat on his brim. I had him where I needed him. I asked if he would change his mind right now. For the good of his fans. He hesitated and said No. I gave him one more look and told him he made the right decision.
I was calm, no sweat, no tremors. I was at peace with myself but I knew my Shelby was going to be sad. So I thanked the old man and said he would leave now. He did without a burnout. He just drove away. I watched him. The crowd watched me. I saddled up the Shelby and decided to rev that engine to let the crowd know what was lurking. One asked if I would do a burnout. I smiled. I stuck my head out the window and the crowd stopped and looked. They waited. Finally, I whispered the burnout boy already left. Now, I was leaving and I was leaving them to wonder.
More Muscle Cars For Sale – http://fastmusclecar.com/muscle-car-for-sale/
Donate To Fast Muscle Car
We spend a lot of time bringing you muscle car content. If you would like to donate something to help us keep going, that would be fantastic.