Best Muscle Cars
The Seven Weakest Muscle Cars in American History
By
|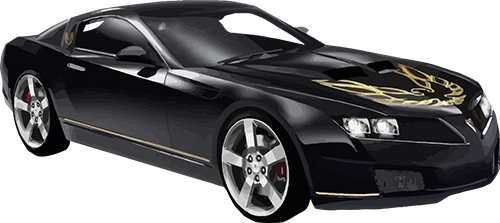 Unsurprisingly, the muscle cars developed during the 20th century are not like the muscle cars of today. This means that it would be unfair to compare them with any of the modern performance cars that we currently cherish. However, it is fair to compare them to cars of the past and cars that were once considered as their rivals. As a side note, keep in mind that the 2009 Toyota Prius produced 98 horsepower.
1971-1975 Ford Maverick Grabber
The Ford Maverick was based off of the 1960 Ford Falcon, so this car was essentially a two-door sedan. The model was created in order to be an inexpensive and superior alternative to foreign brand cars. Although the Maverick did have a V8 option that produced 210 horsepower, the majority of the other engine options produced no more than 128 horsepower.
1974 Pontiac GTO
Unlike its predecessors, this GTO was not a line of its own but was rather a trim option of the Pontiac Ventura; Pontiac's entry-level vehicle at the time. With a 5.7 liter V8 engine, this GTO only produced 200 horsepower and 295 foot-pounds of torque. This was the last of the GTO's during this time, as Pontiac did not make any more GTO's for a long time following this model.
1976-1981 Chevrolet Camaro Rally Sport
This Camaro is rumored to have been so slow during a car review that the magazine doing to review brought the car back to the Chevy dealership, thinking that something was wrong with the car. The Camaro Rally Sport produced 155 horsepower through an automatic transmission.
1978 Ford Mustang King Cobra
A surprising car on this list, the Ford Mustang King Cobra was all bark and no bite. The King Cobra came with a 139 horsepower V8 engine and a plethora of visual "effects". The car was modeled after a Ford Pinto and was not produced in large quantities. Due to limited amount of King Cobras produced, this car is currently known as a collectors item.
1980-1981 Mercury Capri Turbo RS
Released with an innovative engine control module, unlike the Mustang King Cobra, the Mercury Capri Turbo RS was developed by Ford and sold as a sibling of the Ford Mustang. This model is on our list due to the fact that the performance model of this Capri was known to be largely unreliable.
1980-81 Delorean DMC-12
Popularized by the Back to the Future series, as Doc's car and Marty McFly's vehicle of choice for time travel, the Delorean DMC-12 was mostly astonishing for its gullwing doors. The engine offered in the DMC-12, however, was not very astonishing; a Peugeot-Renault-Volvo 2.8L V6 engine that produced only 130 horsepower. Paired with an automatic transmission, the DMC-12 could accomplish 0-60 mph in 10.5 seconds.
1982 Pontiac Trans Am
The 1982 Trans Am belonged to the third generation of Pontiac Firebird. Known as KITT in the popular television series, Knight Rider, the 1982 Trans Am came standard with a 2.5 liter four cylinder engine that produced a whopping 90 horsepower. The V8 option, that the 1982 Trans Am was offered with, produced 145 horsepower.
Donate To Fast Muscle Car
We spend a lot of time bringing you muscle car content. If you would like to donate something to help us keep going, that would be fantastic.