News
Saleen Develops a Special Mustang to Celebrate Their 1987 Championship Win
By
|
Saleen Develops a Special Mustang to Celebrate Their 1987 Championship Win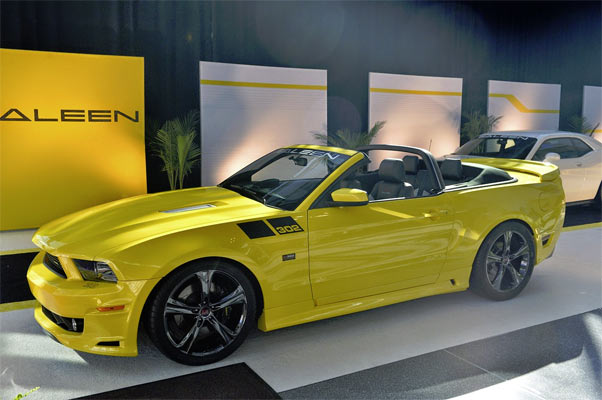 Saleen's history with high-performance cars is quite interesting to say the least. For one, the California-based car manufacturer didn't start out as a business that focused on manufacturing and tuning muscle cars.
In the mid 80s, just barely two years since the company's inception, Saleen took a chance and entered the SCCA/Escort Endurance Championship, creating its very own Saleen Mustang, which was customized for racing. After about a year and a lot of hard work, the company took home the series' titles for manufacturer, tire, and team.
Today, the car company is celebrating its 30th anniversary of winning the titles by releasing a special version of 302 Black Label Mustang. Just like in the mid 80s, Saleen has maintained many of the Mustang original aesthetics by signing a partnership deal with General Tire – the original manufacturer of their Saleen Mustang.
The body of the car is from a Ford Mustang GT. What Saleen did to make the car their very own was to customize the powertrain in order to augment its speed and power.
On the exterior, the 302 Black Label mustang showcases a link between its previously manufactured race cars including the white and yellow body, as well as white wheels.
The 30th anniversary 302 Black Label Mustang has a variant, which has slightly better specs for track use. This edition has 750 HP along with an enhanced cooling system, roll cage, harness, and stripped back cabin.
What's not clear, however, is if the car will be using some high-end technology that could help with maintenance or navigation like state-of-the-art GPS.
GPS has been a popular feature on smart and muscle cars to protect the vehicles as well as its owners from mishaps. According to a blog post by Telogis, commercial and government-class vehicles are using GPS not only for security but also in order to streamline different operations. GPS is an important function on cars, yet Saleen has yet to announce whether it will be incorporated in the new 302 Black Label Mustang.
But whatever gadgets will be included, what's clear is that the car will be insanely fast. Apart from having 730 HP and 750 HP for track use, Saleen's upcoming Mustang has a 5.0 liter coyote V8 engine and a 3.2-liter supercharger. For the readers out there who are counting blower volume, that's a larger supercharger than a Dodge placed to the new Demon (2.7 liters).
Exclusive to the race version is a rear-seat delete, an upgraded radiator, and a four-point roll cage.
The production of the new Mustang will begin in September 2017. And while it will be quite exciting to see it in person, not every car enthusiast will be able to have one. That's because according to Saleen, they will only assemble 30 units of the 302 Black Label Mustang. But why did they choose 30? Well of course, because it's their 30th anniversary celebrations of such a memorable year. The starting price for the muscle car is $87,000.
By RJ_TechieMind
Donate To Fast Muscle Car
We spend a lot of time bringing you muscle car content. If you would like to donate something to help us keep going, that would be fantastic.