Muscle Cars
The Rolling Restoration On My 1949 Chevy Truck
By
|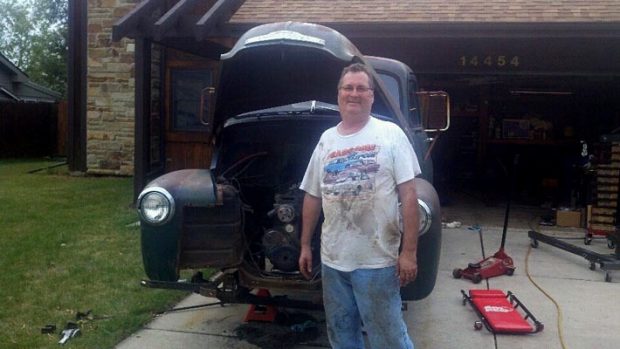 By Mark Weisseg
Three years ago almost to the this day I was up to my elbows in grease. Myself and my two older brothers were hard at work on my 49 Chevy truck.
I started at 7am much to the chagrin of Craig who rolls out here at 8am calling me nasty names. This is the day we reinstalled the transmission and the engine back where they belong. It only turned out to be a 12 hour day and this snapshot was about half way through.
Someone told me to turn around and smile and it took everything I had to do this without flipping you off. Work like this is hard and yet it is exhilarating. You bust knuckles, hit your head, find new problems while you solve older ones on the spot. Since this picture was taken almost everything went well.
Except for a broken valve spring with only a thousand miles on the engine. We landed up with an entirely different set of heavy duty springs and of course no warranty was given. Another budget buster. The only other item has been a generator. I had the one on the truck when I purchased it rebuilt. That failed too right out of warranty, so I had to buy a rebuilt one from the west coast. The truck was down a week for that waiting period.
With those issues out of the way she runs like a new singer sewing machine. Quiet and as long as you remember the sweet spot you are golden. Parts for the three quarter ton are at times hard to come by. So, when I saw two rear brake drums for sale I bought them just in case. The original drums are maxed out and cannot be machined any further. The other day however I thought I heard a noise coming from that generator again so that needs some attention tomorrow.
Craig reminded me to turn the screw on the distributor ( every thousand miles) to lube the inside a bit. I have changed the oil twice now and always put in the new oil filter cartridge. I scan web sites for additional parts that I know are hard to come by.
I get asked everywhere I go when I am going to finish the thing. Well, it is now finished. Mechanically she is 100 percent. I left the original patina body paint as I found it. I would not change or paint that for any reason. I am a patina crazy guy I guess.
Even the dash is the way I found it. I remember when the entire dash was out and Craig said if I paint it now is the time. He knew my answer and I have no regrets. The truck has no radio but a blast furnace for a heater. No problem at all driving in cool or cold weather. Hot weather is another issue. Both windows down, both the hood vent and side vent open and it is still a smokehouse in there. But, it's the truck I dreamed of since I was a little child and I had the vision rattling around in all the open space between my ears. Now, it's in my driveway and when I go out and pull the choke open, pump the gas pedal a few times, turn the key to the on position and then push the starter pedal on the floor she roars to life in seconds. And so do I.
The moral – all the effort and money is always worth it in the long run for the satisfaction of the finished product.
I recommend a car/truck restoration project to anyone. You will come out the other side a better person.
More Muscle Cars For Sale – http://fastmusclecar.com/muscle-car-for-sale/
Donate To Fast Muscle Car
We spend a lot of time bringing you muscle car content. If you would like to donate something to help us keep going, that would be fantastic.