Readers Rides
Restorations: The American Way.
By
|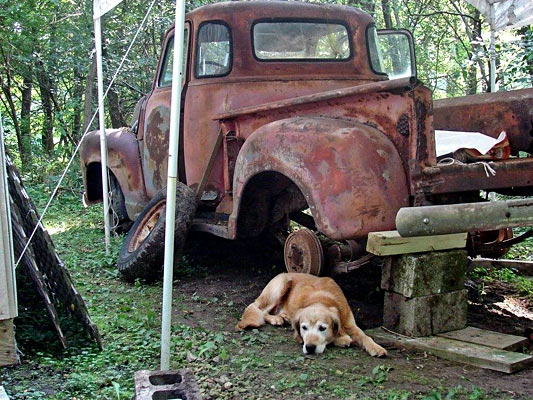 By Mark Weisseg
This dog resting by an old rusty truck or make shift dog tent, is a common sight for vehicle restorers. Man's best friend patiently watching us fight to the end of a restoration project.
The truck could belong to anyone of us, sat in the same environment it is restored, as most of us do not have the full resources of what we see on TV. You know, a four or five bay heated and air conditioned garage with every tool at your disposal.
Did you ever notice the guys that work on these ugly, old cars and trucks rarely get dirty? Unfortunately, that has to be the gloss of TV. Doing a spot to camera with your face and hair covered in old engine oil, doesn't look the best on prime-time TV.
I know when I am working on something, I always look like I was rolled in mud, someone put me in a grease can and rolled me around. I tried gloves once but I did not like them. If I cannot feel a certain thing on my fingertips, I lose my grip and start dropping everything.
Most of us work in tiny garages or maybe a carport. We might borrow a tool here and there from a friend or rent one if its a big job.
For example, I recently bought another parts washer and engine hoist and found out two important things, how big and costly they can be. The hoist is larger than I thought and even though it folds in to a degree, it still takes up more space than I thought it would. Second, the parts washer was a great asset but when the solvent gets to the point where it needs to be replaced, the costs are super high. More than the parts machine itself.
Like all of you, I take pride in my work and tools, but when you are in the middle of one of these jobs the tools get scattered all over the place.
I spent half a day recently just cleaning, sweeping, and organizing tools. If you don't do that once in a while, you will bury yourself. You must once in a while just stop, stand back and take notice of everything. A project can become overwhelming at times, so you must take a break but they must be short. If you take two weeks off it is harder to come back to it and get going again. Just look at the amount of classics on Ebay and Craigslist that are not complete. I don't know about you, but I prefer not to finish someone else's project. How do you know you have all the parts? How do you trust what has been done?
Lastly, back to the dog in the picture.
They are going to love you no matter how many times you screw up on your ride.
It may take you years to complete, you may not have all the right tools, you may not have all the right parts, but you do eventually get there.
When you finally finish and get to use the tiny garage/carport/field, etc. for parking and not working on your ride, you will be forever grateful the dog stood by you all the way. You kinds built it together.
The dog does approve……
For all muscle car parts – http://fastmusclecar.com/muscle-car-parts/
Donate To Fast Muscle Car
We spend a lot of time bringing you muscle car content. If you would like to donate something to help us keep going, that would be fantastic.