Best Muscle Cars
New Muscle Car Lap times, Models and News For 2021
By
|
By Dave Ashton
If nothing else, 2020 will go down as one of the weirdest years for muscle car manufacturers and fans. But that doesn't mean everything has come to a complete stop, as vehicles are still being made and records being set. However, as the output of things is slower than usual, we are bringing you more of a summary of the latest happenings in the muscle car world.
New Dodge Muscle Car Stuff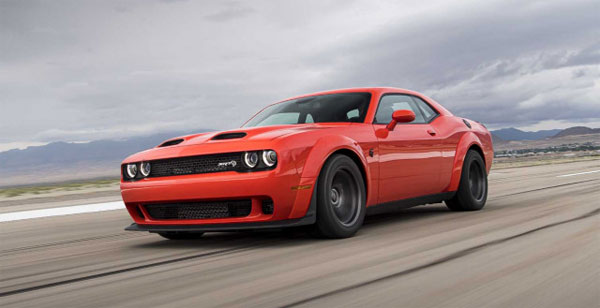 Muscle car news wouldn't be the same without at least some input from Dodge. For 2021, the figureheads of the modern muscle car world will be stuffing the 6.2-liter supercharged V8 from the Hellcat into the 2021 Dodge Durango SUV, with the 2021 Charger being treated to a 797 horsepower Redeye makeover. The Challenger is obviously getting the 807HP Super Stock for those who missed out on the Demon, which should for all intents and purposes be a future classic.
The Super Stock itself will house a 6.2 liter supercharged V8, producing 807HP, with a 0-60 mph time of just 3.25 seconds. While the 2021 Dodge Charger SRT Hellcat Redeye get slightly less with 797HP, with an equivalent 6.2 liter V8. As for the regular old Hellcat, the 2021 Dodge Charger SRT will have its horsepower increase to 717HP.
Also worth mentioning is the 2021 Dodge Charger Pursuit police car, which comes with either a 3.6 liter V6 or a 5.7 liter Hemi V8. The V6 version will be all wheel drive with 300HP and 264ft.lbs. of torque going through an eight speed automatic transmission.
A Stripped down Corvette C8 and the 1LAP1LE
There's been a ridiculous amount of buzz around the Corvette C8 and quite rightly so. The car has moved to a mid-engined layout to take on the supercars of the world, with its naturally aspirated 6.2 liter V8 producing 490HP and 470 lb-ft of torque. This equates to a 0-60mph time of only 2.9 seconds and a quarter mile time of 1.2 seconds and a top speed of 194 mph. Pretty impressive stuff.
But as seen in the video below, these guys have decided to strip everything back on the C8, which gives a small idea into its internal workings.
While the long-standing 'Vette has moved into supercar territory, the Camaro in the form of the 2017 1SS 1LE, has been put together to take on the One Lap of America http://www.onelapofamerica.com/ event. Originally optimized straight for the track, the car now needs another set of criteria which includes a 2.9L Whipple supercharger, which produces 630HP on 93 octane gas. You can read the full story over @ musclecarandtrucks.com
The Ford Mustang Cobra Jet, the electric one
I know, all electric vehicles are evil, shall be shunned and we pretend they don't exist. But the fact of the matter is they produce ridiculous amounts of torque and the Ford Mustang Cobra Jet 1400 which was announced early in the year, has now hit the drag strip with some impressive numbers.
Four electric motors produce the equivalent of 1,502 horsepower, which translates to a quarter-mile time of 8.27 seconds at 168mph. Each of the four motors runs at 800V and outputs 469HP. But each motor doesn't throw out the same amount of power at the same time. At this early stage, the future of electric dragracing looks promising. We now just need a high octane soundtrack to go with the visuals.
Muscle Cars That Are Apparently Scary To Drive
There's an interesting article over @ hotcars.com, with the title of '4 Muscle Cars That Were Downright Scary To Drive.' The header image depicts what looks like a Mustang GT wrapped around a tree, which is fair enough, considering all the online videos showing these things spinning out of control.
The list actually drops in a few Japanese variations, with a Porsche Carrera GT being in the number one spot. But if the article was wholly correct and only listed pure thoroughbred muscle cars, it would be take your pick time, as the whole point of a muscle car is to be sh** your pants scary.
No matter how much traction control is on offer, mixup rearwheel drive, a supercharged 6.2 liter V8 and enough torque to spin a planet and the end result is more constant scares than a Saw movie franchise. Plus, the older the muscle car, the more the need for man sized wet wipes. Which means if you like regular adrenaline spikes and seat of your pants driving, you've come to the right place.
Donate To Fast Muscle Car
We spend a lot of time bringing you muscle car content. If you would like to donate something to help us keep going, that would be fantastic.