Muscle Cars
Muscle Car talk: Figure Out The True Cost Of A Restoration
By
|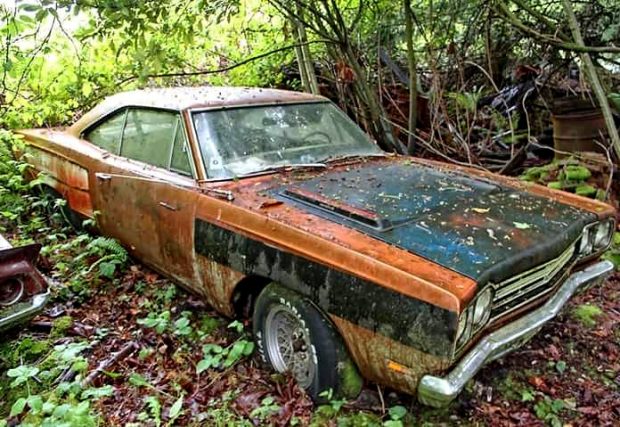 By Mark Weisseg
I ran across this picture recently and as usual it stirred my blood. This car actually has me in a better mood than normal. The glass is intact, the body is straight, and there is hope. Normally when we run across an older classic like this one, the poor car has usually been beaten to death. It takes a wizard and a lot of money to put humpty back together again. I have done this sort of costly restoration and I promise you never again. We ran into more issues than I ever expected.
The money flowing out of my wallet seemed to have a mind of its own. Certainly like you, I want to save them all but it's simply not possible. Everybody has daily lives, bills, costs and taking on these projects has so many twists and turns.
Occasionally you stumble onto one of these cars that is intact and it looks like it could be saved for less than you think. But, you need to do your homework and not let your emotions do the talking.
If you don't catch yourself and think this through you will be one sorry Charlie. Here's a good example. A friend of mine for over 40 years told me last year about a hidden treasure. It is a '69 Road Runner convertible that has been sitting in a garage for a very long time. We kept this a secret as we did not want to lose the opportunity. We agreed he would get first crack at the car but I was a humble second.
This waiting period went longer than both of us desired. He had his plan and I had mine if we could pry it away from the family that had it. Just about two weeks ago my friend notified me that he indeed got the car and would be dragging it out of its sleepy bed very soon. He is all happy as I would be but we both know you cannot let anything sit for 30 years in this case and all is well.
The car is a matching numbers car and that is a big plus. However, the costs to get this road worthy is going to be steep. How steep is the question. If he decides it's too steep for him, do I step in? The answer is yes for me if the opportunity arises. Would I do that knowing the costs and time are high? Well, it's the love of an RR and of a convertible I guess.
Time will tell if my good friend pulls the trigger on his plans. They are 180 off of mine. Interestingly, he and I have never had a disagreement in all these years. We just respect the others opinion. I desire for it to be original or as close as possible. He would do wild paint, big wheels and tires and who knows what else.
The point here is that no matter the vehicle you want to restore, do a lot of planning and financial to see if it is worth it for you. Check out similar car listings of restored vehicles and their average selling price. Do a quick check of all costs to bring it back to the level of quality you envisage.
Basically, if the cost and time is far more than the end worth, you will have to seriously consider taking on the project.
Like any car, cost and time can be secondary, it is the end product that counts, but at least to your initial costings and research. It may save you a few years………..
More Muscle Cars For Sale – http://fastmusclecar.com/muscle-car-for-sale/
Donate To Fast Muscle Car
We spend a lot of time bringing you muscle car content. If you would like to donate something to help us keep going, that would be fantastic.
Muscle Car talk: Figure Out The True Cost Of A Restoration

,