Best Muscle Cars
Mighty Mustangs Released In Spring
By
|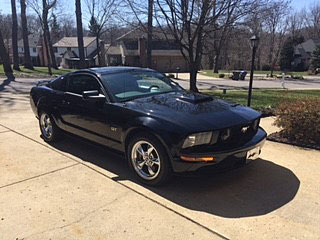 By Mark Weisseg
Two weeks ago I pulled this Mustang and my other Mustang out of the storage building. The other one is a nasty 2013 Shelby GT 500 Cobra. More about that one at a later date.
This 2005 Stang has a 4.6 liter engine. I know you just yawned but indulge me a minute. First, I bought this 2005 as it was the first year that Ford refreshed the Mustang. The styling comes from the 67 and 68 model years. The change was needed badly and the older models were slipping in sales. Heck, Ford even offered a Bullit model to hype sales. I almost bought one until this one came along. I bought it from a guy who bought it new in Texas. He loved the car and took great care of it. He only sold it when he moved to Lombard Illinois for a job. It's there he discovered the Mustang is awful in any type of snow.
So, I bought it. I added some exterior bells and whistles to sharpen up some edges but the real secret is under the hood. Yes it still is a 4.6 ( yawn) but now I added some magic dust. I won't tell you what they were but let's just say it is now a very fast car. The neighborhood knows when I start it as mothers bring the children inside. I drove this car 600 miles last year. I take that back. I drove it about 400 miles and my brother in law did the rest. It was under his care and I told him to drive it once in a while. He did and I have less rubber on the rear tires now I noticed.
So this year I decided I would rotate this car into my driving and not drive the Shelby as much as last year. You see as much as I love that Shelby I love this 2005 almost as much. It's a sleeper to a degree. Yes the chrome wheels and hood scoop might give it away but those are subtle. It's only when she is rolling along at about 35 mph and I decide to open up the air waves and pollute my soul that the car gets noticed.
I am looking forward to driving it this year. Leather interior, black shiny paint and a bad, bad attitude under the hood. Does this get your heart pounding for your own fast muscle car? It should or someone is going to pull the sheet over your head and put a toe tag on you.
For all muscle car parts – http://fastmusclecar.com/muscle-car-parts/
Donate To Fast Muscle Car
We spend a lot of time bringing you muscle car content. If you would like to donate something to help us keep going, that would be fantastic.