Muscle Cars
If You're Not First, You're Last: 5 Fastest Muscle Cars for Those Who Want to Go Fast
By
|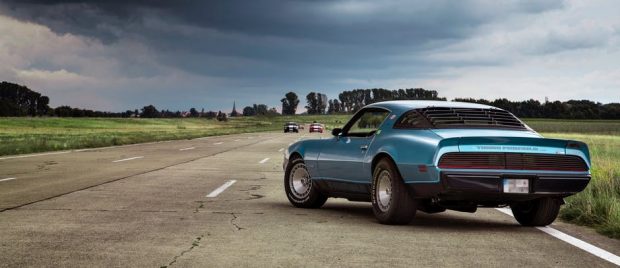 So you know you want a muscle car and you want to go fast, too. What are the fastest muscle cars on the market?
There's more than one reason to buy a muscle car, and they're not all about speed.
There's have all-American good looks and oodles of torquiness.  A throaty roar down the stretch and the chance to own a piece of classic American auto history.
First, some parameters. Are we talking 0-60, or flat out top speed? For our purposes here, we've combined the two.
So here they are in reverse order, the five fastest muscle cars for those who want to go fast. Take your pick.
Cadillac CTS-V
Cadillac calls it the most powerful Cadillac ever built. With a claimed top speed of 200 mph, and the 640 hp supercharged V8 engine pushing 630 pounds of torque, who's to argue?
Possibly, it may be those who see Cadillac's fabled luxury as no place for a muscle car. Except this one's built to go and that changes everything. We'd have placed it higher up the list, but a sluggish 3.7-second 0-60 performance didn't do it any favors.
2017 Chevrolet Camaro ZL1
Powered by a supercharged 6.2 liter V8 650 hp with an official 0-60 time of 3.5 seconds, the ZL1 is designed to excel.
At Germany's 7.6-mile oval Papenburg track it broke the 200 mph barrier. It was clocked at a startling 202.3 mph and staked a claim to the title of world's fastest muscle car. Marking 193.3 mph on the return, the result was an official top speed average of 198 mph.
Equus Bass 770
Equus retains the muscled motoring of American classics and couples it with the modern era's refined technology with notes of ultra-cool luxuriousness.
The result is 6.2 liters of a supercharged engine that waves sixty goodbye in a mere 3.4 seconds. Breaking out at a top speed of 200 mph, so says Equus, the 770 lights up the roadway like a pack of quality H4 bulbs.
2019 Dodge Challenger SRT Hellcat Redeye
The Redeye is right there with the quickest street cars on the market.
If your thirst for speed isn't quenched by the Hellcat's zip to sixty in 3.4 seconds, the quarter-mile at 11.4, or flat out speeds that have seen 203 mph in the rear-view, you're dryer than Dodge knows what to do with.
Dodge Charger SRT Hellcat
Except maybe for the Hellcat Charger. Is this the fastest American muscle car ever made?
In 2015, Dodge named it the fastest family sedan on the planet. Hellcat doesn't sound like it was named with the kids in mind and at 206 miles an hour with the wind behind, it doesn't behave like it.
Using back to back runs, Dodge marked the official average at 204.55 mph and pointed out that their tested model were no different from what you'd buy in the store. Except for the tires.
The Fastest Muscle Cars of All Time
So there they are, the five fastest muscle cars, all built with speed in mind.
And whether you're talking about how quickly they hit sixty, knock out the quarter-mile mark, or their rubber-burning, throat-spurting, road-blazing flat out speeds down the tarmac, it makes almost no difference. Each one is ridiculously quick.
Which one is the fastest? Who really knows. It's the never-ending debate in bars, clubs, and magazine reviews across America. Long may it continue.
Donate To Fast Muscle Car
We spend a lot of time bringing you muscle car content. If you would like to donate something to help us keep going, that would be fantastic.