Best Muscle Cars
How to Stay Safe at a Car Show
By
|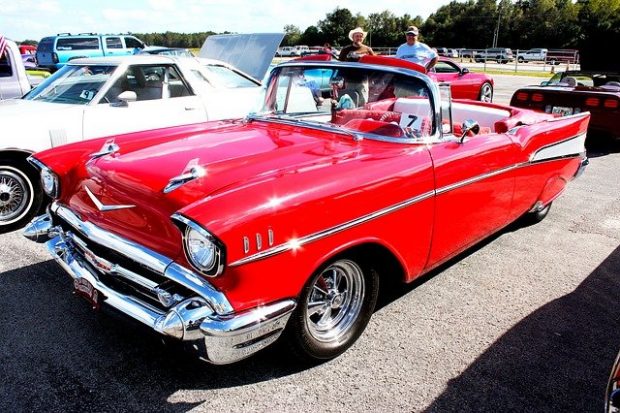 When the new decade dawned at the beginning of 2020, we were optimistic. We counted down as the ball dropped, with visions of a return to the Roaring '20s swirling in our heads — dancing, pixie cuts, men in dapper suits and a healthy dose of celebration.
And then, reality threw a wrench in all of our plans. The coronavirus pandemic forced cancellations of everything from small local car shows to enormous national conventions and everything in between, and we've been struggling to get back to normal ever since. As 2020 comes to a close, a sense of normalcy is starting to return — not because we've beaten the virus, but because we've learned how to stay safe while we wait for a vaccine.
If you're planning to attend a car show or two in the next several months, what do you need to do to stay safe?
Protect Your Car from Eager Fans
People are impatient for things to return to normal. After months in quarantine, you might feel like even the smallest social interactions are challenging. Overeager fans might inadvertently damage your show car. It's rarely malicious, but that won't stop you from panicking or save you from the expensive repair bill. Use barriers if you don't want people getting too close, or fender covers to prevent scratches if you're showing off what's under the hood.
Deep-Clean Your Car Before and After
Even with all the precautions, the shortage of testing and tracing has made it impossible to know who might have COVID-19 — even asymptomatically — and who doesn't. Precautions and deep cleaning are your best tools for protecting yourself from this pandemic. Clean all high-contact surfaces — door handles, seatbelts, the dashboard, etc. — with a CDC-approved disinfectant such as diluted bleach or isopropyl alcohol. This step becomes even more crucial if you plan to allow fans to sit behind the wheel or explore your show car's interior.
Opt for Cashless Transactions
Everyone loves to take home mementos and souvenirs from events. Branded swag is also an excellent way to connect with your fans and offset some of the costs of traveling to car shows. While traveling to car shows in the age of COVID has changed many things, the desire for swag remains the same. To keep yourself safe, opt for cashless transactions. You can use tools like Swipe or PayPal, or even offer online ordering for options people can pick up in person on the day of the show. Use all the necessary COVID precautions to help your fans get their swag while keeping everyone involved safe.
Stay Safe and Healthy
While the world is adapting to the pandemic, we're not in the clear yet. It will take a long time before it's safe to head to crowded car shows where you can mingle shoulder to shoulder with other automotive enthusiasts. For now, masks and social distancing are our best tools for slowing the viral spread. However, that doesn't mean you can't enjoy some car shows while we round out 2020. It might not be the Roaring '20s we imagined, but we can still make the best of it.
Donate To Fast Muscle Car
We spend a lot of time bringing you muscle car content. If you would like to donate something to help us keep going, that would be fantastic.